This post may contain affiliate links. Read my disclosure policy here.
Tonya here and I'm sharing 5 easy ways to keep your bathroom clean and organized. Thanks to Steripod for sponsoring this post and providing a fabulous giveaway prize of a $100 Amazon Gift Card and a year's supply of Steripod.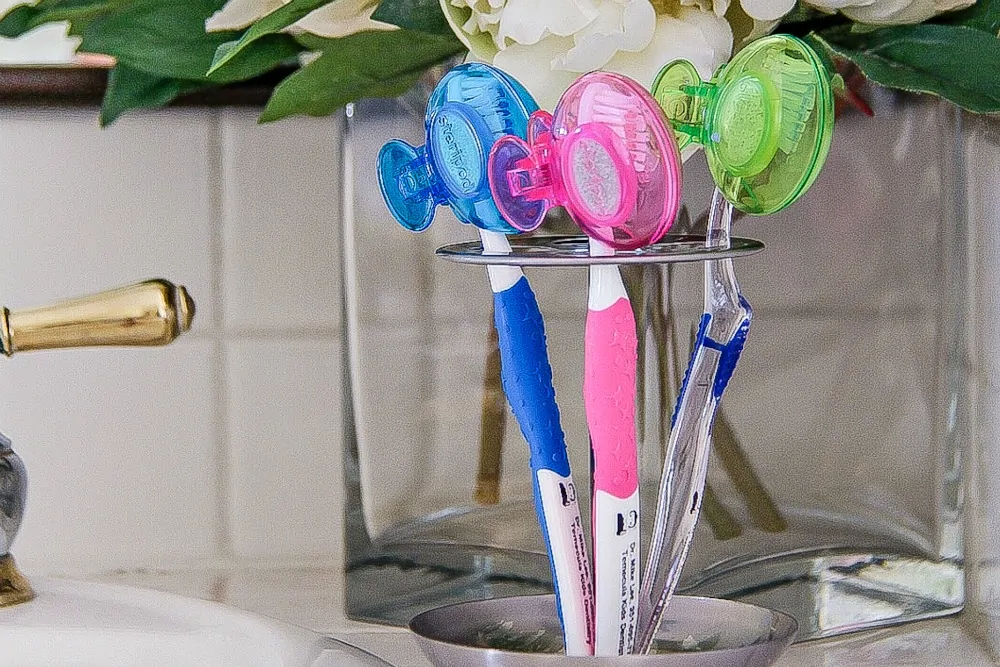 My least favorite chore at home is cleaning and organizing the bathroom. With three kids and three bathrooms in our home they can become a mess in no time at all.
Have you ever cleaned the bathroom and felt like moving into a hotel for a week, because you know the minute the kids walk in the door from school it's not going to be clean anymore?
So here are my 5 tips for keeping your bathroom clean and organized so you don't feel overwhelmed and it's ready at a moments notice if guests pop by unexpectedly.
 Follow Daily Habits:

Put things away as soon as you've used them – toothbrushes, moisturizers, hairbrush, and lotions.

Teach your kids how to wipe up the toothpaste from the basin after brushing their teeth, and hang towels.

Make sure they also know to turn the fan on before showering to keep the air circulating to prevent mold and mildew, and keep a squeegee in the shower for cleaning the glass after showering.

Stock Up Weekly:

Each week you need to take care of cleaning the bathroom and stocking up on supplies.

If you have young children, store chemical cleaners out of reach and instead keep a spray bottle of water and vinegar in the bathroom cupboard so they can help out with cleaning.

Ensure there's enough toilet paper in holders or cabinets, refill soap dispensers, clean the bathroom, wash the bath mats and hand towels.

Clean Thoroughly Quarterly:

Clean the drains in the shower, tub, and sink to prevent build up and them getting clogged with hair.

Also change fan filters and replace light bulbs if necessary.

Get Organized:

Setting up simple systems to help your family stay organized in the bathroom, really helps. Here are a few of my favorite bathroom organizing tips.

Use magnetic strips in medicine cabinets to keep small items like tweezers and nail clippers from getting lost in drawers.
Put utensil trays (the ones you use in kitchen drawers) in the bathroom counter drawers. They are perfect for keeping your toiletry items and makeup organized.
Hang a towel rack on the back of the bathroom door with extra towels, because it never fails that with multiple people using the one bathroom that someone forgets a towel.

Stay Sanitary with Steripod:

Bathrooms aren't very sanitary places… and our toothbrushes are sitting around soaking up airborne germs and bacteria. Then we put those toothbrushes in our mouths… ewww!!!

If you're like me, you've read articles about how much bacteria and gross contaminants are in bathrooms, but just tried not to think about it.

Well, good news… the answer is so simple. Snap on a Steripod.
What Is Steripod
Steripod is a clip-on protector that fits any standard or electric toothbrush and keeps it fresh and clean for up to three months using a patented vapor shield of thymol – used in many mouthwashes and oral antiseptics.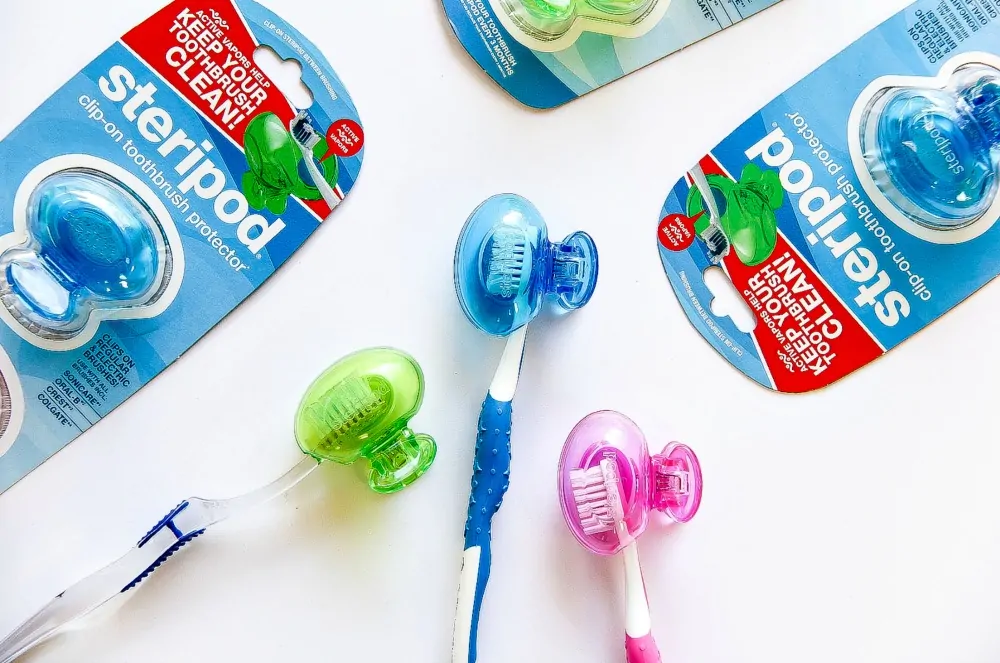 You simply clip Steripod on your electric or manual toothbrush and it goes to work; no cables or batteries are needed. 
Available in a rainbow of bright colors, Steripod is fun and easy for kids to use at home, school and on trips and has been specially designed so that air can circulate freely which means your toothbrush can dry naturally.
My kids just left for a week of Spring break with their dad and both had their toothbrushes in their Steripods inside their toiletry bags.
I never really thought about the way my family of four stored our toothbrushes all together in a cup in the bathroom, dangerously close to the toilet, or in dark, damp toothbrush travel cases on trips (which is One of 20 Mistakes You're Making With Your Teeth according to a recent Health.com report).
When toothbrushes are sitting together in a cup, bacteria can get passed from one to another.
As Pediatric Dentist and mom Danielle Gilbert-Fowler, D.M.D. puts it…
"You wouldn't clean your child with a dirty washcloth. Why clean their teeth with a dirty toothbrush? 

It's important to keep toothbrushes in a clean environment and separate from other family members toothbrushes.

Use of a Steripod clip-on toothbrush protector will help keep your toothbrush clean and protect against outside contaminants and cross contamination from other toothbrushes. It's important for kids and adults alike to replace toothbrushes every three months or more frequently after any illness."
Giveaway
Would you like to win a $100 Amazon Gift Card and a year's supply of Steripod for a family of four (16 Steripod total at approximate value of $50)?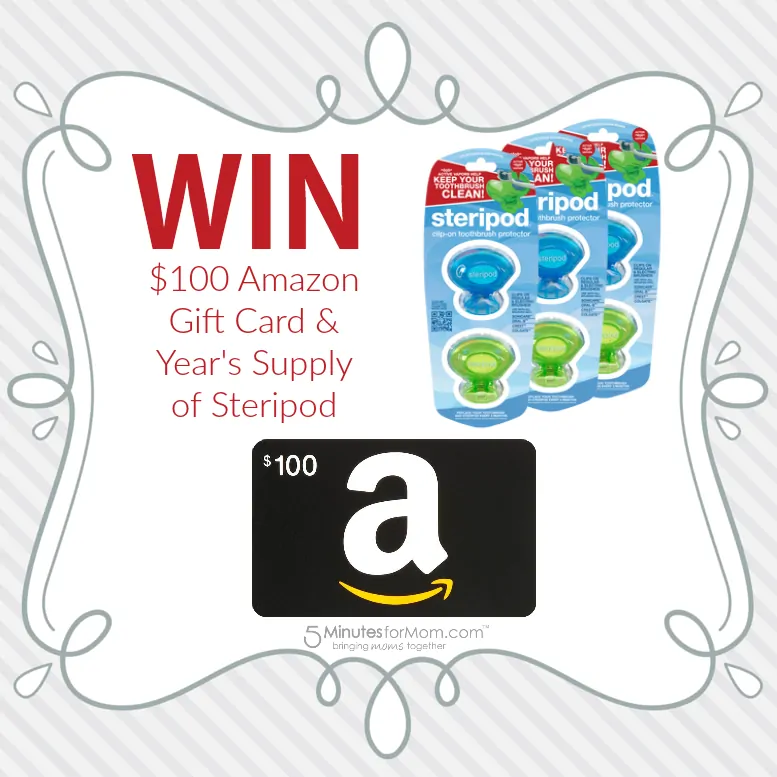 Leave us a comment with one of your favorite cleaning or organizing tips and then complete your entry using the giveaway form below.
(Open to the US only.)
And don't forget to visit Steripod here:

Shop for Steripod at major retailers nationwide including Bed, Bath & Beyond, Target, Walgreens and Walmart and online at Amazon or GetSteripod.com.
Pin for later:

Written by 5 Minutes for Mom contributor Tonya Staab.
Talk with us: @5minutesformom and Facebook.com/5minutesformom
Pin with us at pinterest.com/5minutesformom
Reader Interactions