This post may contain affiliate links. Read my disclosure policy here.
We want to invite you to relax and unwind in a world of romantic adventure… on your mobile phone! Yes, games aren't just for kids. The Delicious series starring Emily and her family are made for us women to enjoy a little escape. Thanks to RealNetworks' GameHouse division for sponsoring this post.
We want to introduce you to the world's most popular time-management game series…
The Delicious game series is in its 12th season and especially designed for women to become a part of a fun, romantic adventure.
Have You Met Emily?
If you haven't yet discovered The Delicious Series, it's a story-driven casual game series for women.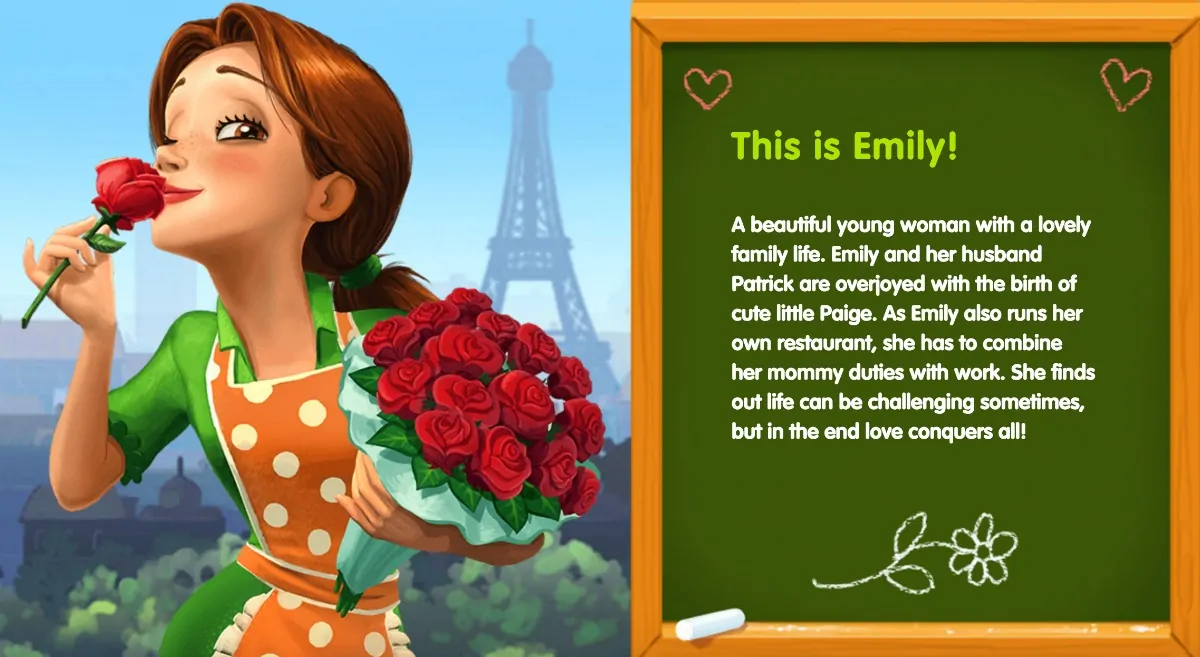 Emily's games are created by the RealNetworks' GameHouse division and have been around for 10 years. There are now 14 games with 20 million mobile downloads worldwide!

Casual games like this are a fun way for women to relax and relieve a little real-world stress.
[Tweet "Do you ever relax and relieve your real-world stress with casual games on your mobile?"]
This now top-ranked series started with it's first release in 2006.
It focused on challenging time-management gameplay: serving a variety of food in numerous types of restaurants. The creators discovered, however, that fans loved the main character, Emily, so they created more possibilities for Emily to develop her own personality. The series evolved into a storyline based game that supersedes any casual game category and attracts millions of players globally.
The two latest releases have something for every woman…
Delicious – Emily's Hopes and Fears
Get ready to dive into a moving story of love, trust, and family with Delicious – Emily's Hopes and Fears.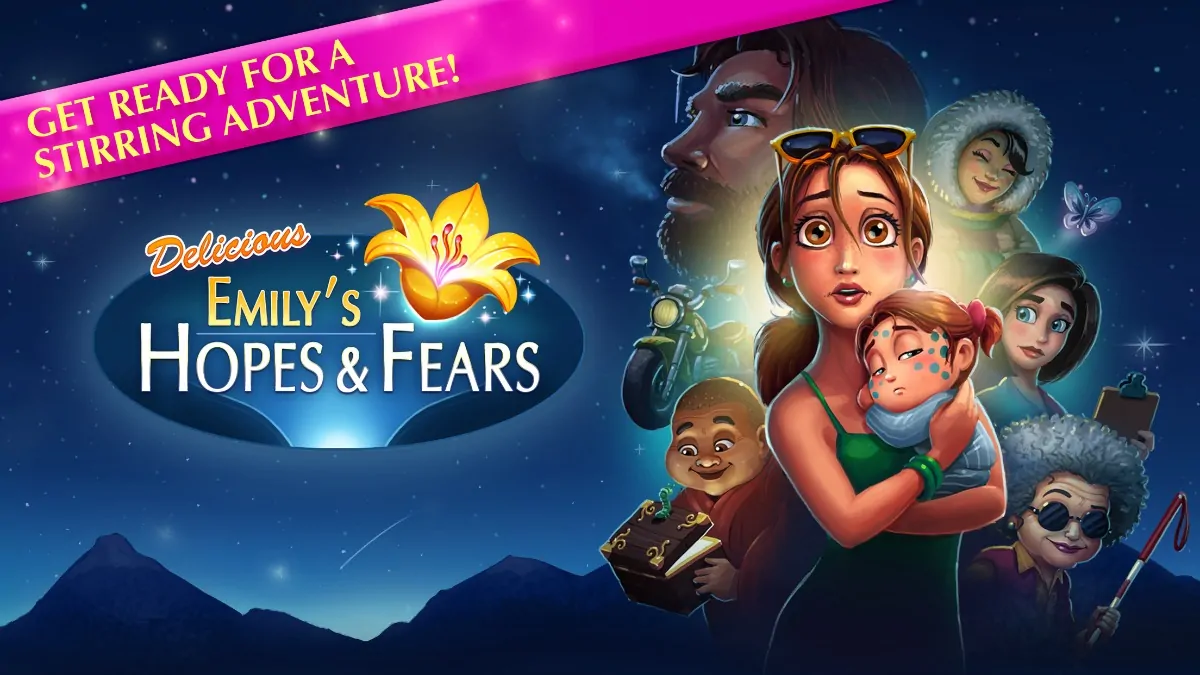 Delicious – Emily's Hopes and Fears takes play during the hottest summer of the century. When Emily's daughter, Paige, succumbs to a mysterious illness, her husband Patrick embarks in search of a cure. 
Emily stays unwaveringly by her struggling daughter's side while her husband, Patrick, embarks on an epic journey through the blistering cold in search of the only cure: a magical flower.
Can he save his little girl?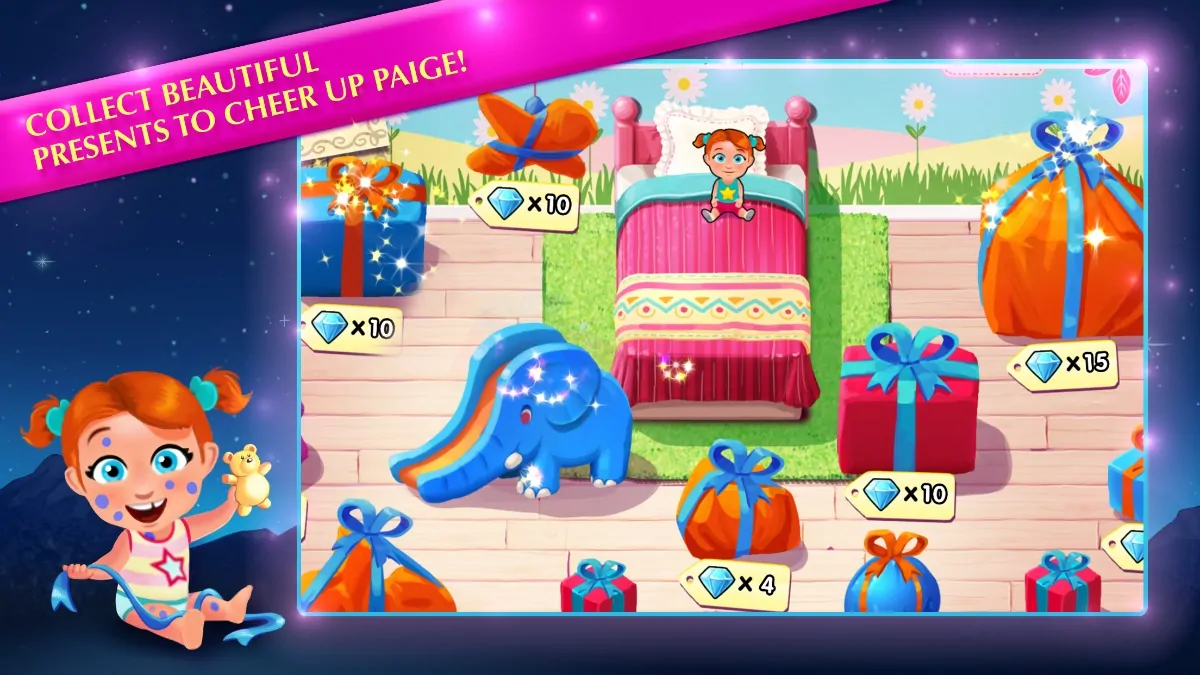 Explore 65 challenging yet curiously relaxing story levels with an 32 extra challenges! Unlock presents for Paige as you complete challenges and achieve high scores as you help Emily and Patrick through their greatest challenge yet.
Take a look…
How to Play
To progress in Delicious – Emily's Hopes and Fears, you must complete restaurant services. Serve customers of various types during your shift at the restaurant by taking orders, preparing food, accepting payment, and cleaning up in a timely manner.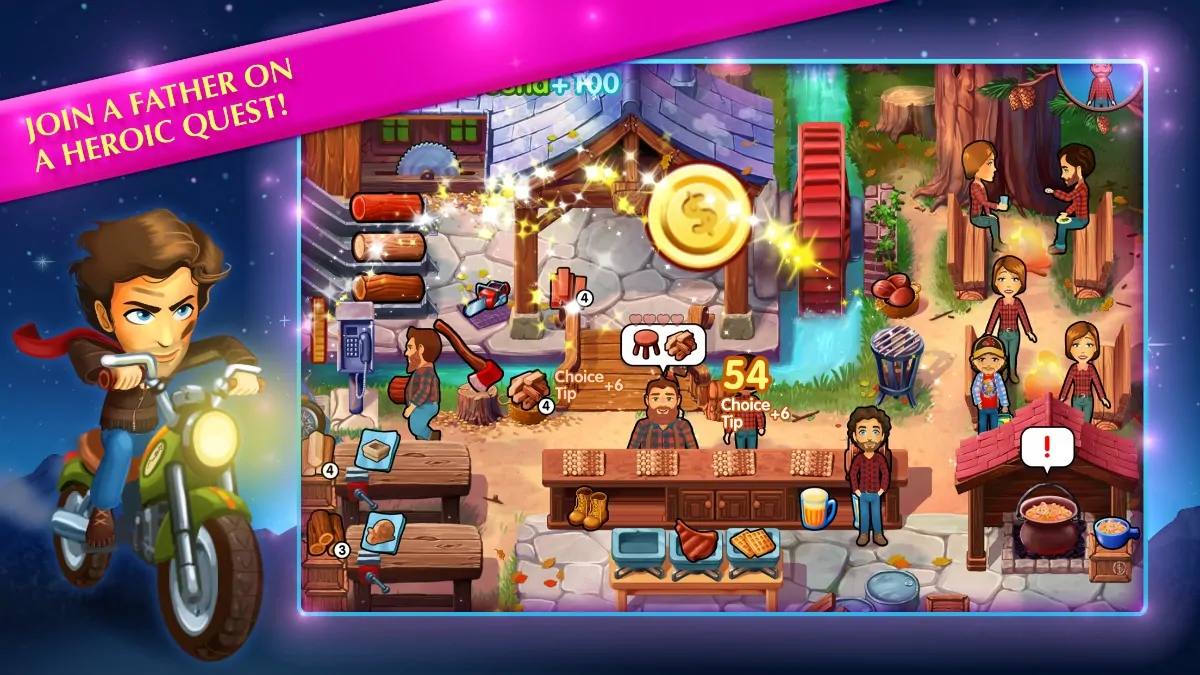 Make sure you keep your customers in mind! Customer patience is measured in hearts and happy customers will leave tips, while angry customers may leave altogether. Reach the target amount of points for each day while keeping customers happy to progress.
Delicious – Emily's Cook & Go
This special edition game is to celebrate the series' 10th anniversary and 20 million mobile downloads worldwide.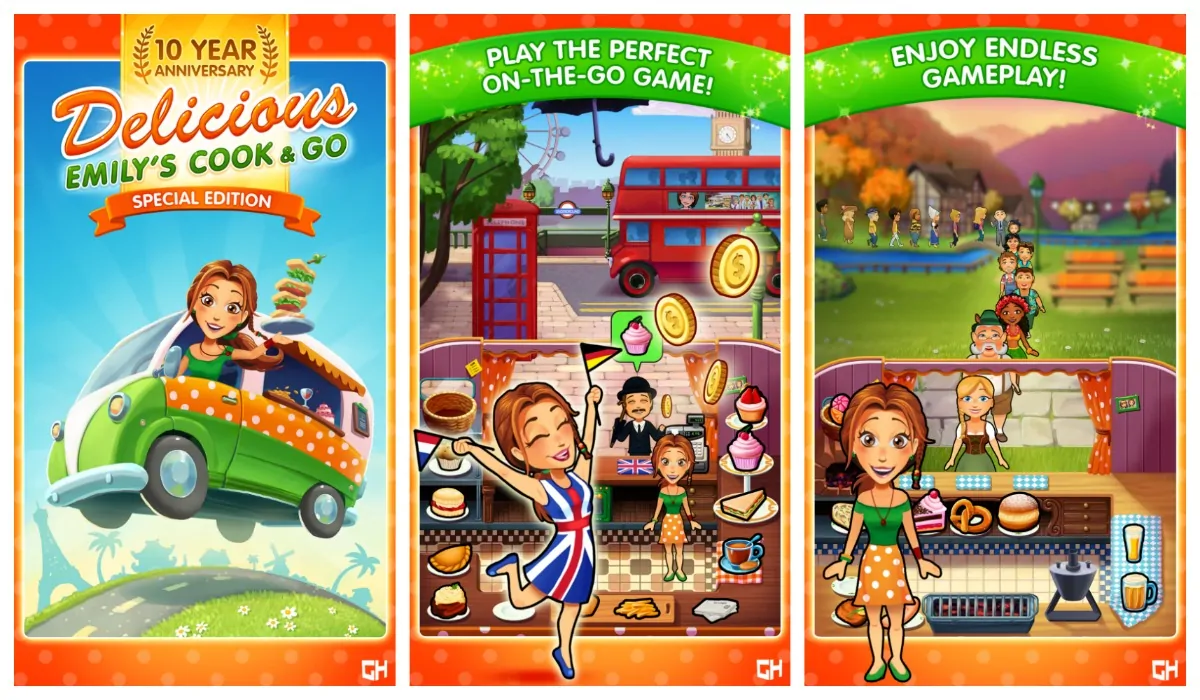 The Anniversary edition fulfills fans desire for endless gameplay and is again all about serving food.
You'll travel virtually with Emily to Hawaii, Holland, Brazil and many other locations as you enjoy endless gameplay on the go.
Michel Maas, creative director of Delicious, says…
The story saga will definitely continue in following games, but with this special edition we have the chance to surprise our fans with something unique. With Delicious – Emily's Cook & Go we're going back to basics of time-management, only with today's quality and settings in locations throughout the world.
Take a look…
Find out more
Join Emily and Patrick…
Website: www.deliciousemily.com
Facebook: www.facebook.com/DeliciousGames
Instagram: @delicious_emily
Share With Your Friends
We'd love, love, love a tweet or a pin… Thanks so much! 🙂
[Tweet "Moms, This Game Is For You!"]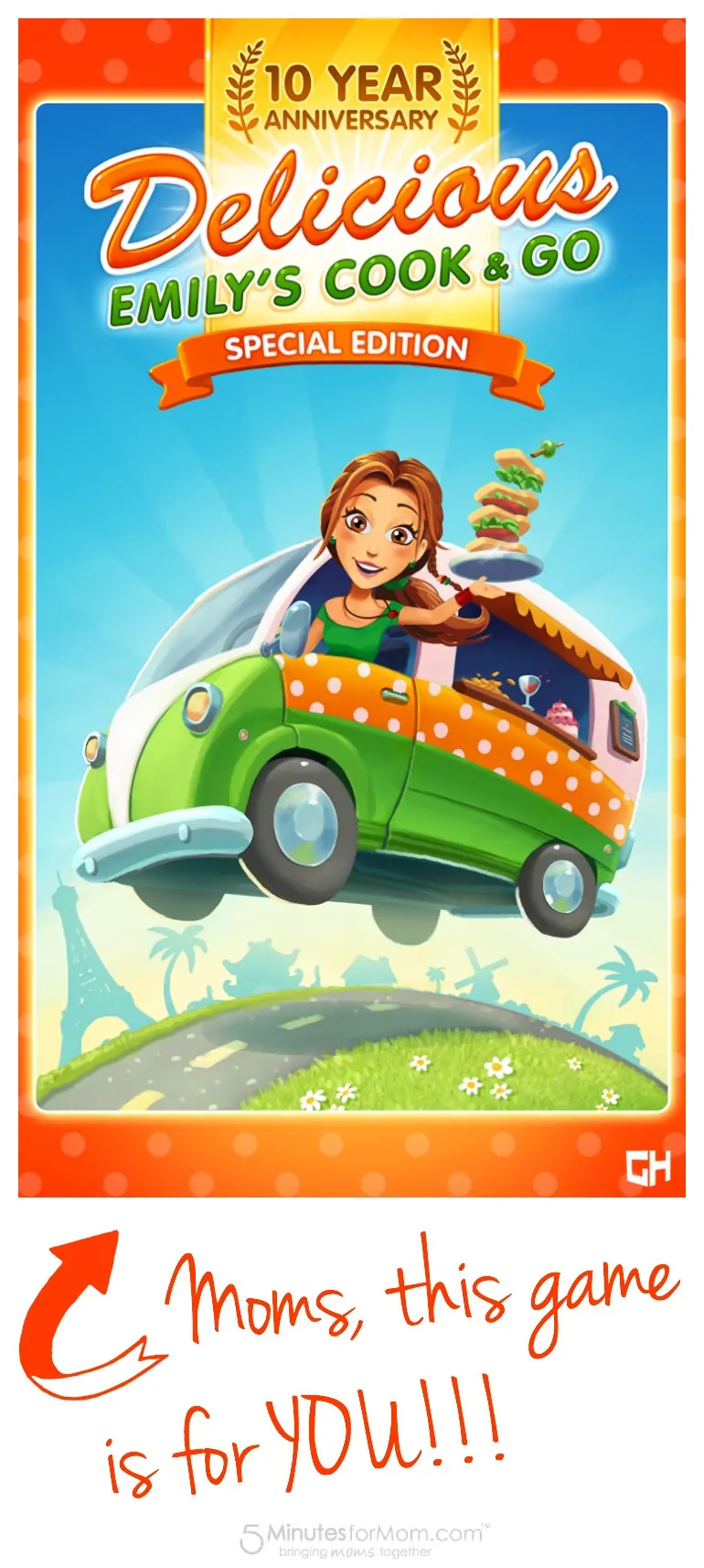 Disclosure: This post is sponsored, so extra thanks for reading and sharing.
Written by Susan Carraretto, co-founder of 5 Minutes for Mom
Talk with me: @5minutesformom and Facebook.com/5minutesformom
Pin with me at pinterest.com/5minutesformom