This post may contain affiliate links. Read my disclosure policy here.
Nothing beats homemade pie! Treat your family to a lovely piece of pie from one of these 30 delicious pie recipes.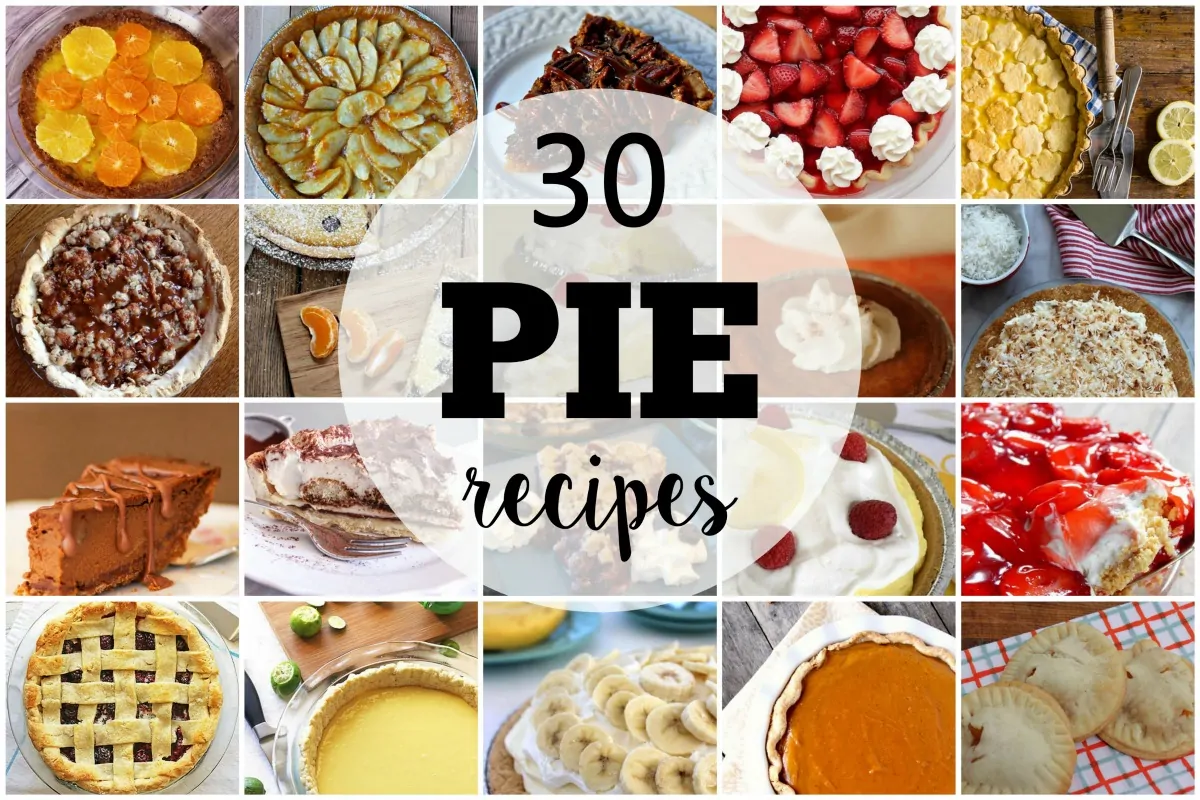 We love pie… so we've gathered 30 fabulous recipes from our blogging friends for you. Each of these pies will delight your family and guests when you entertain.

Pie Crust From Scratch – Start here as a perfect base for the other delicious confections!
Caramel Apple Pie – Bring an autumn treat to your dinner plate
Mini Apple Pies – Shortcuts galore make this a quick treat!
French Apple Pie – Delicious glaze takes this pie to the next level
Homemade Berry Pie – Using whatever berries you like, this will be a crowd-pleaser!
Blueberry Crumble Pie – Easy crumble topping means less work for you.
Raspberry Pie – Fresh berries and a bit of Chambord.
Strawberry Pie – Tastes just like your restaurant favorite.
Mini Strawberry Pies – A personal touch for any special occasion.
Strawberry Cheesecake Pie – How can you wrong when combining pie and cheesecake? You can't.
Easy Key Lime Pie – Only 3 ingredients, what could be simpler?
Creamy Lemon Layered Pie – A softer version of a traditional puckery treat.
Lemon Crostata – A richer, creamy Italian-style pie.
Weight Watchers Icebox Lemon Pie – Tracking points or watching your waistline? Try this.
Fresh and Easy Orange Tart – Delicious citrus refreshment.
Peach Hand Pie – A portable treat, perfect for lunch.
Easy Strawberry Pie – loaded with strawberries and a homemade jelly filling.
Heavenly Banana Pie – The creamy top goes sky-high.
Easy Banana Cream Pie – Using Cool Whip and pudding means no slaving over the stove.
Maple Vanilla Bourbon Cherry Pie – You had me at maple. And bourbon.
Chocolate Cherry Pie Cups – This recipe comes together quickly with only 3 ingredients.
Turtle Pecan Pie – Add chocolate to a traditional favorite.
S'more Brownie Pie – A yummy, gooey combination.
No Bake Peanut Butter Pie – I love when something says "no bake", don't you?
Triple Chocolate Pumpkin Pie – Who can resist this combination?
Chocolate Cream Pie – An easy addition to a dessert lineup.
Coconut Cream Pie – Delicious homemade version of a tropical delight.
Reese's Pieces Peanut Butter Ice Cream Pie – Creamy and crunchy.
Mini Pumpkin Pies with Graham Cracker Crust – Miniature version of a classic.
Sweet Potato Pie – Classic version of a Southern favorite.
Tiramisu Pie – Fun spin on a traditional Italian dessert.
Gluten Free Italian Easter Pie – Easter's right around the corner, hint hint.
And a bonus pie recipe of our own…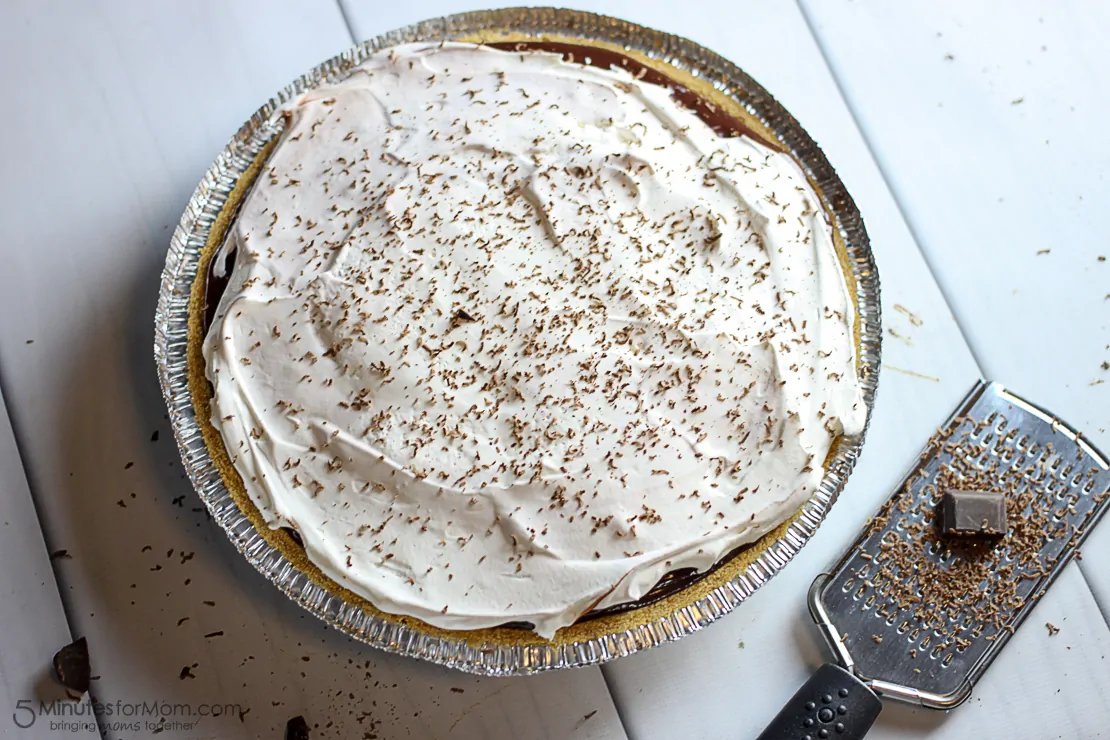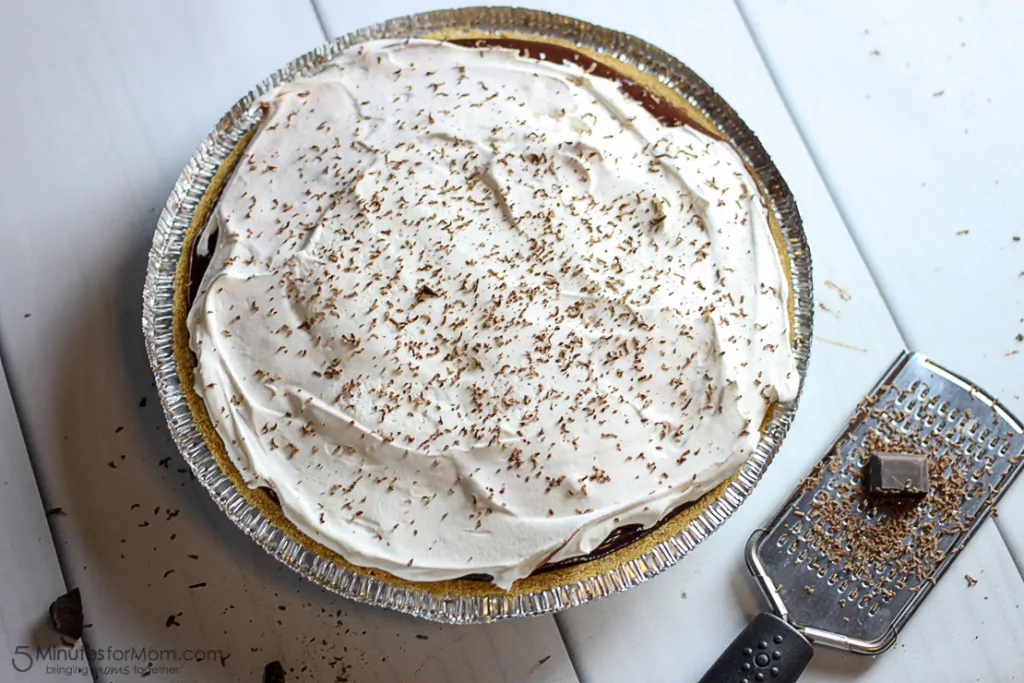 EASY Double Chocolate Pudding Pie – This super easy pie uses only 4 ingredients.
Share With Your Friends
We'd love, love, love a tweet or a pin… Thanks so much! 🙂
[Tweet "Love to bake? Here are 30 delicious pie recipes for you to try…"]
Written by Susan Carraretto, co-founder of 5 Minutes for Mom
Talk with me: @5minutesformom and Facebook.com/5minutesformom
Pin with me at pinterest.com/5minutesformom