This post may contain affiliate links. Read my disclosure policy here.
Do you ever shop at thrift stores?
Shopping at thrift shops and other second hand clothing stores is an awesome way to save money, find unique clothes and decor items and to help the environment. Yes, you might not have considered the "green-side" of buying second hand, but it prevents those items from ending up in a land fill.
I admit, I'm not a pro at thrifting, but I've got some tips to share from someone who is.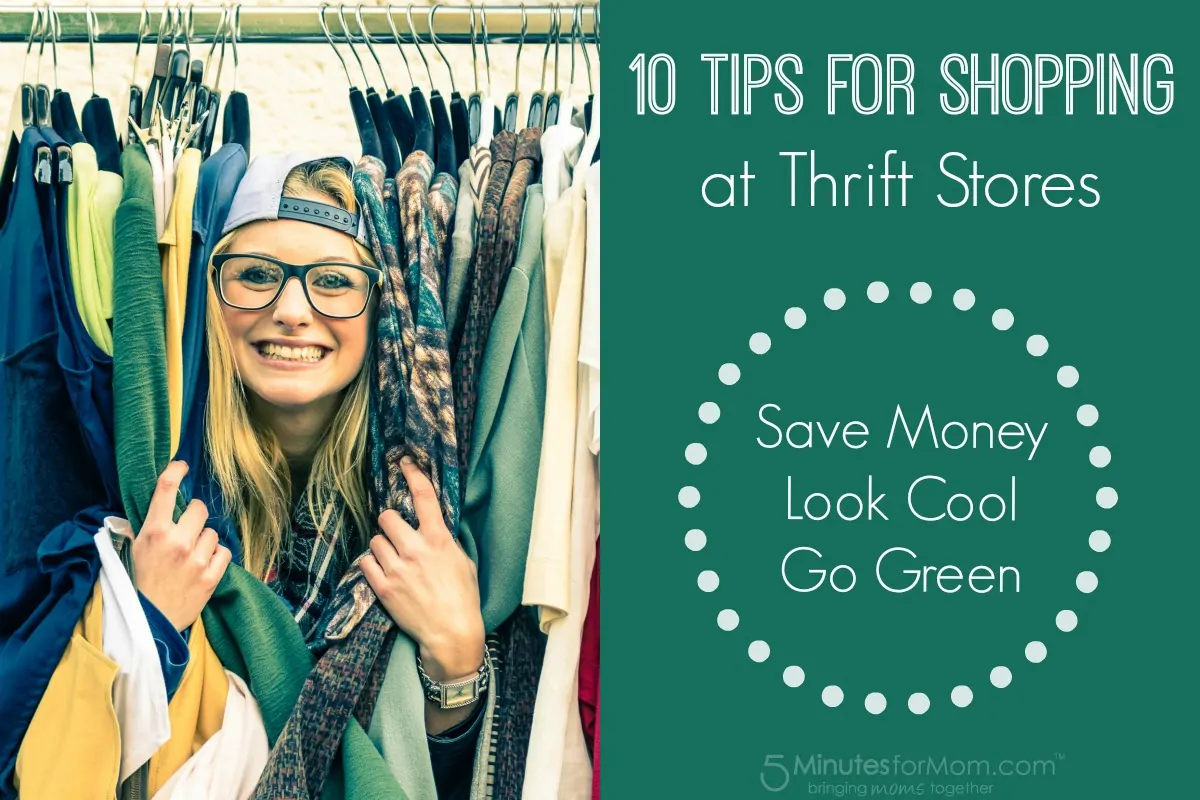 Back in March, 2009, one of our Going Green writers, who goes by the name Velocibadgergirl and blogs at Pardon the Egg Salad, shared these tips that help her rock at thrift store shopping.
She's been thrifting since middle school and says "I got so spoiled by the ridiculous bargains that to this day, I almost never buy something at full price. It's usually clearance racks, thrift stores, or nothing."

Here are the tricks to a good thrift shopping experience that she has learned over the years:
Don't go if you're in a hurry.

Unless you're looking for a very specific item (like red hooker heels or an '80s prom dress for Halloween, for example), thrift shopping is pretty much the antithesis of a grab-and-go trip.


Have an idea of what's in your closet.

Take a few minutes to take a mental inventory of your existing wardrobe before you hit the racks. Because thrift shops are not selling you ready-matched collections and pieces meant to be made into coordinated outfits, it helps to know what you already have at home. A great top is only great if you've already got a pair of pants to wear it with. Otherwise that great top will just require you to go shopping again for something to match it.


Go through it all.

Most shops try to sort the clothes by color and/or size, but customers are constantly mixing them and moving them around. My strategy is usually to start at one end of each rack of shirts and literally flip through each one. You'll never know what might be hiding between appliqued cat sweatshirts and awful granny floral prints if you don't take the time to look! Besides, if you're in a rush, you'll miss all the really awesomely cringe-worthy stuff that packs the racks of most worthwhile resale shops.


It's always more fun with a friend.

You'll have someone to talk to, someone to giggle with over horrifying '80s shoulder pads, and someone to tell you honestly if that funky print skirt makes your butt look big.


Try everything on.

Even though it's cheap, trust me, you want to try it all on. Most thrift store stuff is there simply because someone got sick of it, but sometimes it's because that fabulous shirt shrank funny in the wash, or because the fabric of that kicky dress is horrifically itchy. My strategy is usually to pile everything that interests me into a cart, and then have a marathon fitting room session at the end.


If you think you might want it, grab it.

If you pass over something you're on the fence about, chances are when you change your mind and go back for it, someone else will have snagged it.


Double-check.

Once you've narrowed down your selection to the things that fit and you're sure you want to buy, go back and check them again. Most thrift stores wash everything before it hits the racks, so any stains you see are probably not going anywhere. Pay special attention to the seams at the sides and underarms of shirts, and look at the seams, hems, and crotch stitching of pants. Watch for holes at the corners of back jeans pockets. I can't tell you how many times I've almost bought a shirt with a hole in the armpit, only to catch it on a second examination.


Have fun!

If you can't laugh at yourself while trying on a fantabulous lime green polyester pantsuit, when can you laugh? If you can't poke fun at a garish metallic Santa sweater, you're living life much too seriously.


Feel righteously green.

According to Joanna Yarrow, author of How to Reduce Your Carbon Footprint: 365 Simple Ways to Save Energy, Resources, and Money, "Up to 15% of Americans shop at consignment or resale stores, preventing 2 1/2 billion pounds of clothing from entering the waste stream each year." Two and a half BILLION pounds! That's amazing! Also, buying resale rather than retail is one of the only ways you can be absolutely sure that your money is not supporting sweatshop labor.


Drop off a bag of your old clothes.

As an added bonus, many thrift stores are run by organizations that provide services to the needy and jobs for people with disabilities. And don't forget to donate your own no-longer-worn clothes to the thrift shops, too! My mom likes to call this wardrobe recycling — drop off a bag of stuff that you're sick of, and buy a new bag of stuff to take home.

Thrift shopping really is a win for everyone — your closet, your wallet, your fellow humans, AND your planet!

Share With Your Friends

We'd love, love, love a tweet or a pin… Thanks so much! 🙂

[Tweet "10 Tips for Shopping at Thrift Stores to Help You Save Money, Look Cool and Go Green"]

Written by Susan Carraretto, co-founder of 5 Minutes for Mom
Talk with me: @5minutesformom and Facebook.com/5minutesformom
Pin with me at pinterest.com/5minutesformom