This post may contain affiliate links. Read my disclosure policy here.
Do you need some advice and inspiration to get started organizing your home? These organizing tips will help you get your family to work with you and organize your entire house!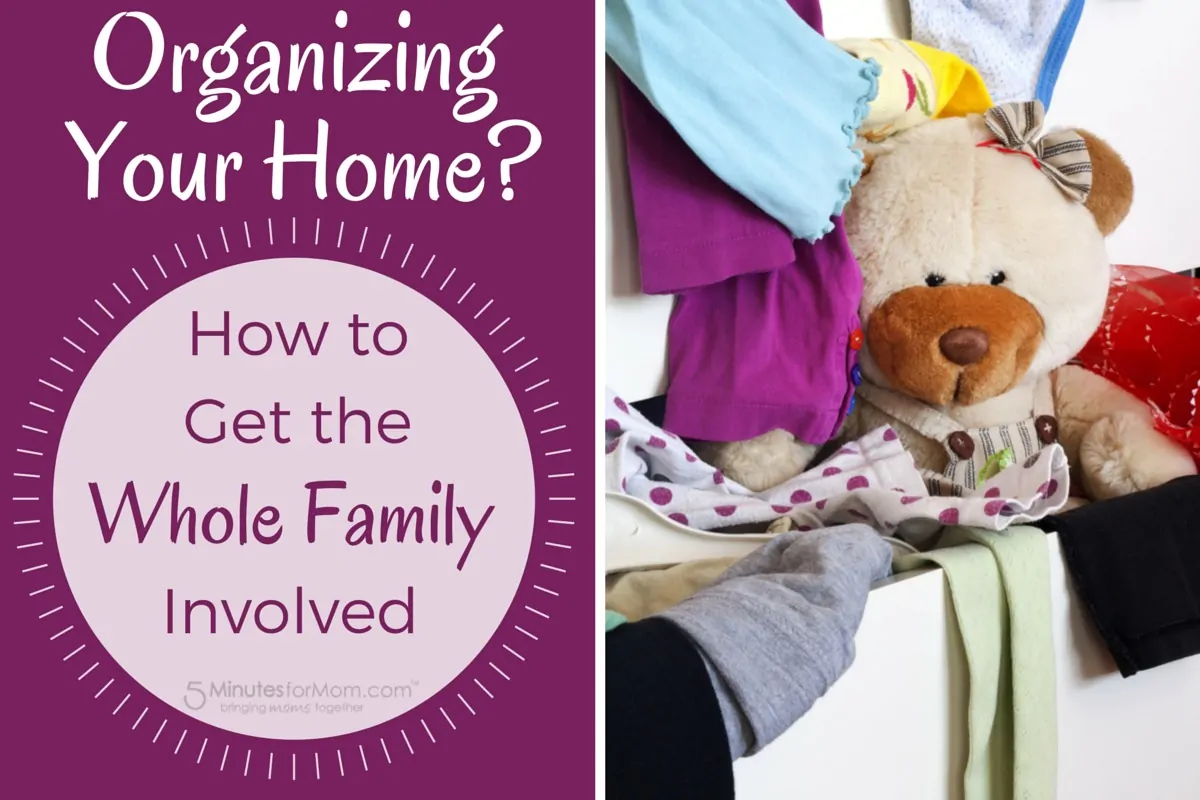 We all have them…
The overflowing garage.
The closet that you're afraid to open for fear of sustaining a head injury when something large and heavy falls out.
The drawers that cannot fit even one more scrap of paper.
Even if your home isn't quite ready to be featured on an episode of "Hoarders" yet, chances are you want it to be more organized. After all, a busy family often requires a lot of "stuff," and eventually it can feel like the stuff is taking over.
It doesn't help, either, that you can't scroll through your newsfeed or spend a few moments on Pinterest without being simultaneously inspired and overwhelmed by the magnitude of the task of organizing your home.
Sure, you would love to have the coordinated bins with a chalkboard label clearly indicating their contents, but getting to the point where that is even possible feels like a massive hurdle — especially if you feel like you have to do it by yourself.
The thing is, you don't.

Organizing your home can and should be a family affair. Not only does the task get done more quickly when everyone pitches in, but you can avoid future arguments when you "accidentally" donate your husband's box of old bowling trophies or your daughter's favorite stuffed animal to charity.
Of course, getting everyone to pitch in can be a task in and of itself, but you can rally the troops without begging, pleading, or arguing.
Make Organizing Fun
Okay, so it's unlikely that you'll be met with cheers of enthusiasm when you announce your organizational project to the family, but you can make the task itself less burdensome, and even enjoyable, by following Mary Poppins' lead and finding the "element of fun."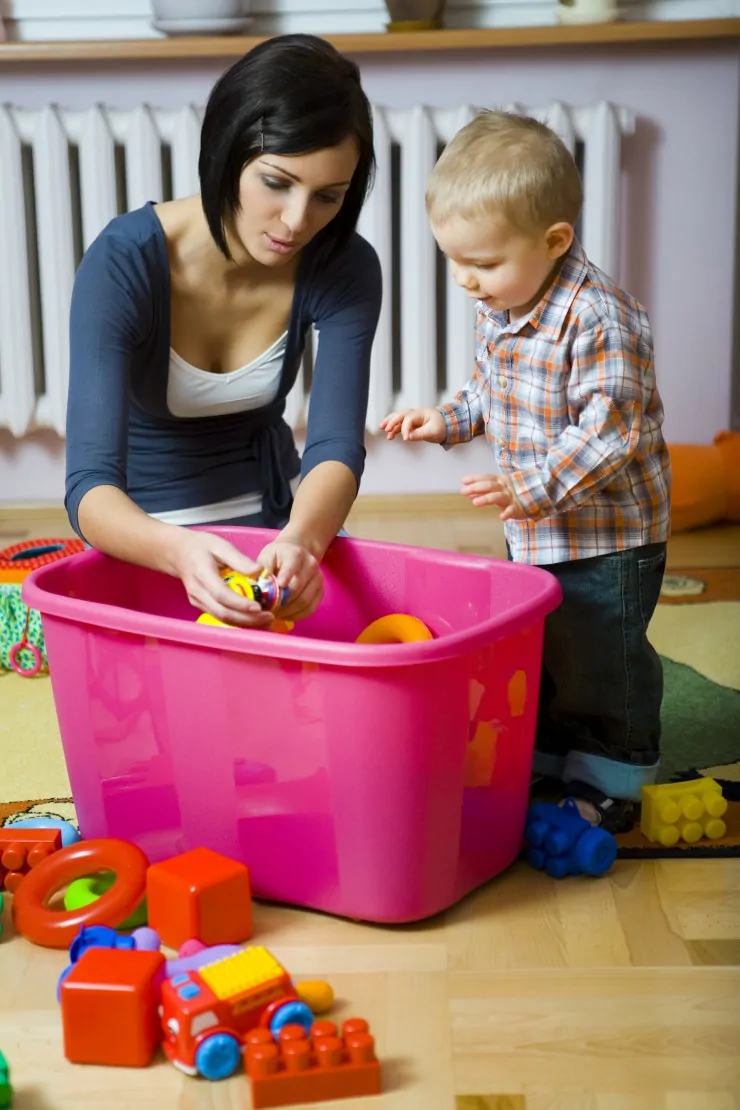 Since you won't be able to snap your fingers and watch the toys march themselves into the toy box, though, try some of these ideas:
Make a game out of it.

Challenge the family to a race to see who can clean out a designated area the fastest, who can make the biggest donation pile, or find the most random or ridiculous item. Or create a real game; young children for example, can stay occupied sorting items by color or size.

Play to everyone's strengths.

Everyone has chores that they hate doing and those that aren't so bad. Let everyone choose the tasks they want, and there will be less arguing.

Set a timer.

Whether it's 15 minutes, 30 minutes, an hour, or longer, challenge your family to get as much cleaned up and organized as possible before the buzzer.

Let the kids be the boss.

Even if it's just an hour or two, let the kids be in charge for a short period.
Give Them Incentives
You wouldn't go to work every day if you weren't being paid — so why not take that same approach at motivating your family to help you organize? Something as small as a trip to the ice cream shop can help encourage kids to spend the afternoon cleaning their rooms.
For bigger jobs, look for bigger incentives. Talk to the kids about having a garage sale, for example, and what you might do with the money you earn.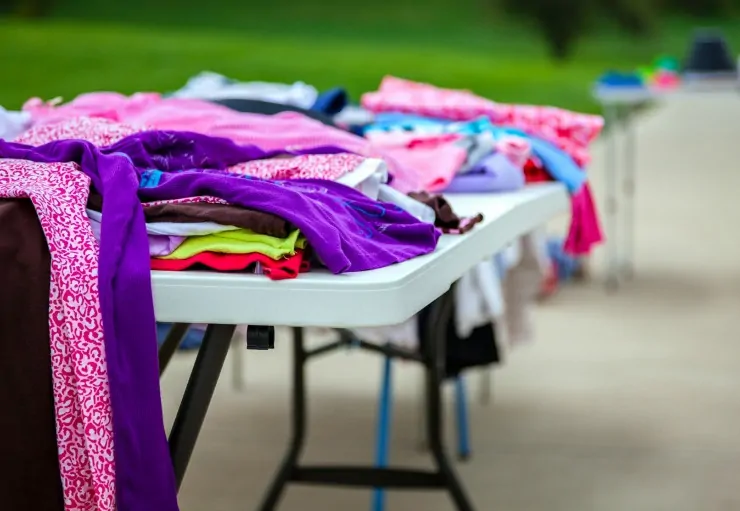 You might let the kids keep whatever they earn from their own table, for example, or plan to use the cash toward a family trip or large purchase that the whole family can agree on.
When there is a tangible, attractive reward on the table, you might be surprised at how willing everyone is to help.
Negotiate Tradeoffs
Sometimes, getting everyone to pitch in requires more than just a game or a fun reward. You might have to convince certain members of the family to let go of certain items to make space and clear the clutter. For example, if the family boat has been parked in the yard, unused, for two years, you might have to convince your hubby to donate it to a worthy charity. Be prepared to offer something in exchange; for example, if he donates the boat, the family can use the money that's currently earmarked for registration and maintenance for something else.
This method works well for children: Many will willingly part with a box or two of old, unused toys in exchange for a new one.
Getting the family involved in organizing your home doesn't have to involve twisting arms or pulling teeth. Be creative and keep it fun and you'll get your home in shape in no time — or at least, reduce the risk of head injuries.
Share With Your Friends
We'd love, love, love a tweet or a pin… Thanks so much! 🙂
[Tweet "Organizing your home? Try these tips to get your whole family involved…"]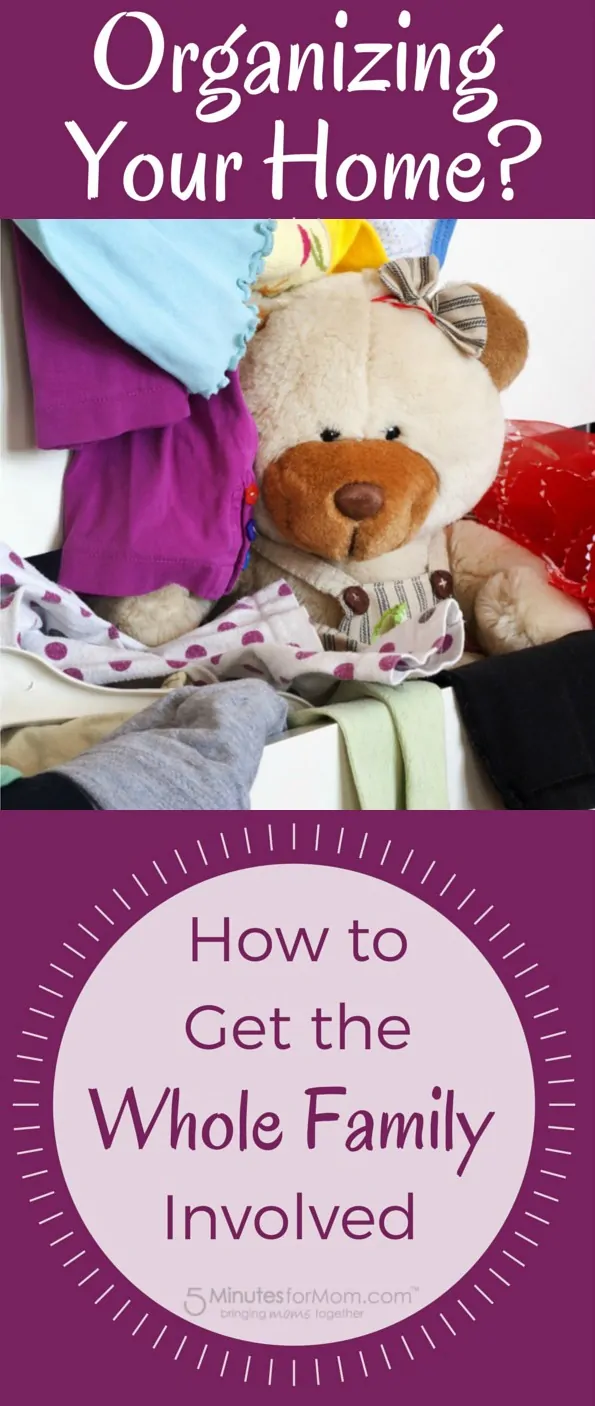 Disclosure: This post is sponsored so extra thanks for reading, sharing and supporting 5 Minutes for Mom.
Images from Dollar Photo.
Talk with us: @5minutesformom and Facebook.com/5minutesformom
Pin with us at pinterest.com/5minutesformom