This post may contain affiliate links. Read my disclosure policy here.
Disney sent 5 Minutes for Mom contributing blogger Dawn Cullo to Orlando, FL to attend the Disneynature Monkey Kingdom press event which included accommodations at All Star Vacation Homes. Dawn's expenses have been paid for the trip but no other compensation were paid and all opinions are Dawn's.
I recently had the opportunity to stay in an All Star Vacation Home in Kissimmee, FL. Right away I could see how amazing it would be for my family to stay at a vacation home for our next family getaway.
The home I stayed in was over 3,000 square feet and had a total of five bedrooms, three of which had their own private bathroom.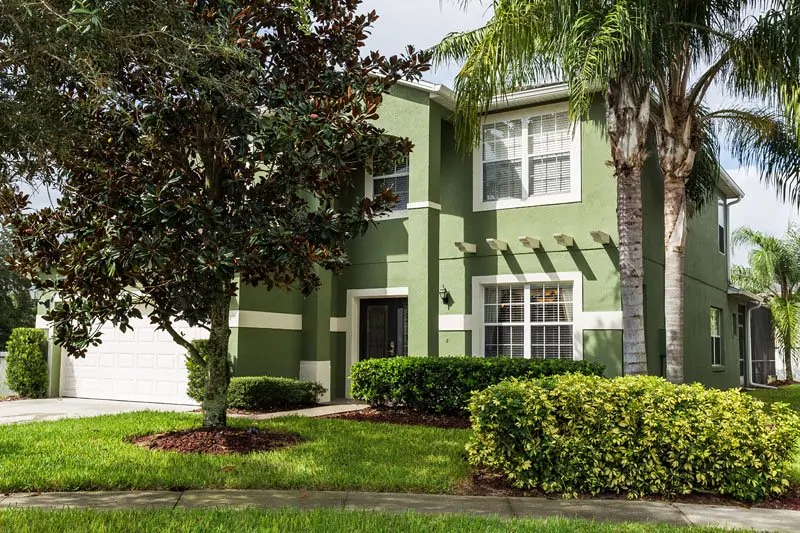 The home is located at 8039 Acadia Estates Court and only 3 miles from Walt Disney World.  There were a total of six bloggers in our house and there was still plenty of room for us to move around the house and be comfortable.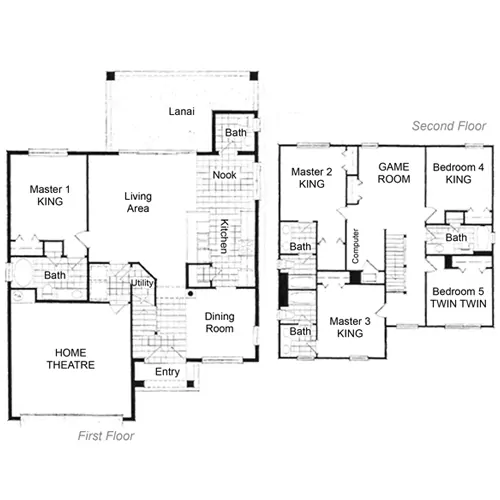 This is the room that I stayed in during my press trip. I felt like I was staying in a model home, it was so beautiful.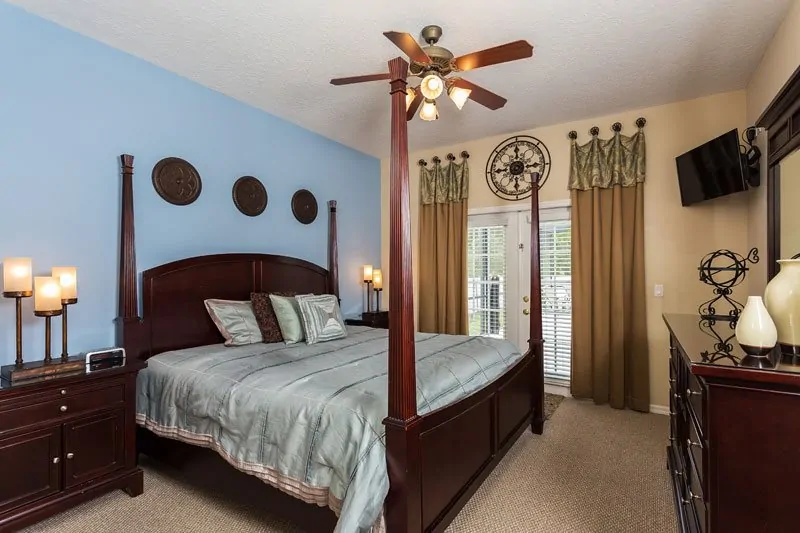 The Master Bath had a shower with a jetted bath tub too.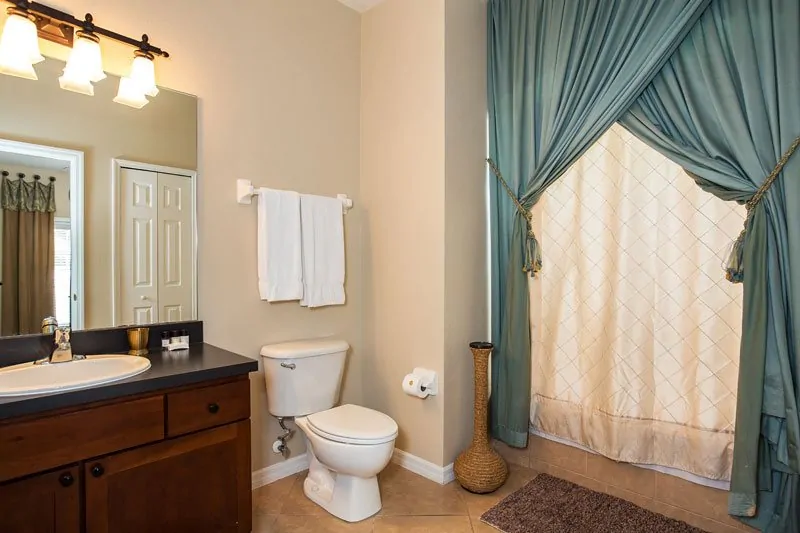 The benefits of staying in a vacation home instead of a hotel are endless but here are a few that popped into my mind during the trip.
Private Pool and Spa
I don't know of any hotel where you have your own private pool and spa that is covered and heated.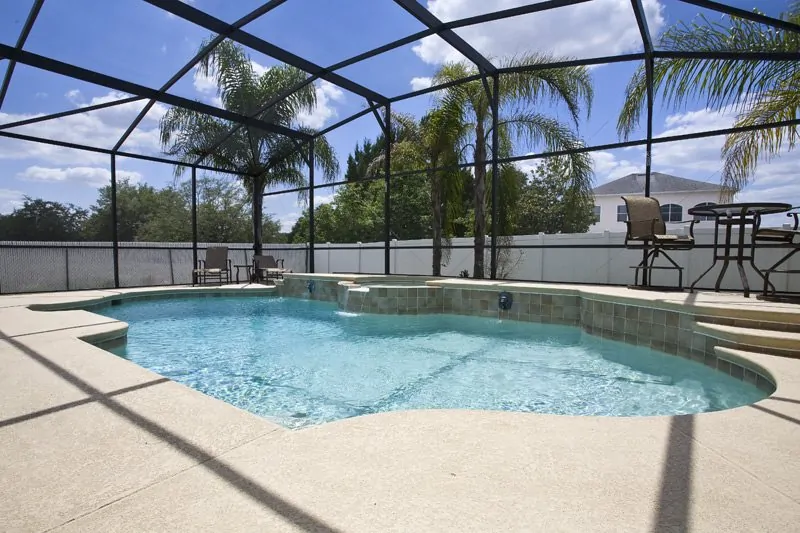 The backyard also has a baby gate around the pool, an outdoor shower, patio table and chairs, and a BBQ.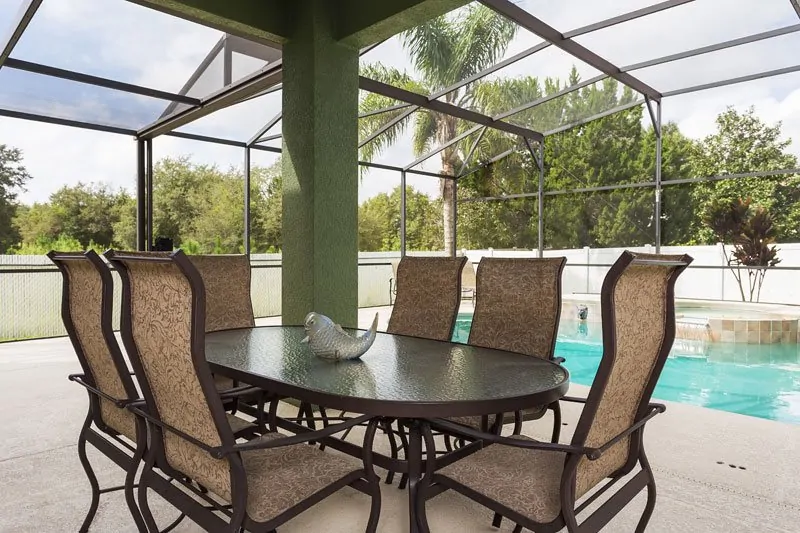 Full-Sized Washer and Dryer
Some hotels do offer a laundry area but you have to pay extra and they aren't private.  This full-sized washer and dryer are perfect for your vacation because you can bring less clothes while on vacation, wash and wear them again. Another idea is to do all of your vacation laundry before you get home and simply unpack your clothes into your dresser.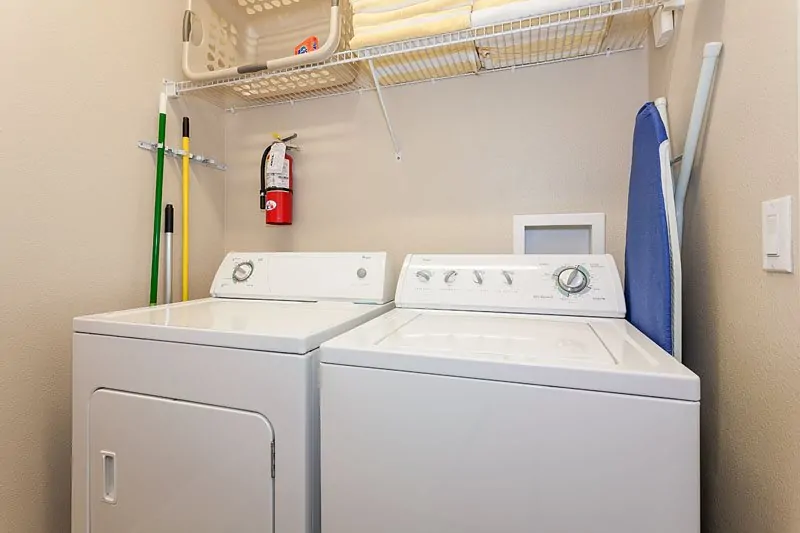 Fun Themed Rooms
Some hotels charge extra to stay in their themed rooms.  At All Star Vacation Homes the kids rooms are decorated in a fun theme.  I like having just the kids rooms decorated this way because it gives the kids a special place all to themsevles.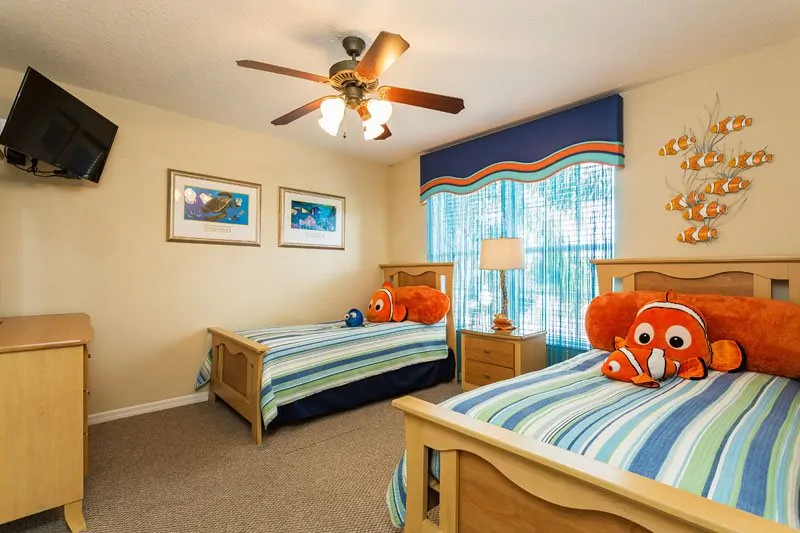 Private Home Theatre
Instead of a garage, the homes have a home theatre with a 92″ projection screen. Netflix and a Blu-Ray player are available with plenty of seating for the entire family.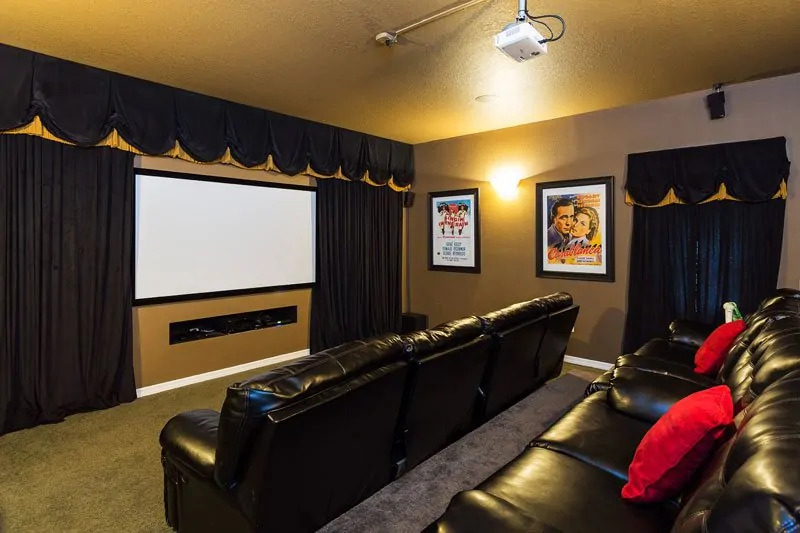 Game Room
The game room was located in the loft area and there was plenty of room for everyone to play a game of pool. Also in the game room is a Donkey Kong arcade style game that included three games.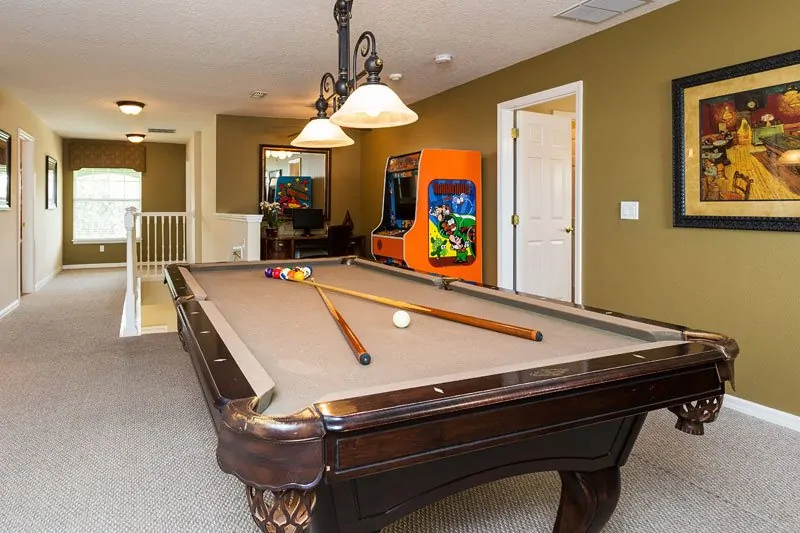 Computer Work Area
If you don't want to bring your computer on vacation but still want to access the internet from time-to-time then you are in luck because a nice workspace is available with complimentary wifi. Now you don't need to head down to the lobby or the hotel business center and wait for a computer to use.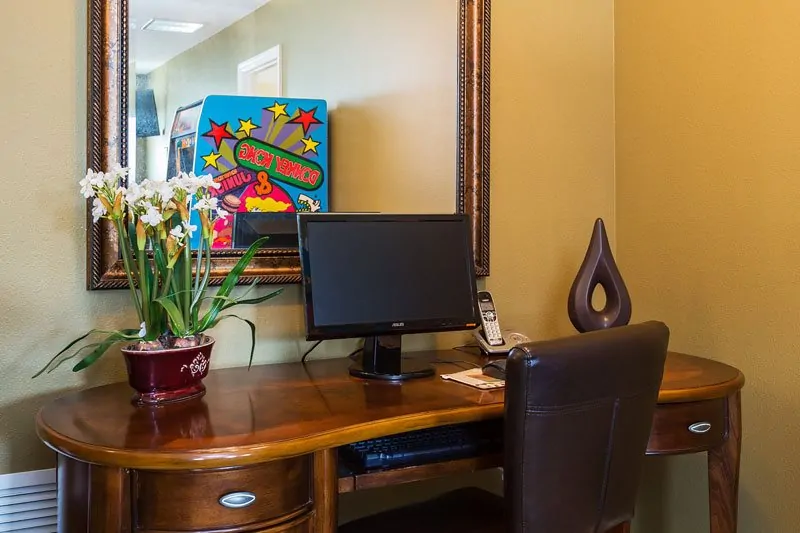 Fully Equipped Kitchen
The kitchen is fully stocked with plates, cups, utensils, pots and pans.  All you need to provide is the groceries.  Being able to cook meals at your All Star Vacation Home will save you a lot of money while on vacation.
I feel this is most helpful with breakfast time.  When you stay at a hotel you have to get up and get dressed and then go out to breakfast. But when you stay at All Star Vacation Homes you can literally roll our of bed have breakfast, a cup of coffee and relax a bit before starting your day.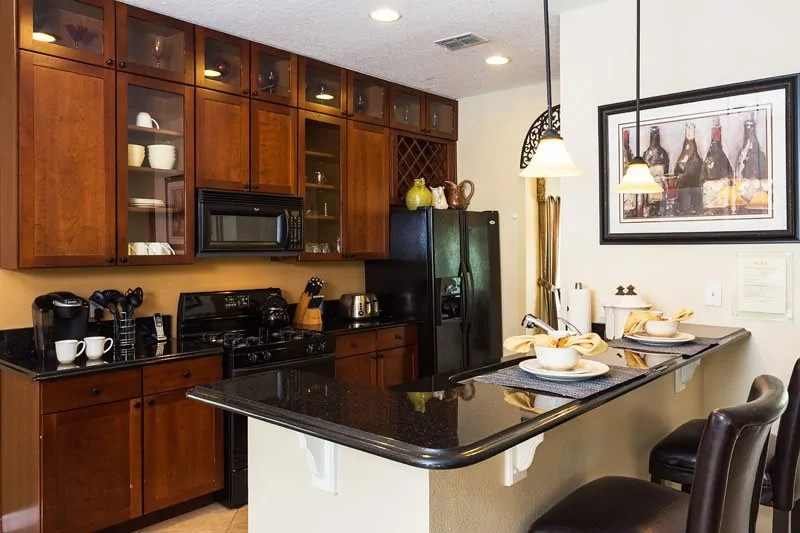 Relaxing & Cost Effective
Most of all, when staying at an All Star Vacation Home you get the time and space you need to relax. Isn't that what vacations are meant to be for in the first place? When you stay at a hotel you are surrounded by people in the lobby, the hallways, elevators and at the pool area. With All Star Vacation Homes, once you walk through the front door it's like you've come home.
The All Star Vacation Homes are large enough to share with your friends or additional family members so you can split the cost of your accommodations and save money.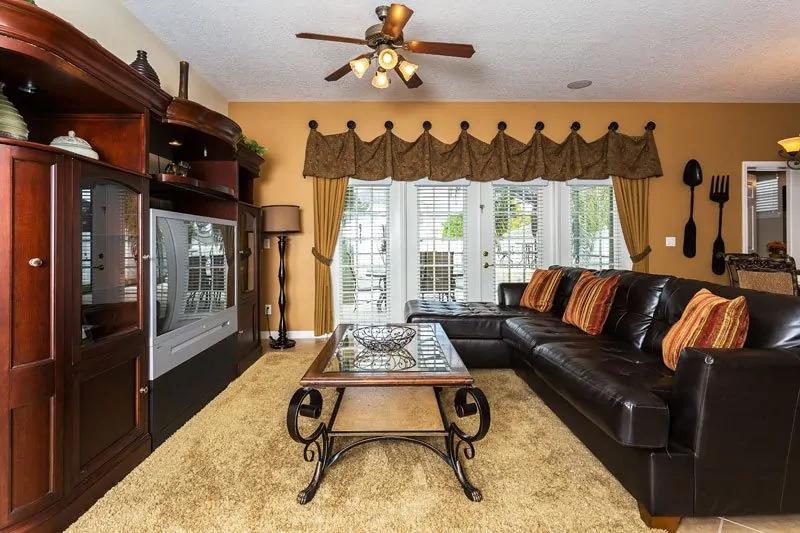 About All Star Vacation Homes at Acadia Estates
Experience the charming beauty and privacy of Acadia Estates. These stunning 4 to 7-bedroom homes sleep 12 to 16 guests and include private pools and spas with patios, luxury indoor and outdoor dining areas and more.

With many homes side-by-side, this gated community is ideal for sports teams, large families or groups celebrating family reunions, weddings and other vacation get-togethers. Best of all, Acadia Estates is only 3 miles from Walt Disney World® Resort!
At the Orlando All Star Vacation Homes you have access to a Guest Services team that can help you plan your vacation, help you purchase area attraction tickets, car rentals, groceries, catering and dining reservations.  Once on site you still have access to the Guest Services team should any additional needs come up during your stay.
There were a total of four houses that our group stayed in, here are reviews about the other three homes:
Written by 5 Minutes for Mom Contributor, Dawn Cullo.