This post may contain affiliate links. Read my disclosure policy here.
Chances are high if you're a mother, you're not taking good enough care of your health. We're guilty of putting everyone's needs above our own, too. But here are some easy ways we can all take small steps to improve our health.
This post is sponsored by Colgate.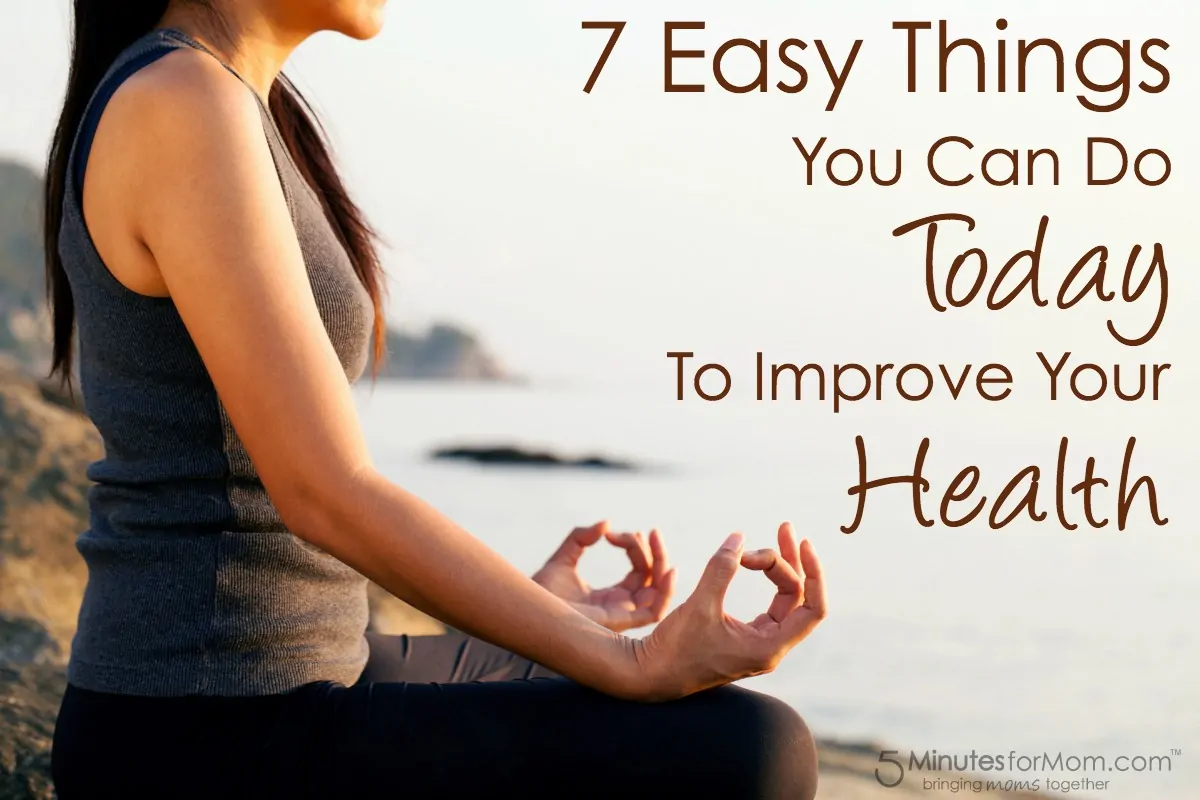 If you are one of the few mothers who are successfully keeping their health high on their priority lists, we want to hear about it and give you a virtual pat on the back, so please leave a comment. But for the rest of us, we can use a few reminders.
I admit that I struggle every day with trying to get enough exercise and keep my sleep on a regular schedule. As a single mother trying to juggle everything, it feels almost impossible to get the sleep and exercise I know I need. So when the folks at Colgate asked me to share some tips for National Women's Health Week, I decided this was a great time to remind other women like myself how we can make small changes to improve our health.
We all know sleep and exercise are crucial to our health but working enough of both into our schedules can feel overwhelming and cause us to give up entirely on looking after ourselves.
I'm guilty of the "all or nothing" mentality, are you?
But I want to encourage you to not fall into that trap of feeling hopeless about your health because you're not making it the gym regularly and you're not getting 8 hours of sleep every night.

Here are 7 easy things you can start doing today that will improve your health…
Carry a water bottle with you everywhere.

And when you're at home, have a tall glass of water near you at all times.

Drinking tons of water is one thing I do really well. It won't solve all your problems, but it is an easy way to improve your health.

Meditate.

I used to be intimidated by the concept of "meditating". But there are simple ways to clear your mind with different meditation techniques.

I struggle with anxiety and about a year ago, I actually took a few lessons from a specialist who taught me a basic but powerful technique. Even though I don't take as much time as I should to sit and meditate for 20 minutes at a time, I use the process to relax and clear my mind at various times such as while I'm snuggling with my girls at bedtime.

Breathe in the scent of a lemon.

Our sense of smell is powerful. You can use essential oils and aromatherapy to help you relax and improve your mood, but if you don't have any handy, simply cut open a lemon and breathe in the aroma.

My daughter who struggles with ADHD and anxiety absolutely LOVES lemons. At homework time, a glass of water with some lemon juice helps her enormously.

It amazes me how even smelling a freshly cut lemon helps improve her mood.

Keep a container of washed, cut-up veggies ready to eat in your fridge.

My youngest daughter prefers to eat her veggies raw, so I often have a bag of leftover carrots, cucumbers and broccoli in the fridge.

It's shocking how much easier it is to eat a few extra vegetables during the day when they are already washed and staring at you when you open the fridge.

If you need a little dip to improve the taste, go ahead… it's better than grabbing a cookie.

Add Epsom Salts to your bath.

Adding epsom salts to a bath is an easy and relaxing way to treat yourself and improve your health at the same time. The magnesium absorbs through your skin and helps your muscles relax. There are numerous health benefits and it's simple and affordable.

While I generally choose to shower for efficiency, I recently started a new habit of once a week soaking in a bath with epsom salts.

Stretch.

Stretch your muscles — they need it. A few times throughout the day, take a few minutes to stretch. If you can put on a yoga video to follow, that's even better. My favorite way to stretch my back is using a Chirp Wheel. But at the least, get down on the floor and do some basic stretches.

I find that it's easy to do a little stretching while I'm down on the ground playing lego with my kids or watching TV together. And it's a good way to let your kids see you taking care of yourself.

Keep your teeth and gums clean.

Obviously you brush your teeth regularly — you're an adult. But did you realize how important oral health is to your overall health?

The first time I learned about the correlation between oral health and heart health was when I took my dog to the vet. His poor oral health was literally affecting his heart. I was shocked.

I've always brushed and flossed regularly, but I still struggle with poor gums. In fact, about 15 years ago I had to have surgery on my gums to remove a patch from the roof of my mouth and transplant it on to the gums below my lower front teeth. It was literally the worst experience of my life. And I'm at risk of having to have the surgery again!

So I can honestly say how thrilled I am to have received a sample of Colgate Total's New Gum Health Mouthwash which can provide advanced gum protection for 45% stronger, healthier gums. I will definitely continue buying and using it to try to strengthen my gums.

Even a small change like switching to a Colgate Total regimen can help improve your oral health. Remember… a healthy mouth is key to a healthy body.
Share With Your Friends
It's healthy to share 😉
[Tweet "7 Easy Things You Can Do Today To Improve Your Health"]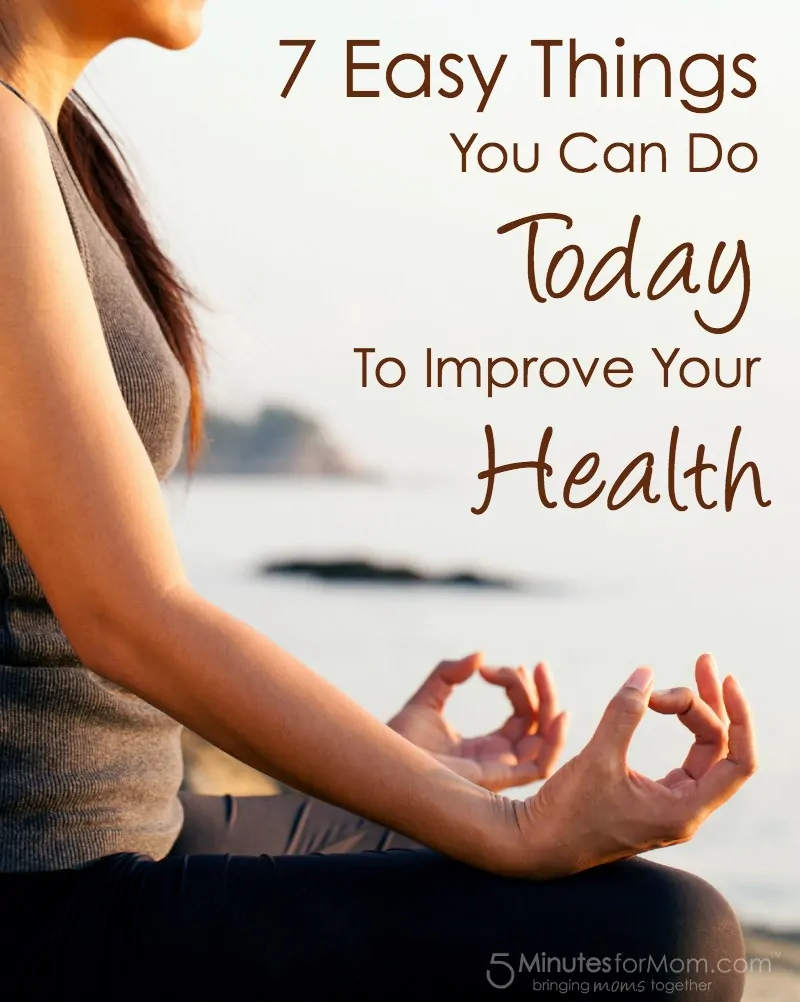 Photo Credits: Dollar Photo Club
Disclosure: Thanks to Colgate-Palmolive for providing me with products samples and sponsoring this post.
The information in this post is not to be considered medical advice.
Written by Susan Carraretto, co-founder of 5 Minutes for Mom
Talk with me: @5minutesformom and Facebook.com/5minutesformom
Pin with me at pinterest.com/5minutesformom
You May Also Like
We love using menthol crystals to make a homemade menthol rub. It's a lovely way to relax and take care of yourself.