This post may contain affiliate links. Read my disclosure policy here.
Are you looking for a new mattress or dreaming about a better night sleep? Watch our Nectar Mattress review to see if this low-cost, high-density memory foam mattress is right for you.
Nectar mattresses are one of the least expensive bed-in-a-box memory foam mattresses available online, so we tested one out to see if affordable comfort is possible.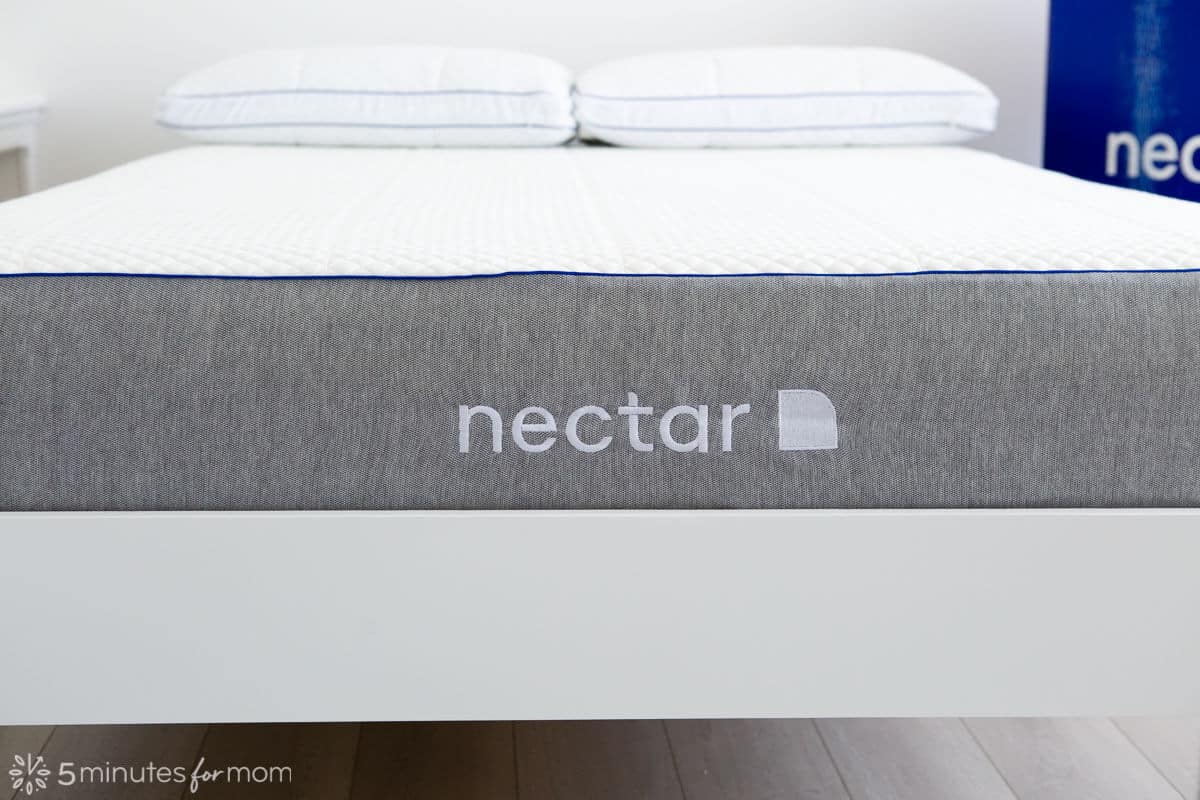 UPDATE: Nectar Mattress Special Offer
Last year, Janice created this unboxing video and shared how excited she was to get a new Nectar mattress for her daughter's new bedroom. And we want to share this post again with you because we have a New Coupon Code: "5minutes"<!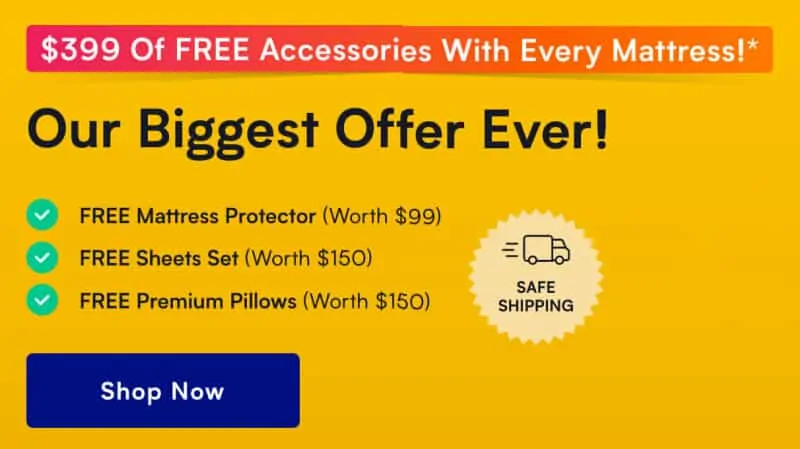 Use Coupon Code: "5minutes" for a discount price!

Unboxing a Nectar Mattress
Watch as I unbox the sample mattress they sent us…
Did you see how easy it was for me to set up that Nectar mattress by myself?
And you really can see for yourself if a Nectar mattress is comfortable. They have a 365 night trial — which is 3 times as long as any other mattress company trial period. It sounds crazy, but it's true.
Mattress Jealousy Is Real
As I explained in the video above, we tested out a sample Nectar mattress, but I gave that mattress to my daughter.
Now I'm suffering from mattress jealousy.
Yes, I experienced the soft-but-firm perfection of the Nectar mattress… and now my old mattress is dead to me. I want a Nectar mattress of my own.
Have you ever slept on an unbelievably comfortable bed in a hotel and just ached for that kind of comfort every single night?
That is how I feel right now.
In the next room, my daughter has a Nectar mattress. It is so close, but it is not mine.
Instead, I'm lying on an aging mattress that is too firm and yet sags in the middle. My shoulder presses up into my neck as I lie on my side. My hip feels compressed. I can't get comfortable and I am wishing that I was lying on my own Nectar mattress.
When I tested out Olivia's new Nectar mattress, it was heavenly.
When I lay on my side, my body was perfectly cradled, like I was lying in a cloud.
For once my shoulder didn't feel smashed and uncomfortable. The mattress gently supported my entire body with just the right amount of compression. I didn't feel the familiar pressure pains, the usual discomfort I have when I lay down.
Yes, I have felt the relief of a better bed, and I am hooked.
If you are looking for a new mattress, or you are also tired of and tossing and turning, trying to get comfortable on your bed, then I have great news… Nectar delivers high-quality, high-density memory foam mattresses at a much lower price than similar mattresses on the market. You can have your dream mattress!
Nectar Mattress Review
In the video above, I unboxed and set up my daughter's Nectar mattress — and reported our experience with the mattress after having it in our home for three weeks.
We tested this mattress to give you our honest answer to the question…
Is a Nectar mattress any good?
Since the nectar mattress costs less than other mattresses online, I was concerned that it may not be as good quality.
I am thrilled to report that I found the nectar mattress to be incredibly comfortable and supportive while I slept on my back and on my side. It totally exceeded my expectations.
If you are frustrated with the expensive price tags on high-quality mattresses, then you will be thrilled with the affordability and ease of buying a nectar mattress.
The mattress is well-made and totally dream-worthy.
Bed in a Box
Have you heard people talking about getting a "bed-in-a-box" or a "mattress in a box"?
What's a bed in a box?
"Bed in a box" refers to the relatively new method of selling and delivering a mattress that is compressed, rolled up, and shipped to a customer in a large cardboard box.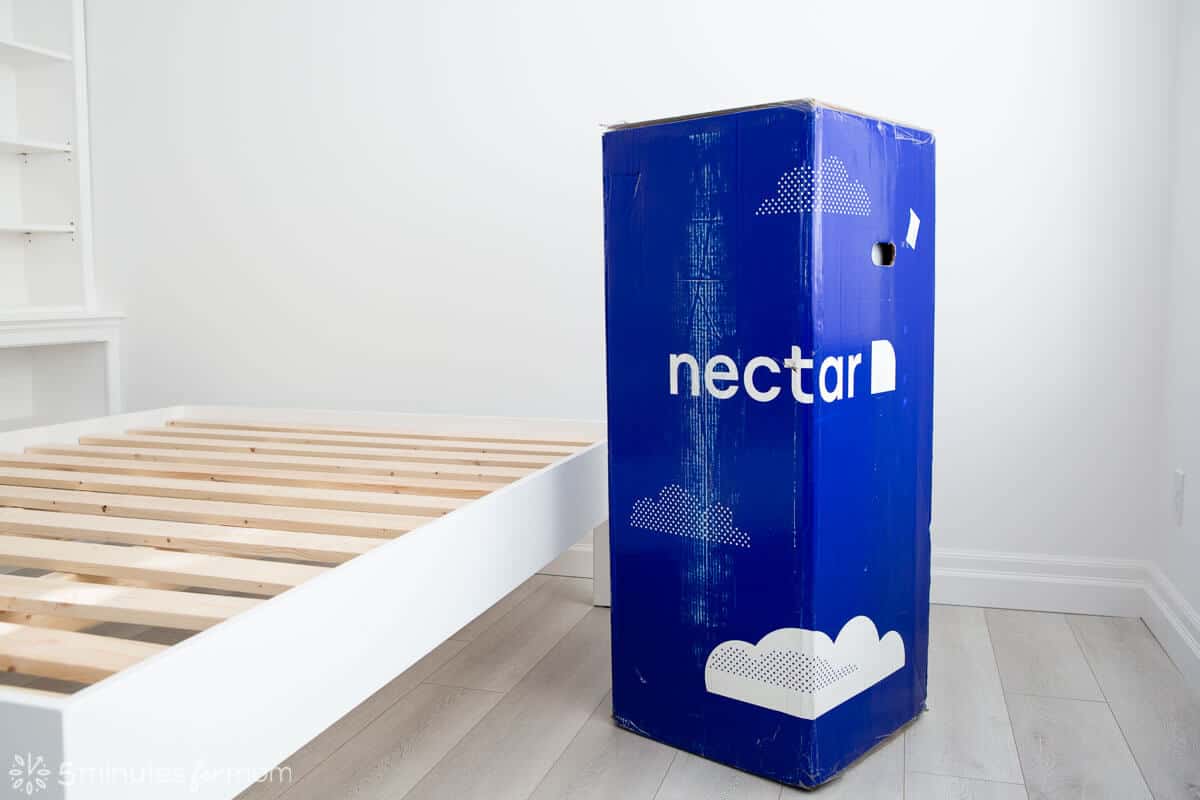 The Nectar initial compression process uses roller presses which compress the mattress with over 10,000 lbs per square foot for vacuum packing.
If you're familiar with the usual process of purchasing a mattress at a store, you know the hassle of having to schedule a delivery with two delivery people who then struggle to get your new mattress up the stairs and around corners into your bedroom.
A "bed in a box" makes getting a new mattress ridiculously easy.
You can see in our video for this Nectar mattress review exactly how easy it is for one person to remove the mattress from the box and how fast the mattress decompresses.
A Memory Foam Mattress for Everyone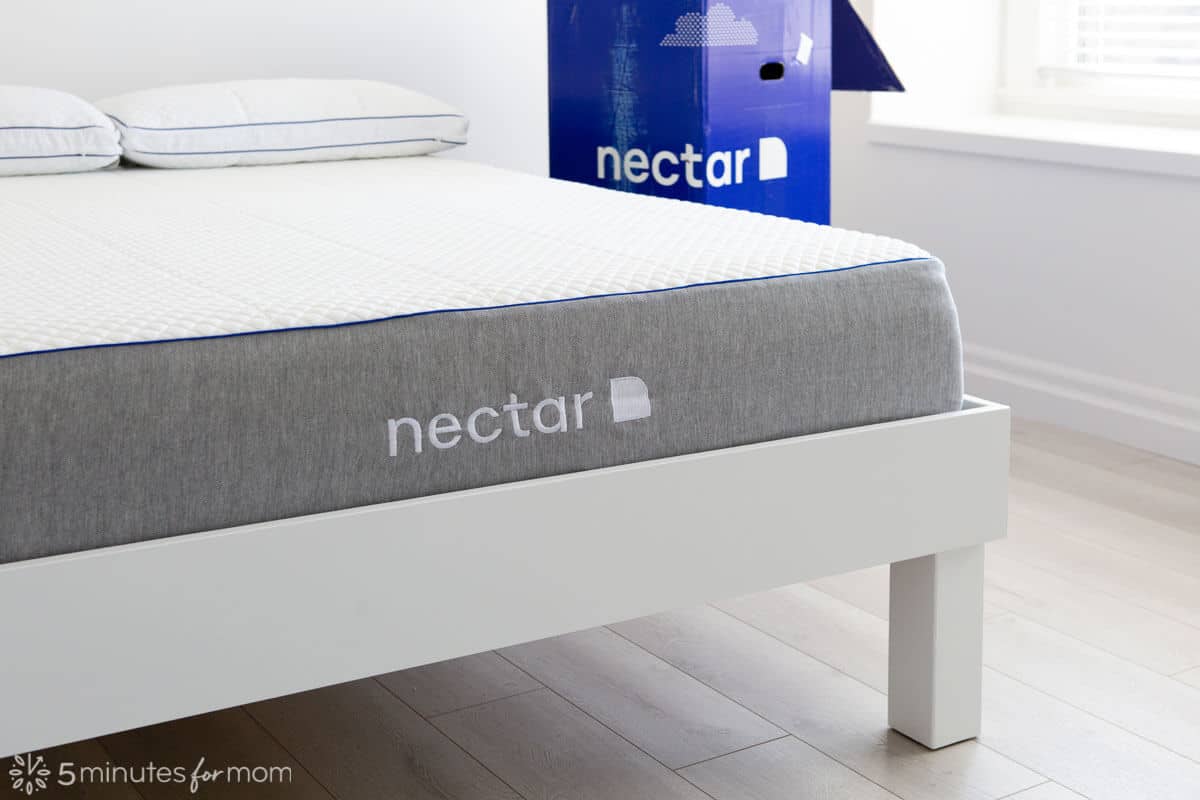 Different sleep styles and different sleep issues can impact which is the best mattress type for you. If you have a partner sharing your bed, then choosing a mattress can get even more complicated.
Is the Nectar mattress good for side sleepers?
Generally speaking, memory foam mattresses are great for side sleepers and back sleepers, they help reduce motion transfer so that you don't feel your partner moving during the night, and they relieve pressure on hips, shoulders, back, etc. as the memory foam gently and evenly supports your body. I sleep on my side, so I was focused on comfort for side sleepers.
The Nectar mattress is soft enough that side sleepers don't feel too much pressure on their hips or shoulders but still are supported so that their spine stays aligned while they sleep.
You may have heard that some memory foam mattresses can be too soft for some people and can sleep too hot because a person can sink into the foam mattress, insulating the body and reducing air-flow.
Thankfully, Nectar has addressed those memory foam issues, creating a mattress that appeals to a huge range of sleepers.
Now that I have experienced the Nectar memory foam mattress, I understand why it is such a popular mattress with broad appeal. Nectar really has designed a wonderful, versatile mattress.
A Cooler Memory Foam Mattress
Nectar has focused on creating a memory foam mattress that doesn't make a sleeper sweat.
Nectar mattresses feature a TENCEL COOLING COVER which is a breathable, soft cover that helps circulate air and wick away heat and moisture while you sleep.
As well, Nectar has two layers of Gel Memory Foam to help circulate air and keep the mattress cooler.
Finally, since Nectar has a medium firmness, sleepers don't experience as much "sink in" which is critical in keeping bodies cooler.
Mattress Safety
I do not want my children (or me!) sleeping on a mattress with dangerous chemicals.
So while researching for this Nectar mattress review, I was relieved to learn that Nectar uses top quality flexible foam that is is "CertiPUR-US® Certified which means it meets the CertiPUR-US® standards for being free from ozone depleters, PBDEs, TDCPP, mercury, or lead."
As well, no one wants dust mites to take up residence in their mattress! According to Nectar, they have designed their mattresses with special materials for dust mite protection.
No harmful chemicals and no dust mites — that reassurance helps me sleep better!
And if you are wondering if you can you sleep on a nectar mattress right away, Nectar says that it takes 24-72 hours for the mattress to fully expand, but it is safe to sleep on right away if you wish.
I am very particular to smells and wondered if there would be considerable off-gassing with the Nectar mattress, but I was pleased to discover that there was very little smell to our mattress. And after a few hours, I couldn't smell anything.
Since I set up Olivia's bed in the evening, we did let it expand fully overnight and she slept on it the next night.
The Five Layers in Nectar's Memory Foam Mattress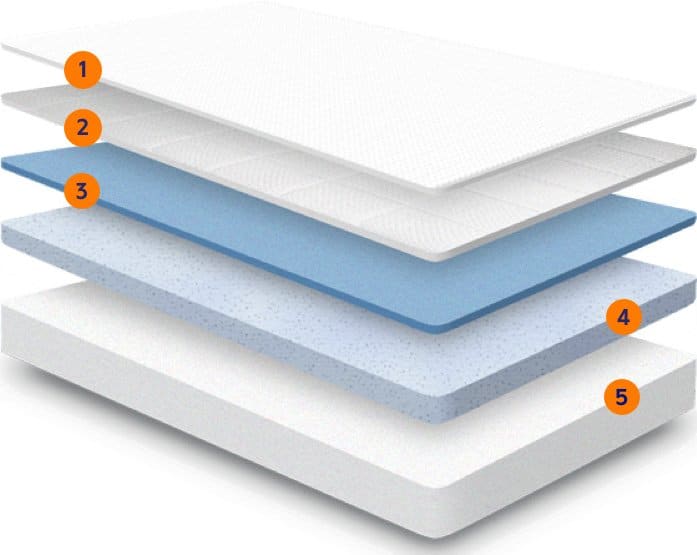 There are five layers in a Nectar mattress:
TENCEL COOLING COVER

Nectar's quilted cover made with long staple cotton and Tencel is custom-milled to breathe, draw away heat, and circulate fresh air to help prevent overheating.

QUILTED GEL MEMORY FOAM

According to Nectar, quilting gel memory foam is a super premium process most mattress companies avoid due to cost. Nectar mattresses have a fully quilted layer of gel cooling memory foam to provide extra loft and comfort, along with better breathability.

GEL MEMORY FOAM

Nectar's perfect comfort level comes from their semi-open Lush Foam™, which holds five patents and, according to Nectar, is the most premium gel foam available. This gel foam "directly absorbs and distributes heat and recovers perfectly to its original untouched state."

ADAPTIVE HI CORE MEMORY FOAM

Nectar explains that their Adaptive Hi Core Memory Foam is what keeps sleepers from "sinking" into their mattress, providing critical rebound and bounce, and that this heavy and expensive foam is what sets Nectar mattresses apart from the other direct to consumer bed company mattresses.

BREATHABLE BASE LAYER

Nectar's base level is dense and breathable, drawing in fresh air through specially-molded channels.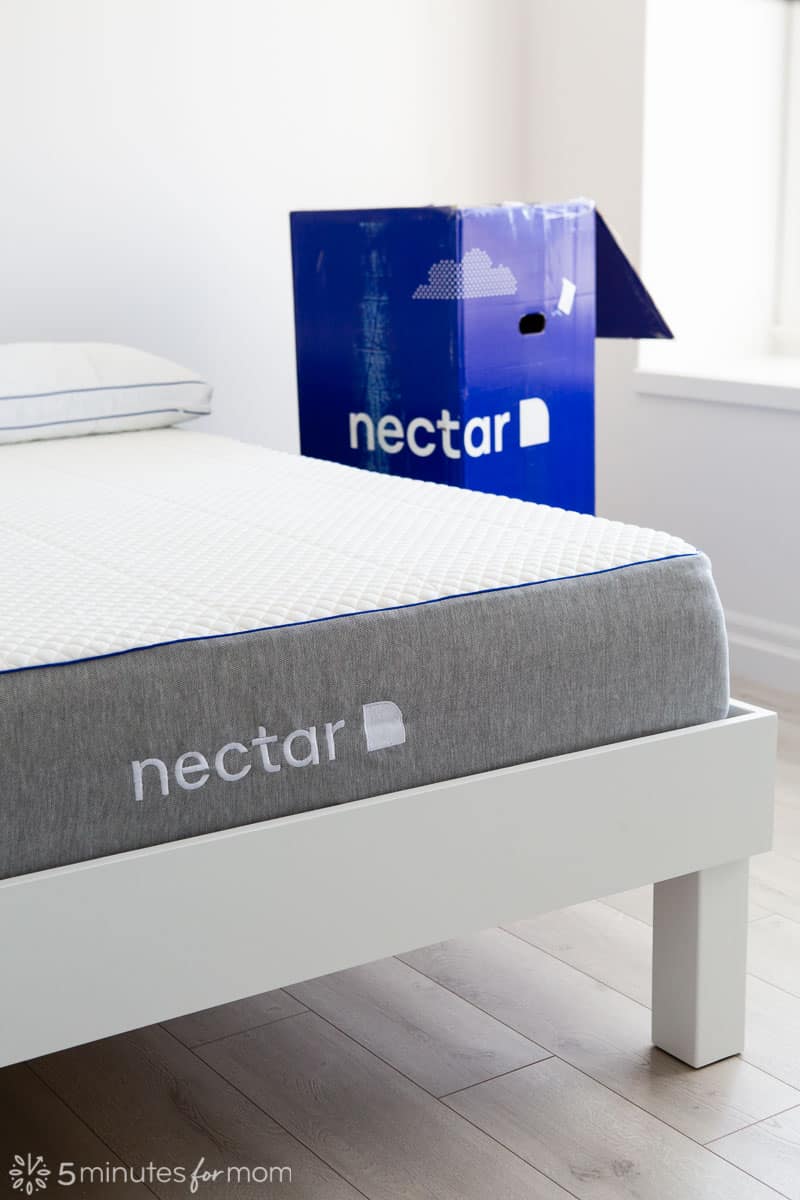 How Long will a Nectar Mattress Last?
Mattresses are an investment you want to last.
Nectar says their mattresses can last forever. They are so confident in the construction of their mattresses that they offer customers the Nectar Forever Warranty™:
"For the first 10 years of ownership, we'll replace your mattress with a brand new Nectar at absolutely no charge to you if yours is defective in workmanship or materials. From year 10 on, we'll completely repair and re-cover your Nectar, or replace your Nectar, waiving all transportation costs if a manufacturing defect or materials failure is confirmed to exist."
You also can rest assured with their Nectar's 365-Night Trial.
Most bed companies offer a 100-day trial, but Nectar has gone even farther, offering a 365-Night Trial that begins 30 days after you get your mattress.
If you aren't happy with your mattress and you want to return it, no worries. You do NOT have to ship it back. Nectar will work with you to have it donated or locally disposed of.
How Much Does a Nectar Mattress Cost?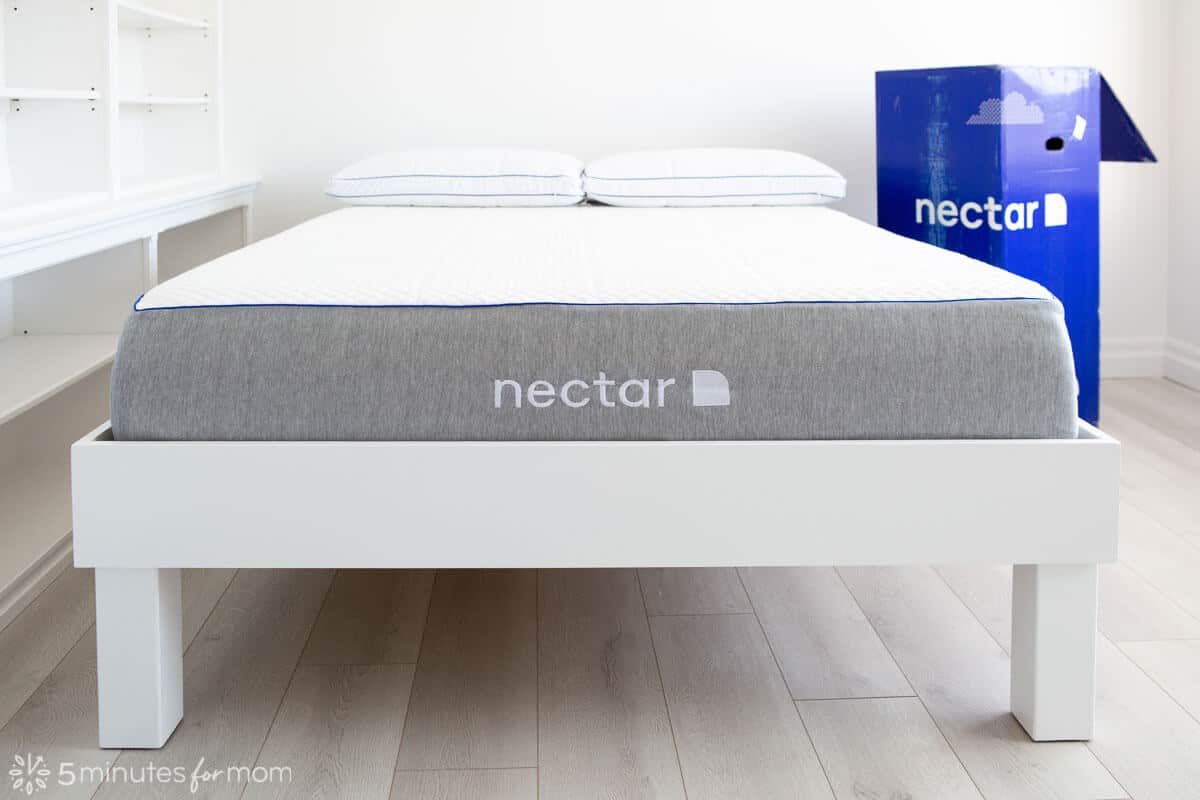 Nectar mattresses cost significantly less than similar mattresses on the market.
The full/double size mattress that we tested out for this post is $699.
But you can use Coupon Code: "5minutes" for a discount price!
And Nectar offers FREE SHIPPING & RETURNS on every order in the contiguous U.S. (Shipping to Alaska and Hawaii is available for an extra $145.)
At the moment, Nectar does not ship to Canada or internationally. If you live in Canada, hopefully, you live close enough to the border to ship your mattress to an address in the US and then cross and pick it up.
Thankfully, we live near the US border, so we regularly drive across the border to pick up items we buy online.
Get Ready for a Great Night's Sleep
After researching and testing out a Nectar mattress for a month, we can safely and sincerely report that we HIGHLY recommend the Nectar mattress.
Nectar has built a well-priced, top quality, medium-firm, memory foam mattress that will work well for a wide range of sleepers. The Nectar mattress gently supports the body, eliminating pressure to shoulders, hips, and back.
And with free shipping, an amazing return policy, and a lifetime warranty, buying a Nectar mattress is pretty much a dream come true.
Use Coupon Code: "5minutes" for a discount price!
Pin this Nectar Mattress Review for Later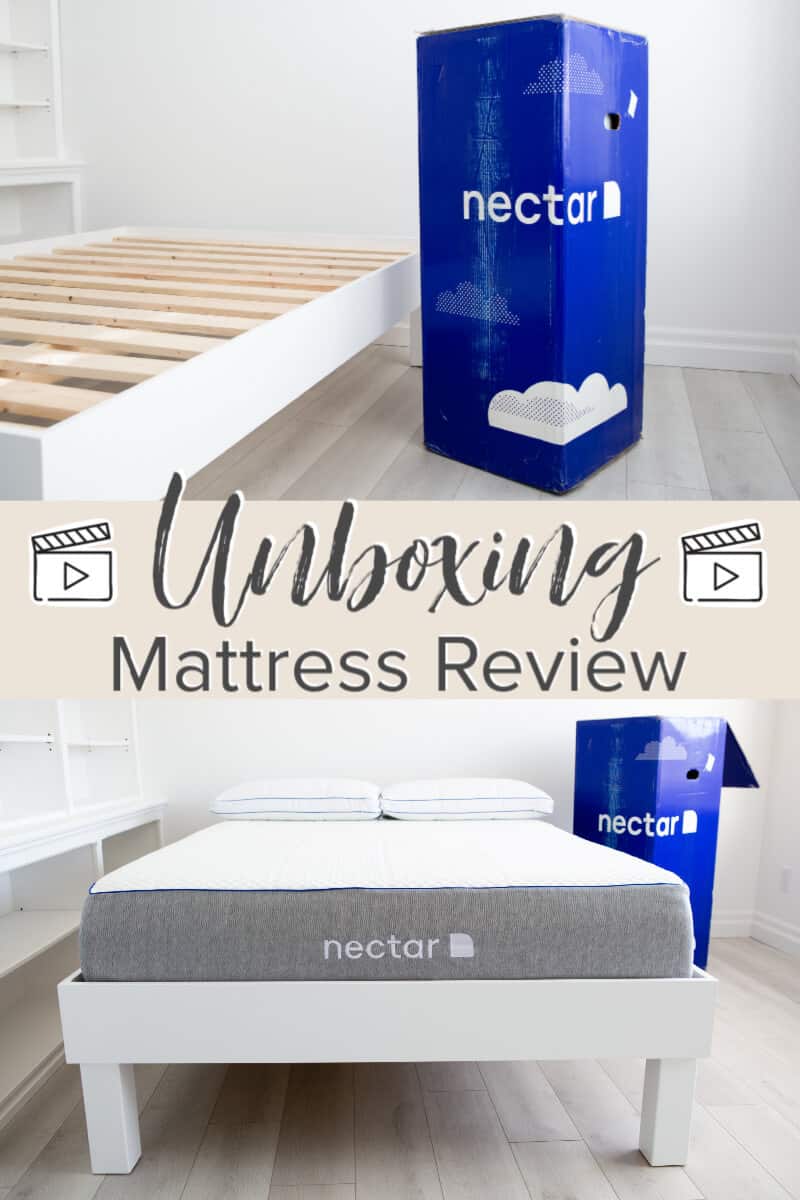 Disclosure: We've included affiliate links in this post.
Written by Janice Croze, co-founder of 5 Minutes for Mom
Talk with me: @5minutesformom and Facebook.com/5minutesformom
Pin with me at pinterest.com/5minutesformom