This post may contain affiliate links. Read my disclosure policy here.
If you want a natural wake-me-up-and-keep-me-going remedy, menthol crystals are waiting for you. This is Janice here with my favorite ways to use menthol crystals. This post is sponsored by EuroSpa so extra thanks for reading and sharing. And please note, we are not making any medical or therapeutic claims. We are just sharing our personal experiences.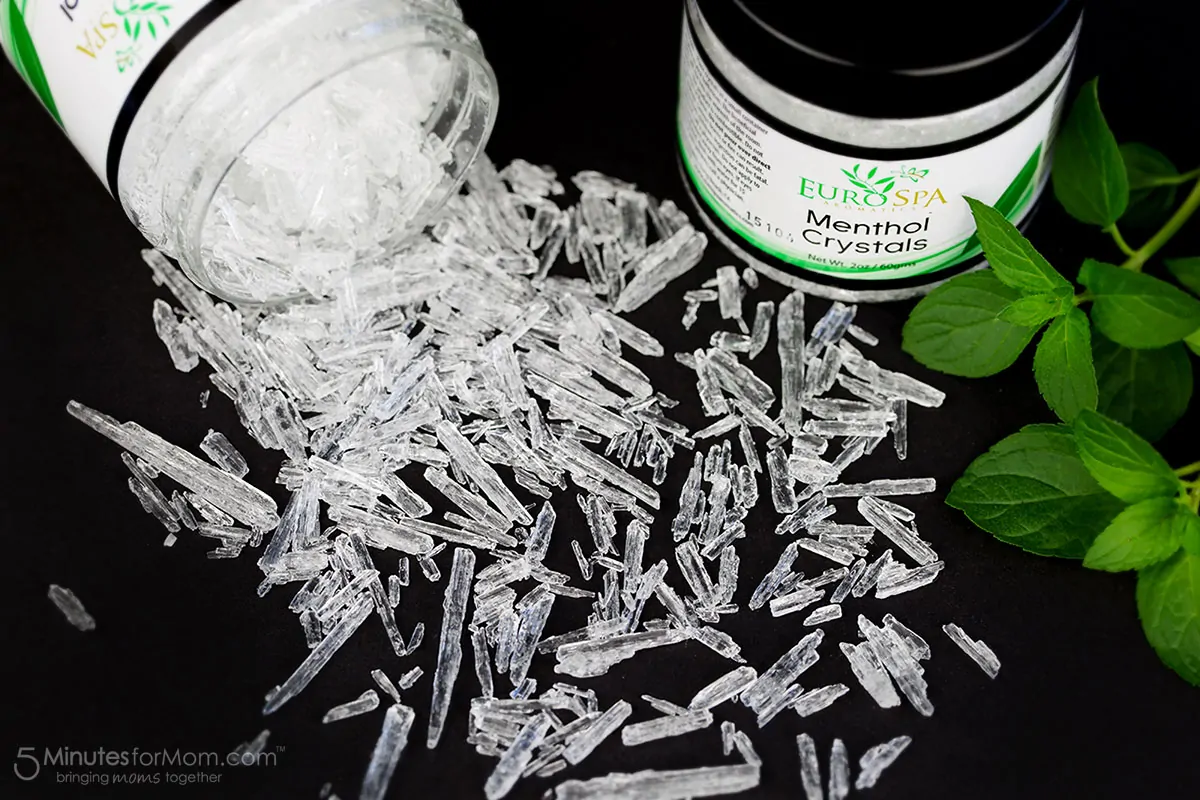 I am allergic to caffeine.
Not in a "I have been tested and I am allergic" way. But in a "when I consume caffeine bad things happen in my belly" kind of way.
And it is tragic.
Because really — sometimes we all just need a little extra help to wake up our brains and get our day going, (or force it to keep going.)
Since I can't dip into the caffeine bowl, I try all kinds of healthier ways to help wake me up in the morning and keep me awake in the afternoon.
Discovering Eucalyptus ShowerMist by EuroSpa Aromatics was a revelation for me.
I loathe mornings, but a few spritzes of Eucalyptus ShowerMist transforms my daily shower into an invigorating spa-like experience. May I never have to shower without eucalyptus oil again…

Now I Have Menthol Crystals Too
Now I don't just have eucalyptus waking me up during my morning showers.
I have added Menthol Crystals from EuroSpa to my "refresh my brain and keep me awake" natural remedies.
And I can use it any time of the day…

Right now, I am breathing in a fine mentholated mist while I work at my desk. I simply sprinkled some menthol crystals into the water in my essential oil diffuser.
When I am not using my diffuser, I often just open a jar of menthol crystals and take a few deep breathes or leave the jar open next to me as I work. The menthol gives me a cool rush of wake-me-up that seems to open up my airways and make me feel a bit more alive.
How to Make Homemade Menthol Rub
Menthol is an organic compound made from peppermint or other mint oils.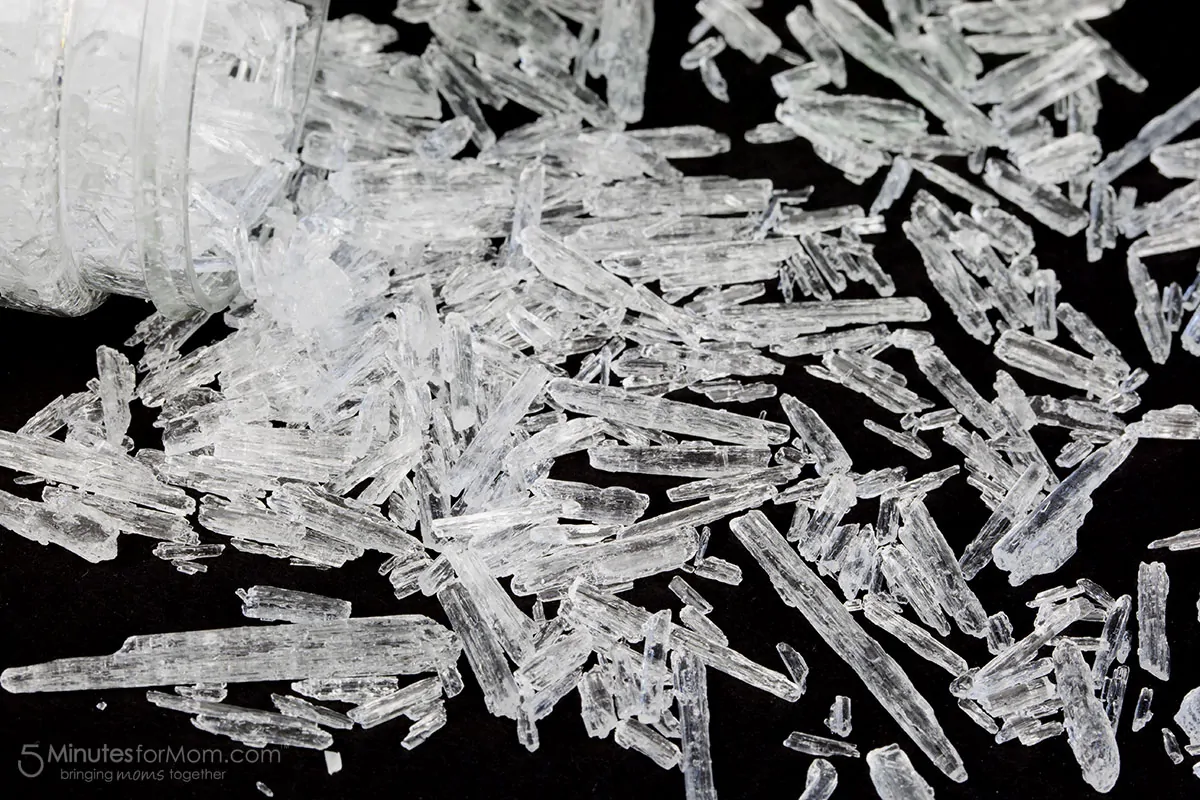 Menthol crystals, which are a clear or white crystalline substance, are solid at room temperature and melt just above room temperature, making it easy to add to liquids such as warm water or warm coconut oil to create mentholated preparations.
One of my favorite ways to use menthol crystals is to add some crystals to melted coconut oil to make an invigorating oil that is perfect for massaging as a menthol rub, for moisturizing either in or out of the bath and shower, and for shaving.
You can make your menthol rub with just coconut oil and menthol crystals, or you can make a more elaborate mixture by adding in beeswax, cocoa butter or shea butter, and other essential oils such as eucalyptus, peppermint, or tea tree.

Whatever you choose to add to your menthol rub, the preparation is super simple.
Heat your coconut oil gently to melt it
Optional – add in butters and/or beeswax and stir together until mixture is melted and combined
Allow to cool slightly – you don't want to add oils to any preparation that is hot
Stir in menthol crystals and other desired oils
Your measurements can vary according to your personal preferences. For a stronger mentholated rub, you will obviously want to use more menthol crystals and oils.
For a gentler cream that you will use in the shower to shave and moisturize, you will want to use less. I use about 1-2 teaspoons with about a cup of coconut oil.
Remember that if you use your menthol cream in the shower or bath it will intensify with the hot water.
PLEASE NOTE that you do NOT want to get menthol in your eyes! Be very careful when touching the crystals and wash your hands before touching your face or eyes. And please keep menthol crystals away from children.
My 5 Top Five Ways to Use Menthol Crystals
1. Menthol Rub and Cream
As I described above, my favorite way to use menthol crystals is to melt them in coconut oil and use as a multi-purpose moisturizing rub/cream.
I use this mentholated coconut oil in and out of the bath and shower. I massage it into my tired feet at the end of the day. I moisturize my body and shave in the shower with it.
I even use it as a lotion on my dry skin, allowing it to soak into my skin and then gently toweling off any excess oil so it doesn't stain my clothes.
2. In My Diffuser
I am constantly diffusing essential oils. I love the many calming effects of aromatherapy.
So I often choose to diffuse menthol crystals to create a fine mist pick-me-up as I work at my desk. I just add several crystals to the water in my essential oil diffuser.
3. In the Bath
For a bath that will help clear my sinuses and soothe my muscles, I add a teaspoon of menthol crystals to the bath water. Simple, effective, and luxurious.
4. As a Steam
When I am really congested, a bowl of hot, steaming water with a touch of menthol crystals creates a great steam to clear out sinuses before bed.
5. In the Jar
Yes, I often just pick up my jar of menthol crystals, open the lid and breathe deeply for an instant pick-me-up. Then, I leave the open jar next to me gently infuse the air.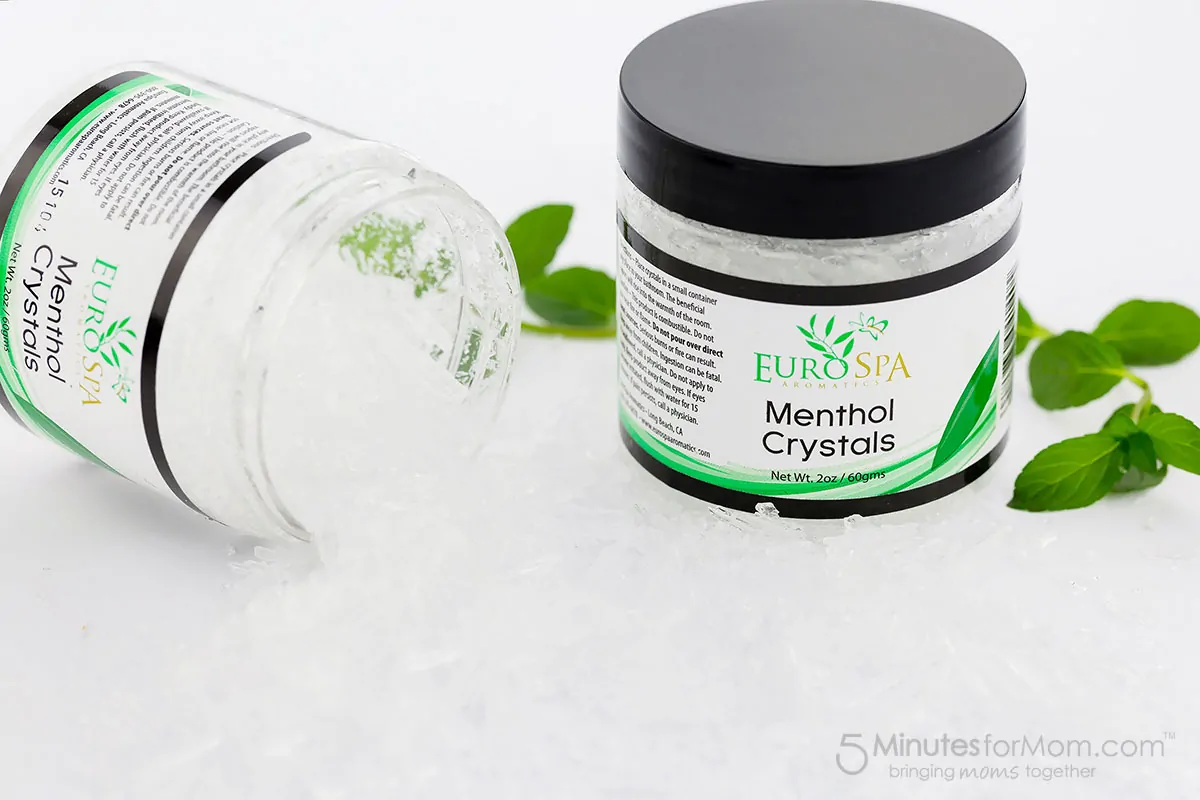 PIN FOR LATER…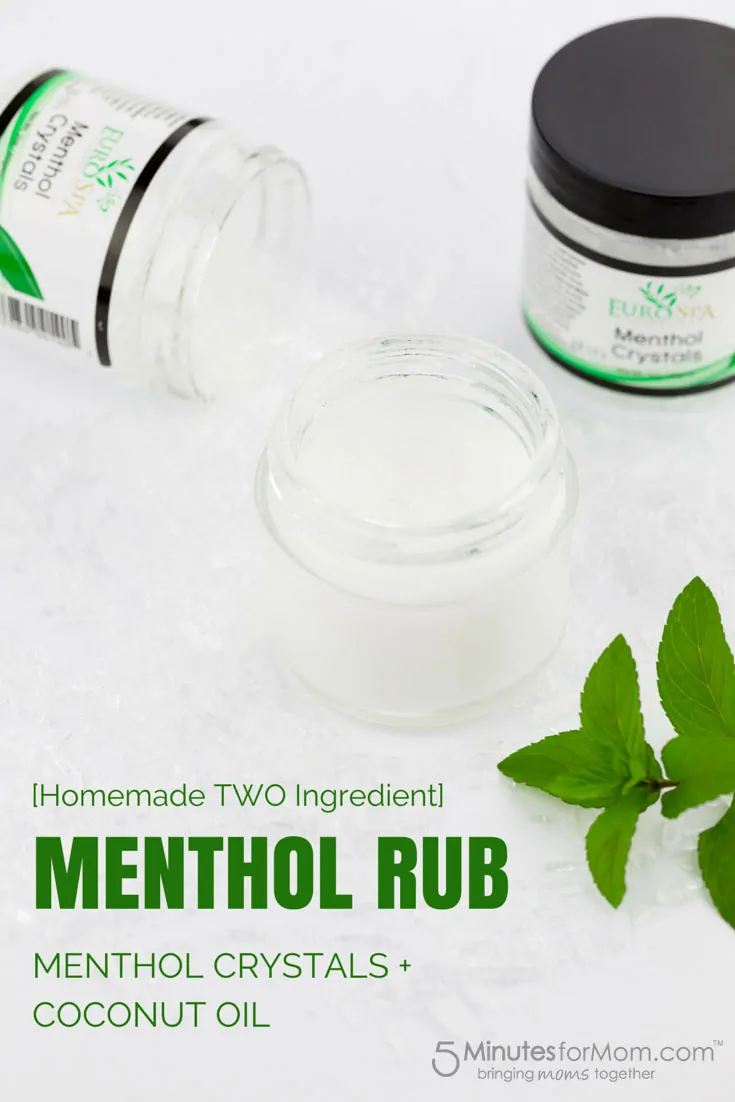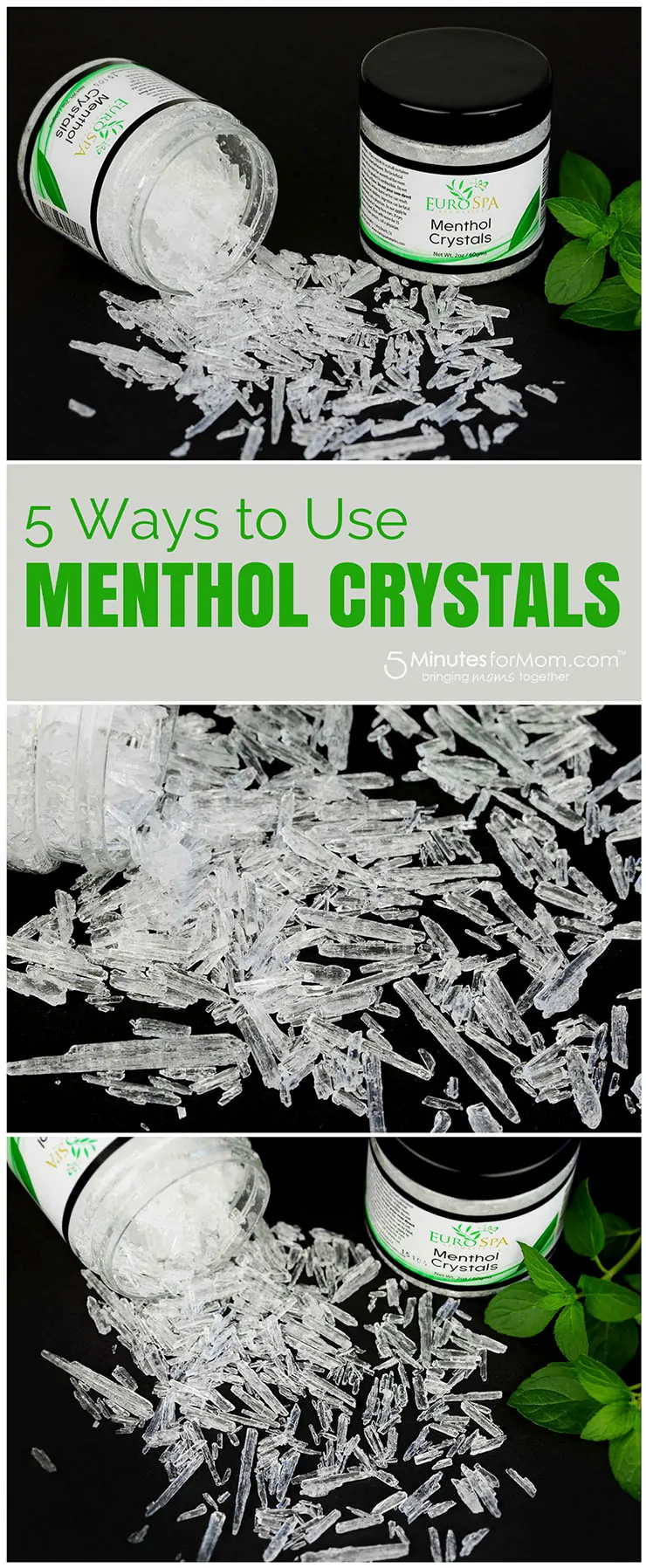 Disclosure: This post is sponsored by EuroSpa. Our opinions are always our 100% own.
Written and photographed by Janice Croze, co-founder of 5 Minutes for Mom.
Talk with me: @5minutesformom and Facebook.com/5minutesformom
Pin with me at http://pinterest.com/5minutesformom/