This post may contain affiliate links. Read my disclosure policy here.
Looking for a fun and fabulous team sport for kids? 5 Minutes for Mom co-founder, Janice Croze, shares why her daughter is cheering for cheerleading…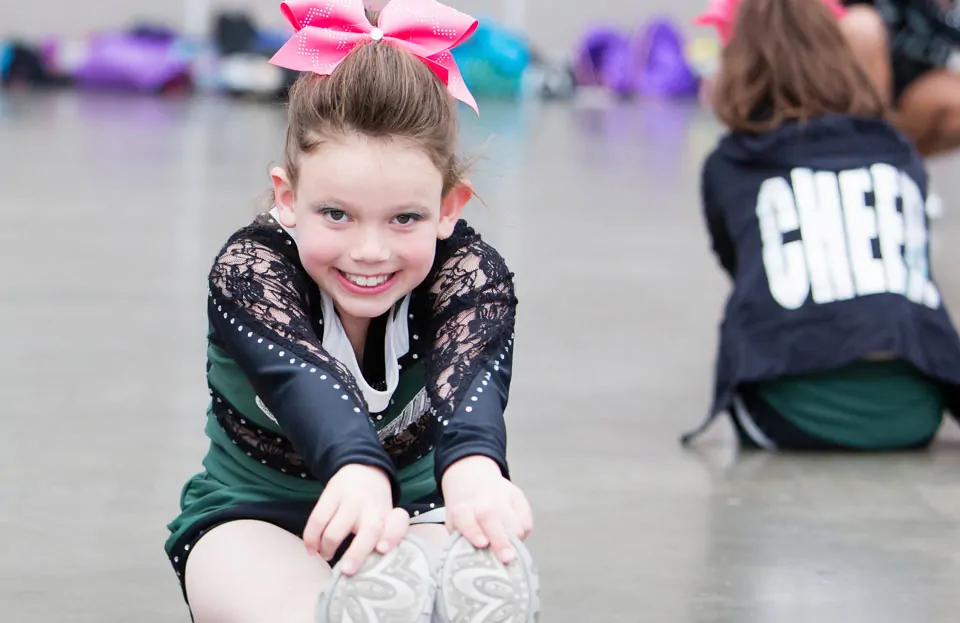 The Perfect Sport for Her
It never would have occurred to me to sign up my six year old daughter in cheerleading.
When I was growing up, there were no cheerleading gyms for kids. Cheerleading seemed to be reserved for girls in high school and even then it was only a team designed to cheer on the sidelines at the boys' rugby games.
But in recent years, the popularity of all-star cheerleading has exploded, fortunately hitting us up here in Canada as well. (All-star squads are not associated with a school or sports team. Instead of cheering for a team, they work to develop routines to compete at cheerleading competitions.)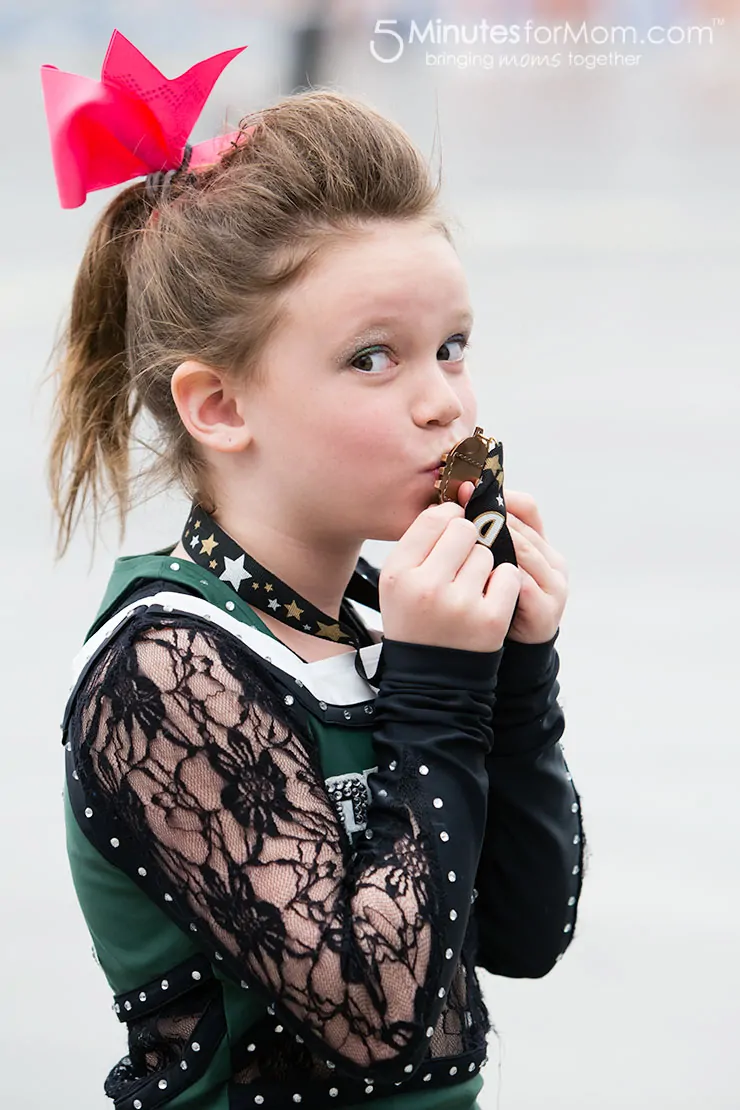 One day last spring, as my daughter and I were out for a walk in the neighbourhood, she spotted a flyer advertising a cheerleading gym.
She stopped at the sign, stared at it, and announced, "Mom — I want to do THAT!"
I looked at her, thought for a moment myself, and replied, "Olivia, that is PERFECT for you!"

My energetic, can't-stop-moving daughter had been in dance since she was three. But as much as she loved the costumes in the end of the year productions, the truth was, she wasn't in love with the classes. She just wanted to cartwheel.
So, a sport where my Livvie could tumble, dance and cheer, while performing with a team of girls? That was exactly what she needed.
Within minutes of her first class, Olivia and I both knew cheer was the sport for her.
Cheering for Cheerleading
Olivia has been in cheer, 2-3 days a week, for a year. Her coaches and teammates at her gym, Peace Arch Champion Cheerleading, are fantastic.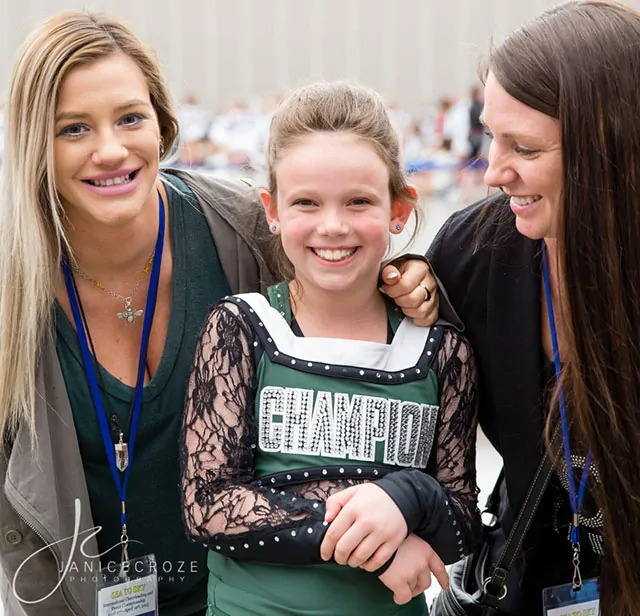 I am just so grateful that Olivia happened to spot that flyer and we found a perfect match for her.
After seeing all the fun Olivia has had cheerleading over the last year, Susan's daughter Julia has just signed up as well. Now we will have two cheerleaders in the family.
It is remarkable how many options our kids have nowadays for sport and recreation. It does mean a lot of extra driving and costs for us parents, but I appreciate that I get to give my kids opportunities to challenge themselves and learn new skills.
If you have ever wondered if cheerleading was a sport you might want to consider for your kids (boys and girls,) or if you didn't even know it was a team sport, here are my top five reasons why cheer is a fabulous sport for kids.
1. Cheerleading builds self esteem
I bet you don't even need to close your eyes to imagine how incredible it would feel to tumble across a gym floor, a blur of flexibility and power, showing off moves most people will never get the chance to learn.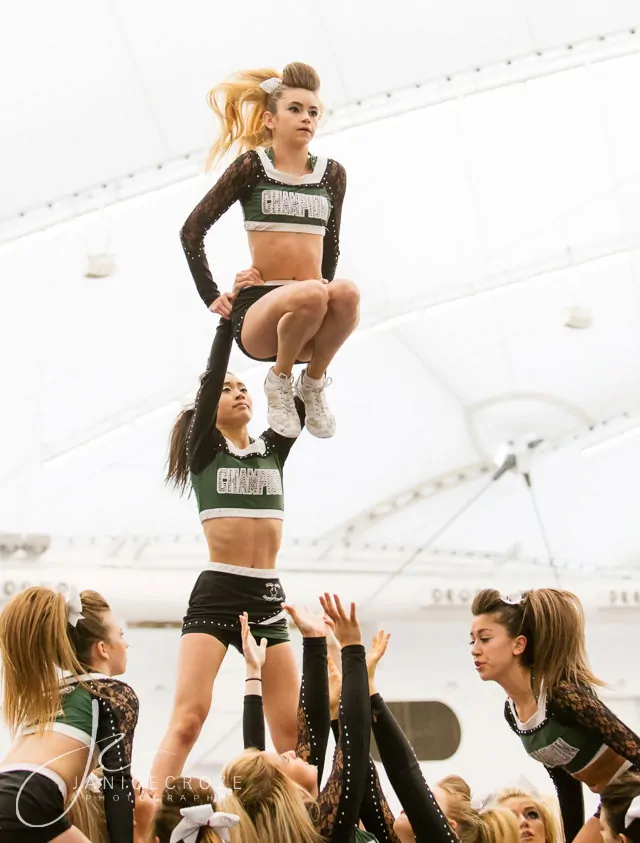 My seven year old beams every time she practices her cheer moves. And since Olivia is constantly practicing her one handed cartwheels and round offs, (seriously, she cartwheels even when she is crossing the street!) she spends a lot of time grinning with positivity.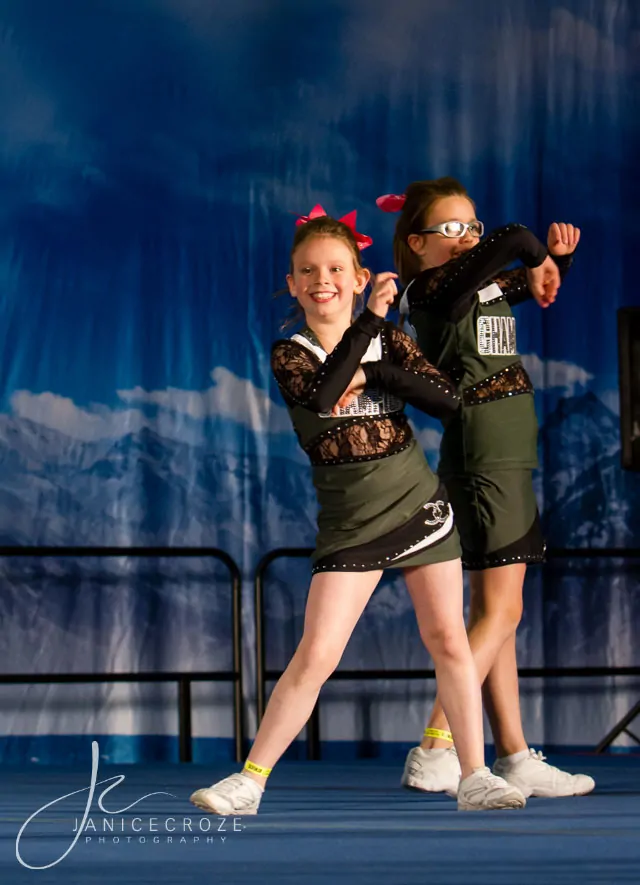 When I was a kid, I never even mastered a simple cartwheel, let alone all the skills my daughter can already do.
Life is tough — kids need as much inner strength as they can get to stand up to everything they will face. I want to help empower my kids as much as I can. And when it comes to cheer, I can literally watch as mastering new skills builds my daughter's self esteem as much as it builds her muscles.
2. Cheerleading builds performance skills
I am pretty darn sure that getting on a stage and dancing their hearts out in front of hundreds of people is going to help most cheerleading children grow into teenagers and adults who are more prepared to stand up and face whatever assignments, presentations, and public speaking that come in their lives.
I have been public speaking since I was in my late teens, and I know first hand that every time I get in front of a crowd of people, I grow stronger and more confident.
I am grateful that I never have to shy away from an opportunity to be in the spotlight. I don't think my daughter will either.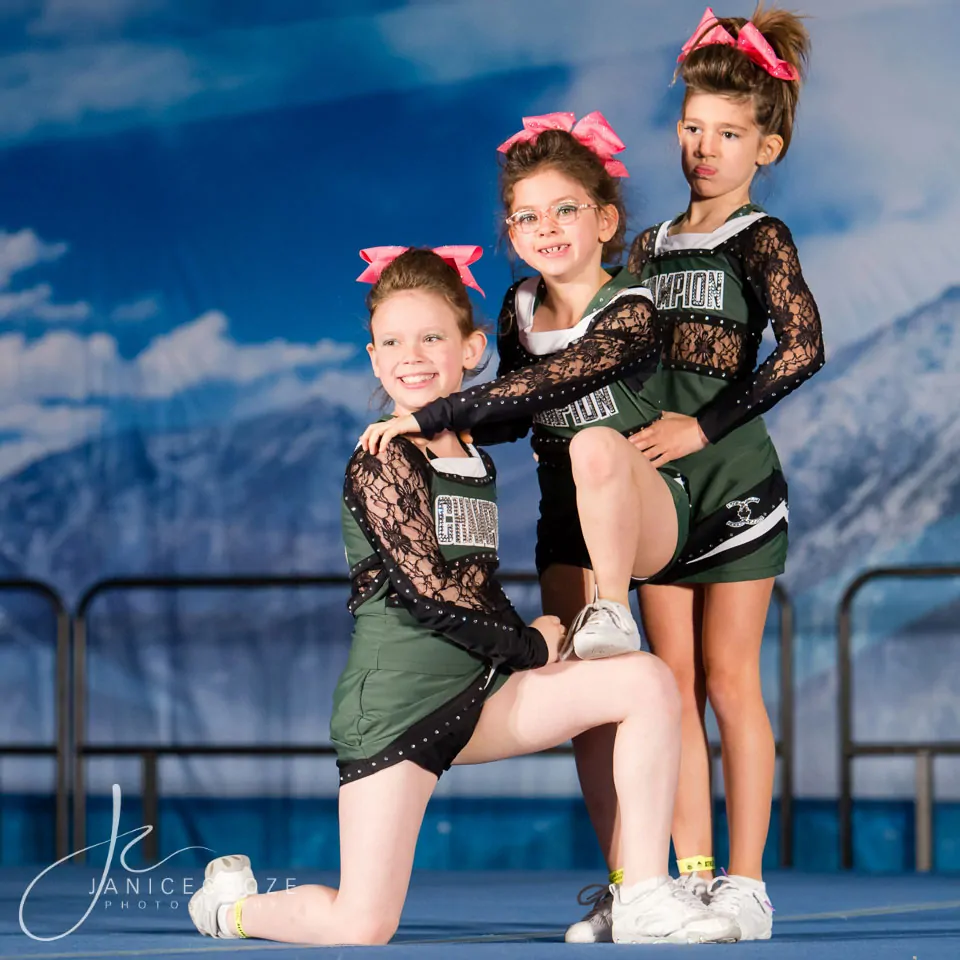 It is wonderful to see that at seven years old, she can get on stage, flash her beautiful smile, and fly through her routine with all the belief in herself that a little girl should have.
3. Cheerleading is incredible exercise and increases flexibility, balance, endurance, and more.
Our kids need exercise. Tons of it.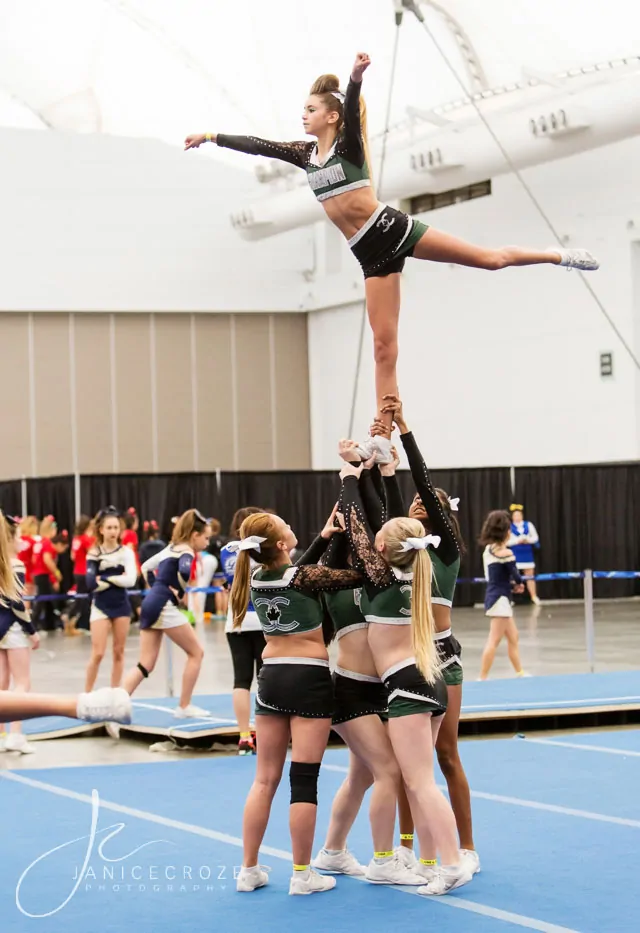 With limited P.E. time at school and barely any "tear around the neighbourhood unfettered" time, we have to build exercise into our kids' schedules.
During Olivia's cheer practices, she gets a thorough work out while she also increases her flexibility, balance, strength, and more.
4. Cheerleading is a TEAM sport
My mom was a competitive figure skater who competed until her second year of university. After the years of pressure and stress from competing, she never wanted her kids to pursue figure skating competitively.
With the costs of figure skating so high, I haven't pushed Olivia to compete as a skater either. She has been in figure skating since she was three, but just recreationally.
But Olivia loves to perform. She wants to get out there and show the world what she can do.
With cheerleading, I love that she is sharing the stage – and the pressure – with a team.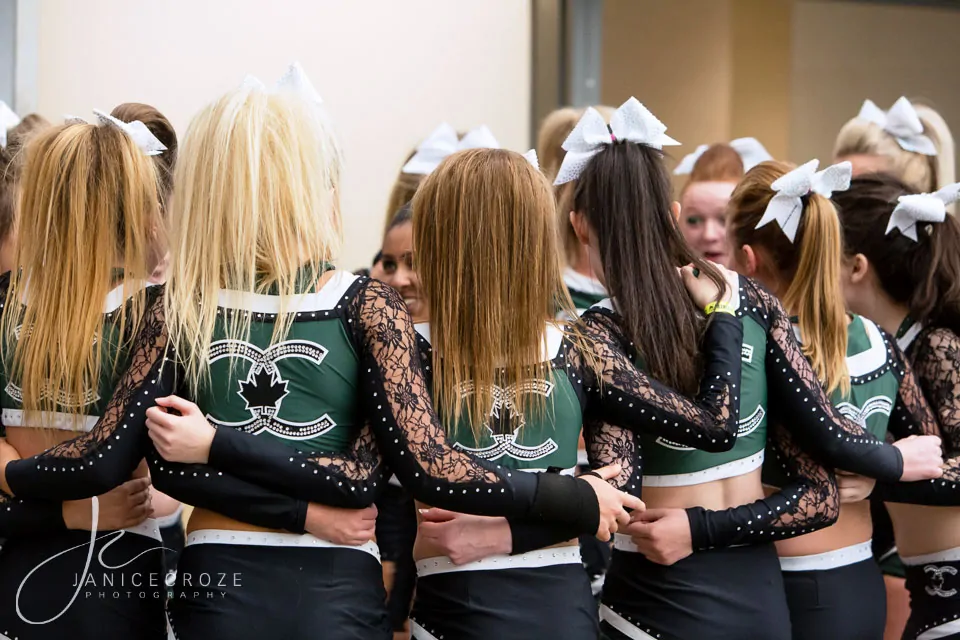 As well, the kids learn to be responsible to their teammates. They can't skip practices or competitions and let down their teammates.
They work together, compete together, and celebrate together.
I am not putting down individual competition, but there are some great benefits to being part of a team.
5. Cheerleading is FUN
Kids just wanna have fun. And they should!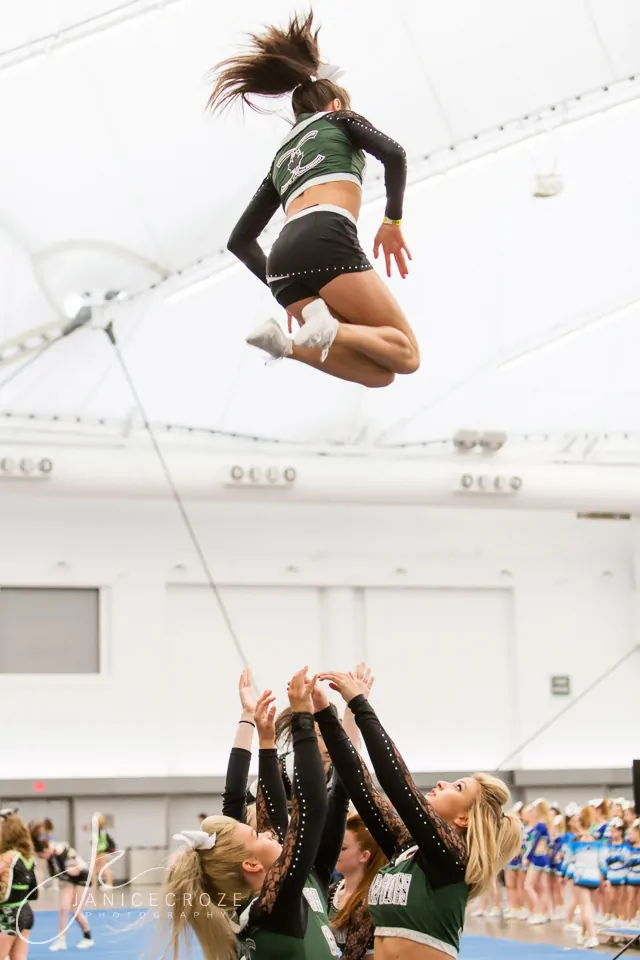 They work hard, they push themselves, they learn new skills, but at the heart of it all, cheer is about celebrating life and having fun together.
What sports and activities do your kids enjoy? Do you have any cheerleaders in your family?
Written and photographed by Janice Croze, co-founder of 5 Minutes for Mom and owner of Janice Croze Photography.
Talk with me: @5minutesformom and Facebook.com/5minutesformom
Pin with me at http://pinterest.com/5minutesformom/