This post may contain affiliate links. Read my disclosure policy here.
Disney sent 5 Minutes for Mom contributing blogger Dawn Cullo to Orlando, FL to attend the Disneynature Monkey Kingdom press event. Dawn's expenses have been paid for the trip but no other compensation were paid and all opinions are Dawn's.
I was so excited to hear that I would be going to Disney's Animal Kingdom as part of the Monkey Kingdom press event.  Spending the day at Disney's Animal Kingdom is a fantastic experience for anyone who wants to learn more about animals while being able to ride fun attractions such as Kilimanjaro Safaris. But if you want to kick up your vacation up a notch then I highly suggest booking the Wild Africa Trek.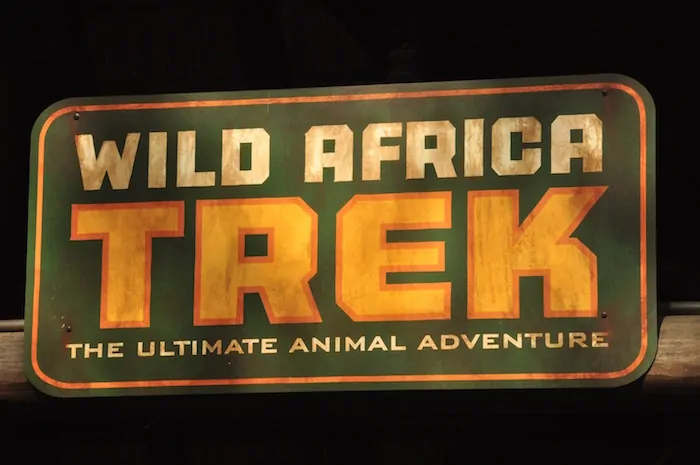 The Wild Africa Trek is a privately guided unique VIP expedition offering close encounters with exotic African wildlife in their native habitat. In my opinion it is the Kilimanjaro Safaris on steroids; the tour takes place on along the Pangani Forest and Safi River Valley which is on the same African savanna as the Kilimanjaro Safaris. The tour is a combination between a walking tour and exploring the savana in a private open air vehicle.
Two very knowledgeable Disney guides are with you the entire way and provide you with a lot of information about the animals that you encounter. You are also fitted with an ear piece that transmits everything that the guides are telling you.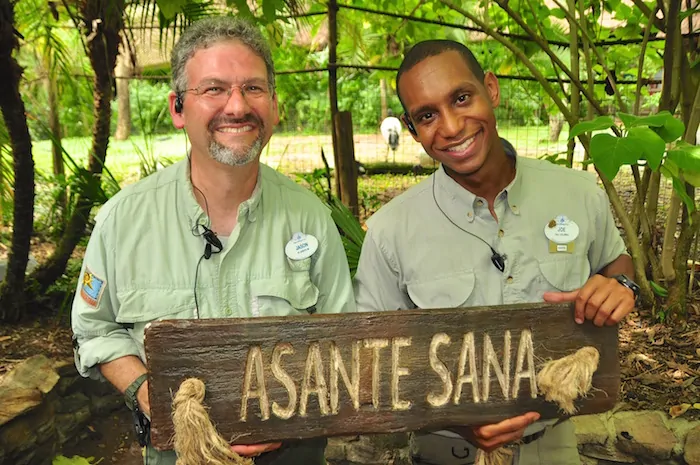 Once you arrive at the check-in location the friendly cast members fit you with the special safari gear. This gear will help you along your journey and includes a vest, a harness and a water bottle.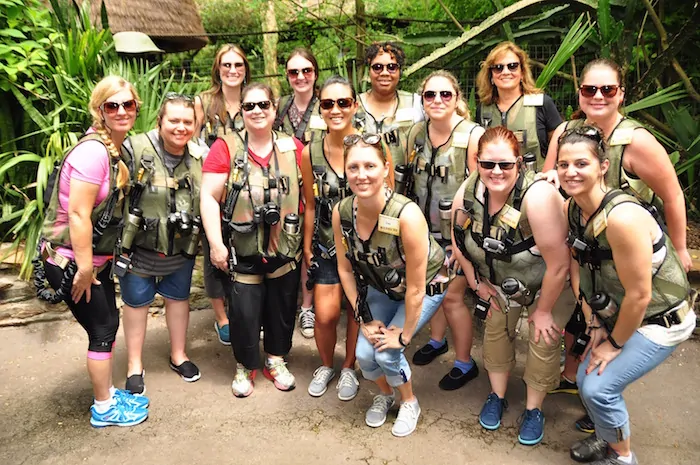 We took  a brief walk through Disney's Animal Kingdom to the super secret location where our trek would being. Along the route our the guides provided interesting facts about the animals and wild life we were seeing.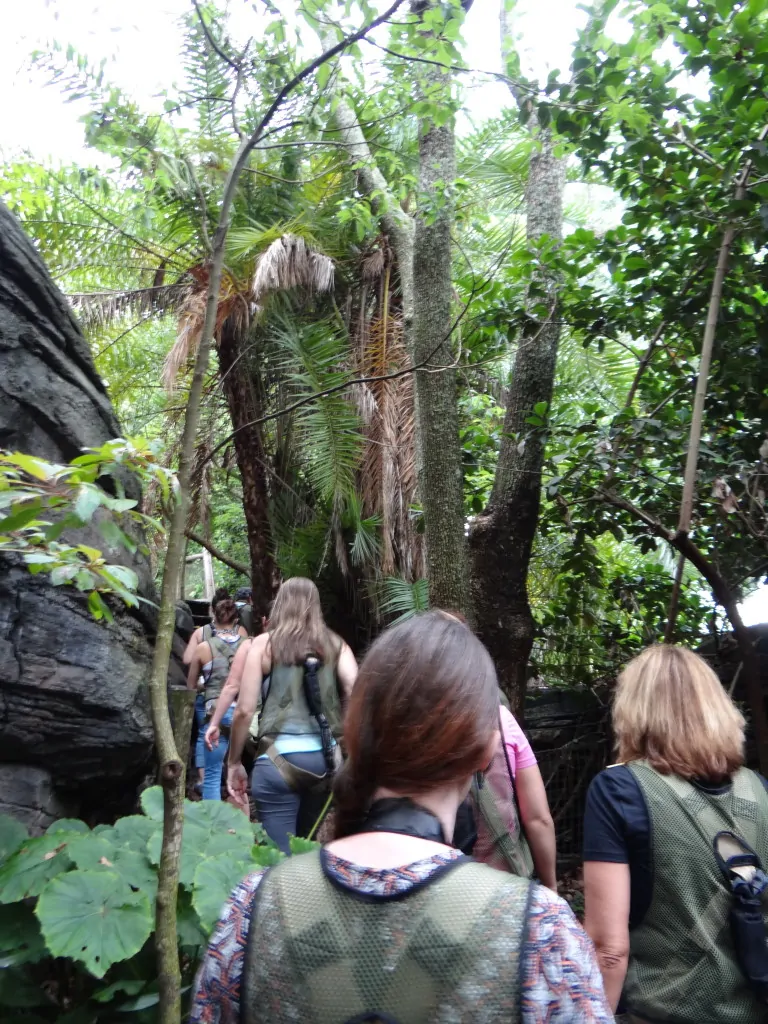 After a brief climb up a few hills and through the vegetation we have our first encounter with a hippo.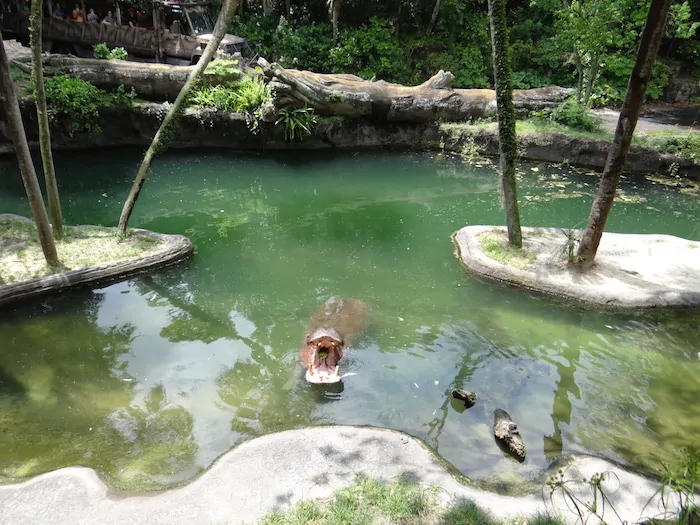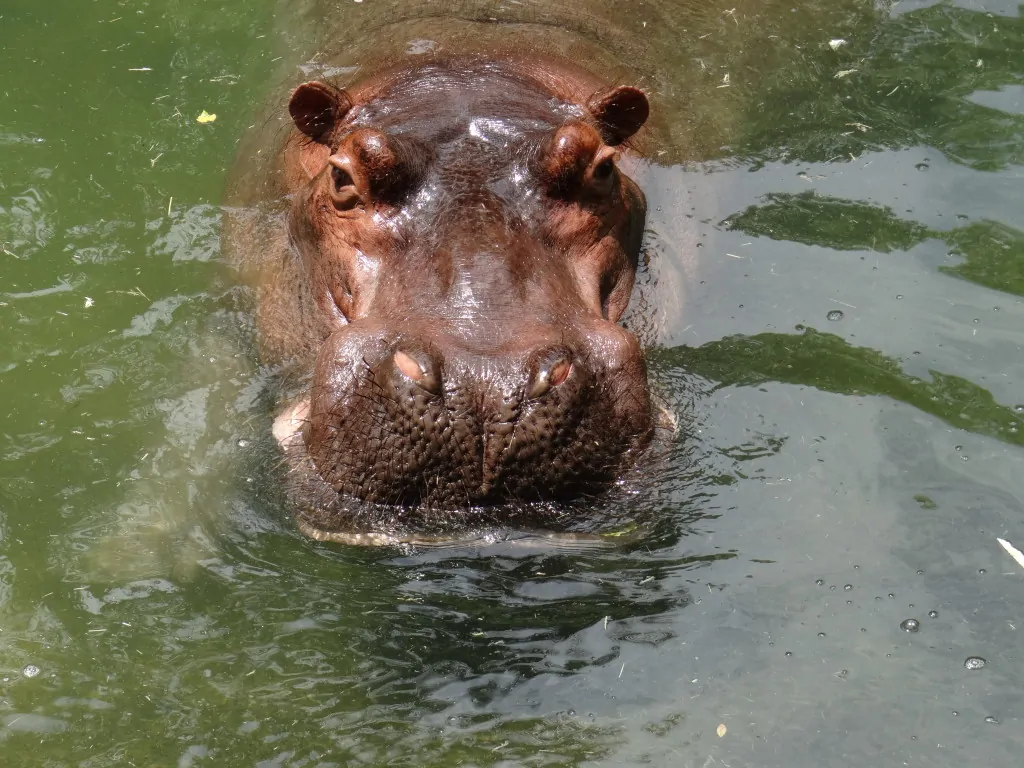 After we got a closer look at the hippos it was time to walk across the rope bridge.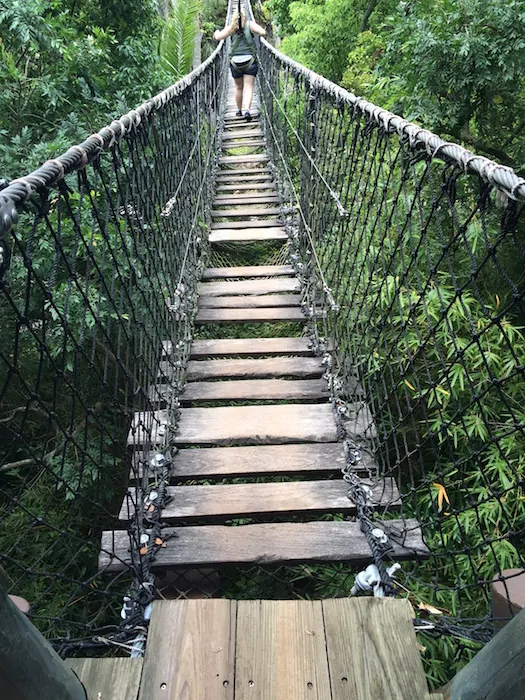 There were actually two bridges for us to cross and that gave us plenty of time for us to stop and take pictures along the way.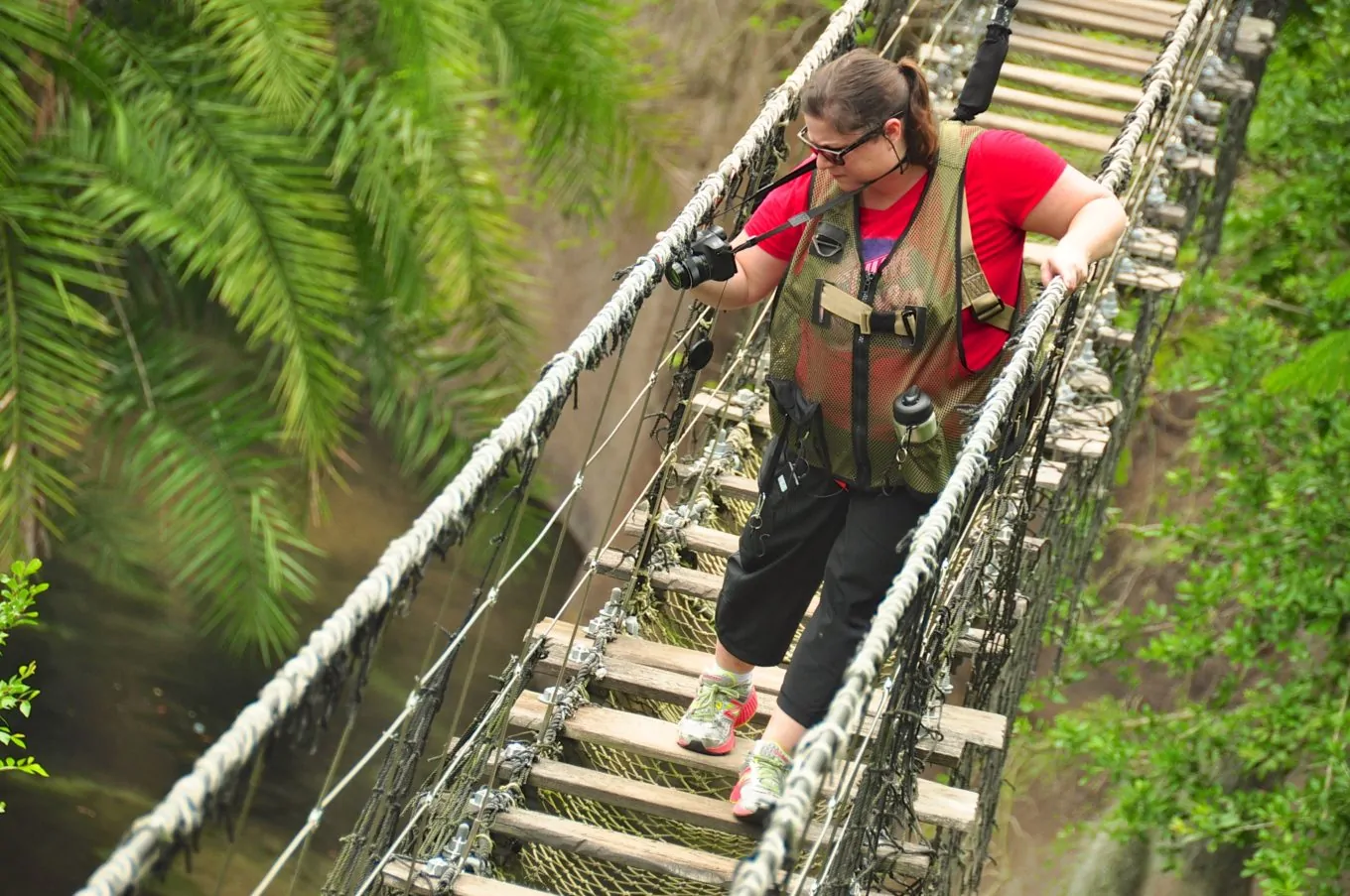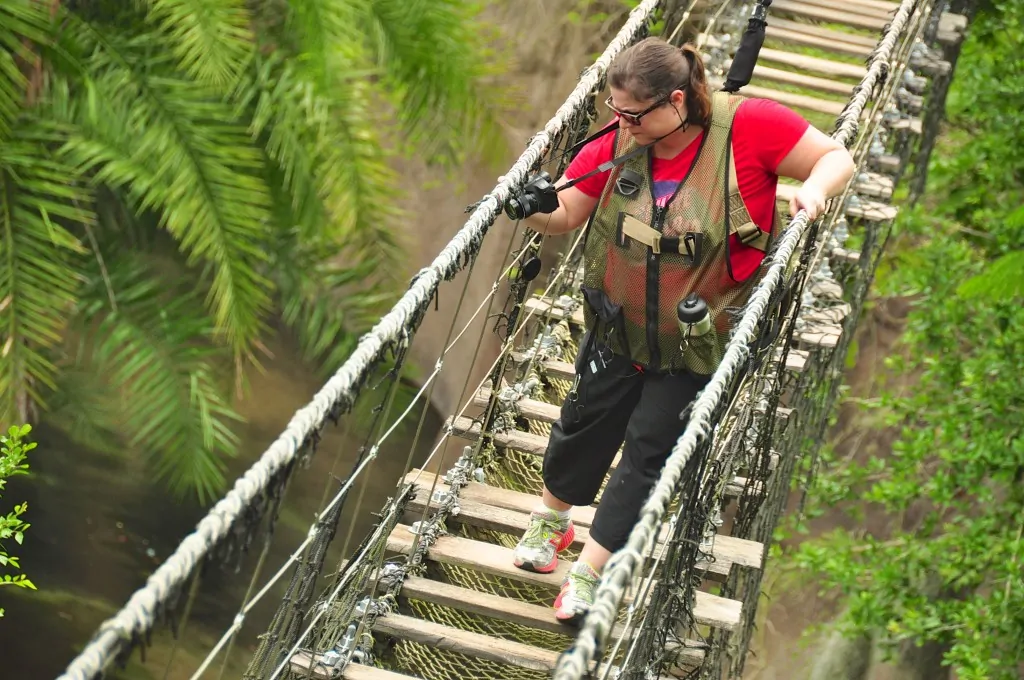 Thankfully on this trek you are harnessed in the entire time while on the bridge and if you do happen to miss a step the rope portion of the bridge is sturdy and safe to stand on.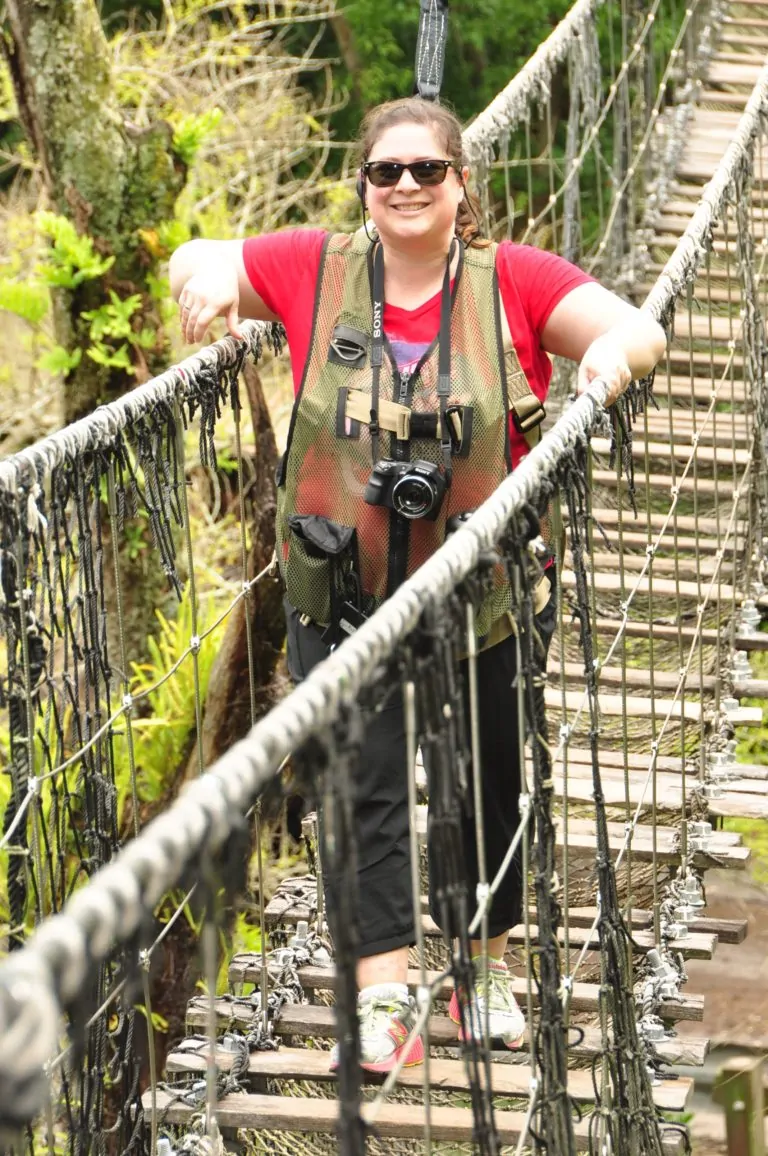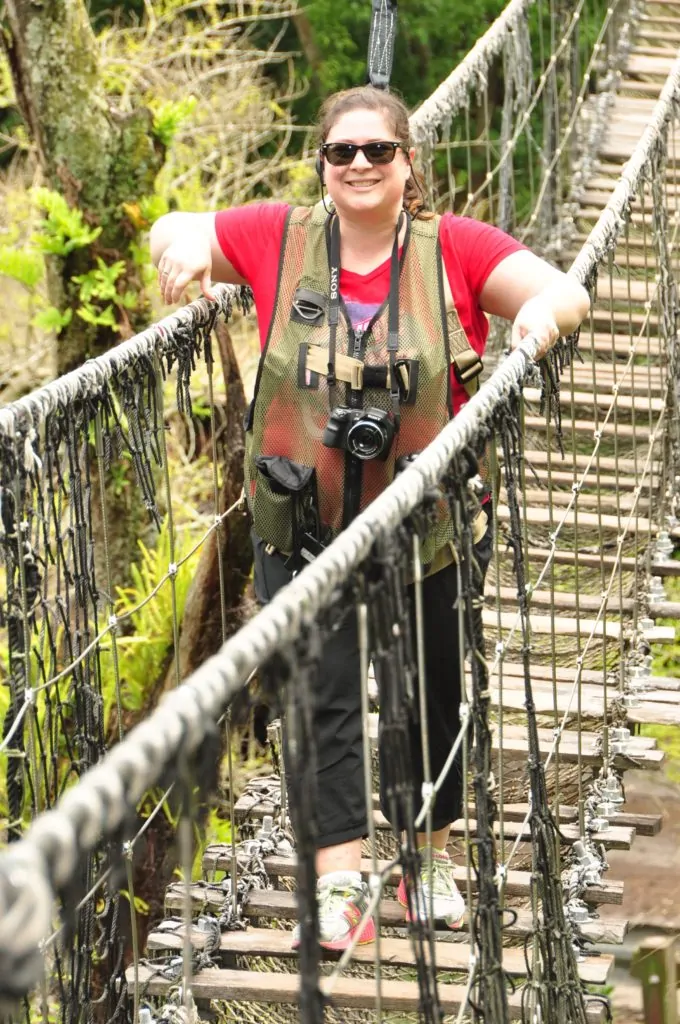 This is the pit of crocodiles that we walked over.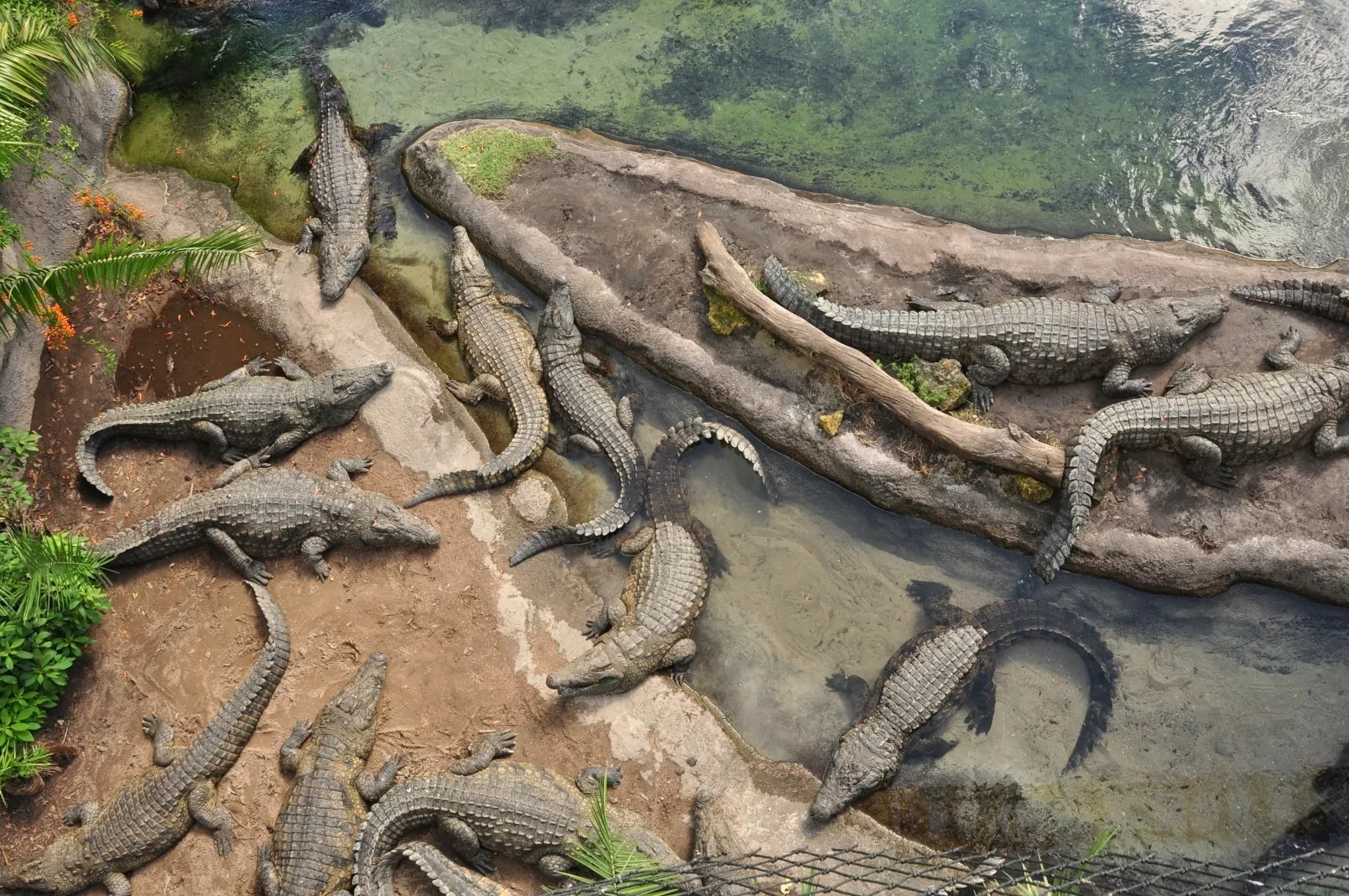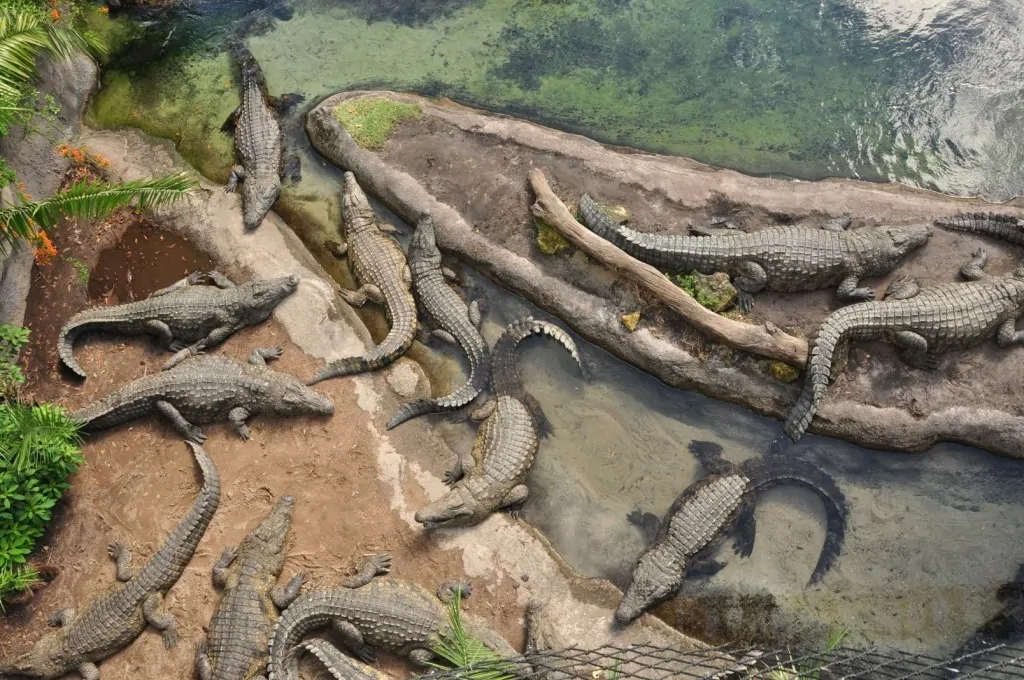 Believe it or not, you also get the chance to get even closer to these crocodiles.  The guides will use your harness to lock you into a system that allows you to walk to the edge of a cliff over looking the crocodile pit.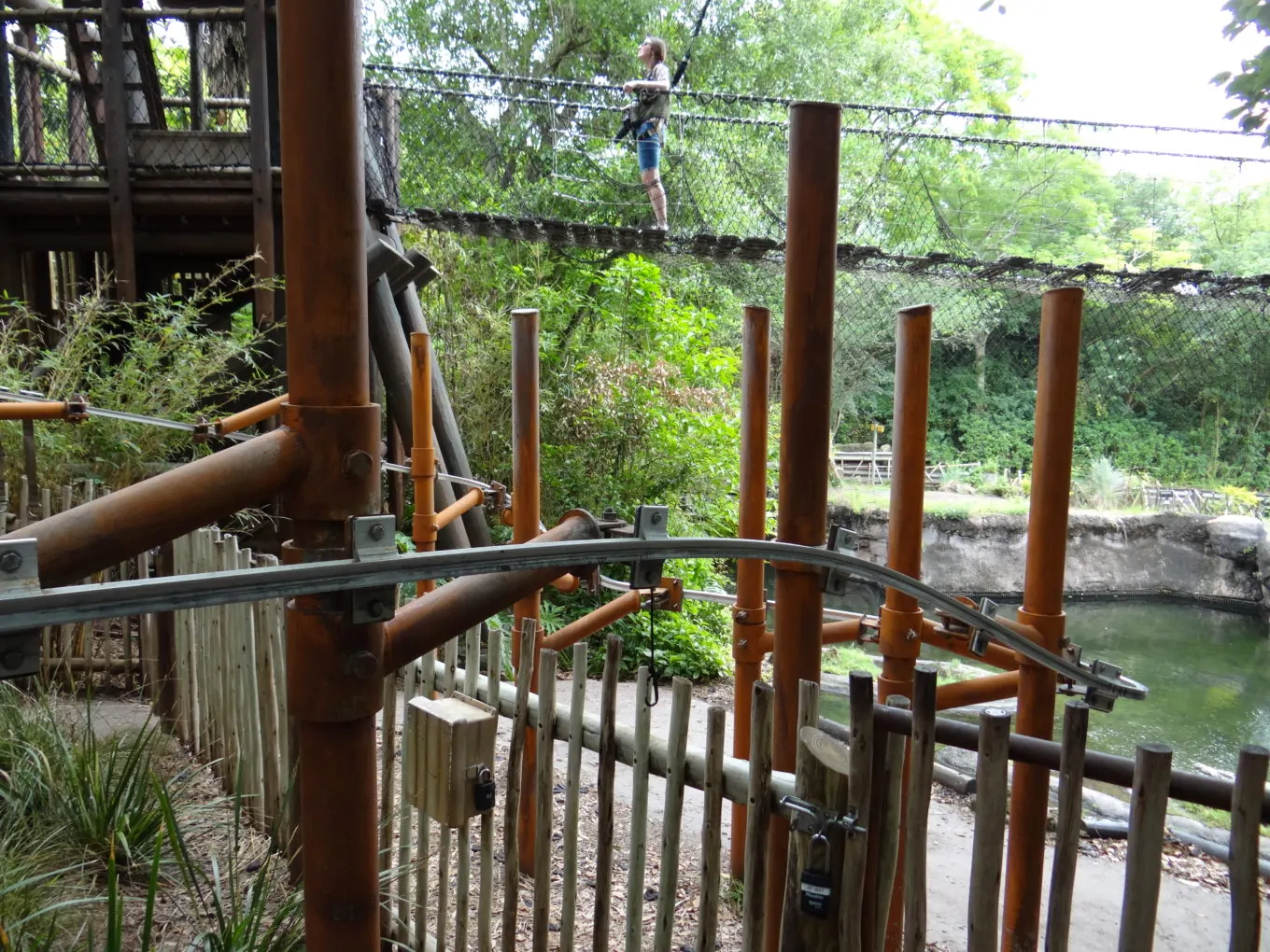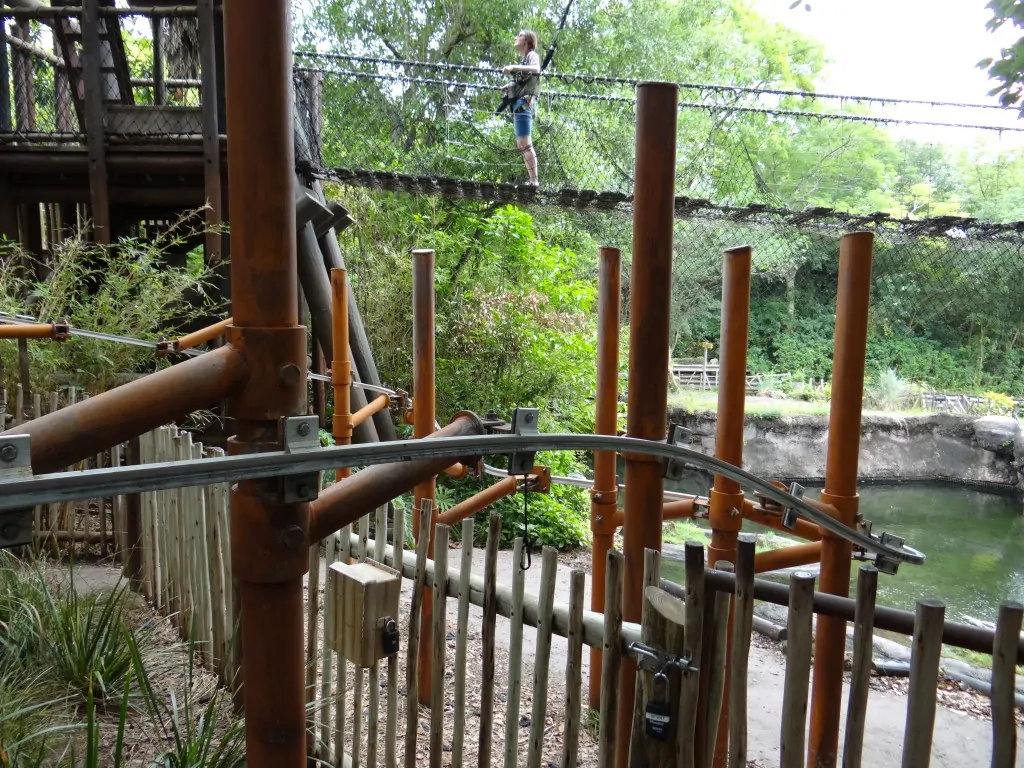 Looking over the cliff of the crocodile pit.  Here you can also see one of the Kilimanjaro Safaris vehicles.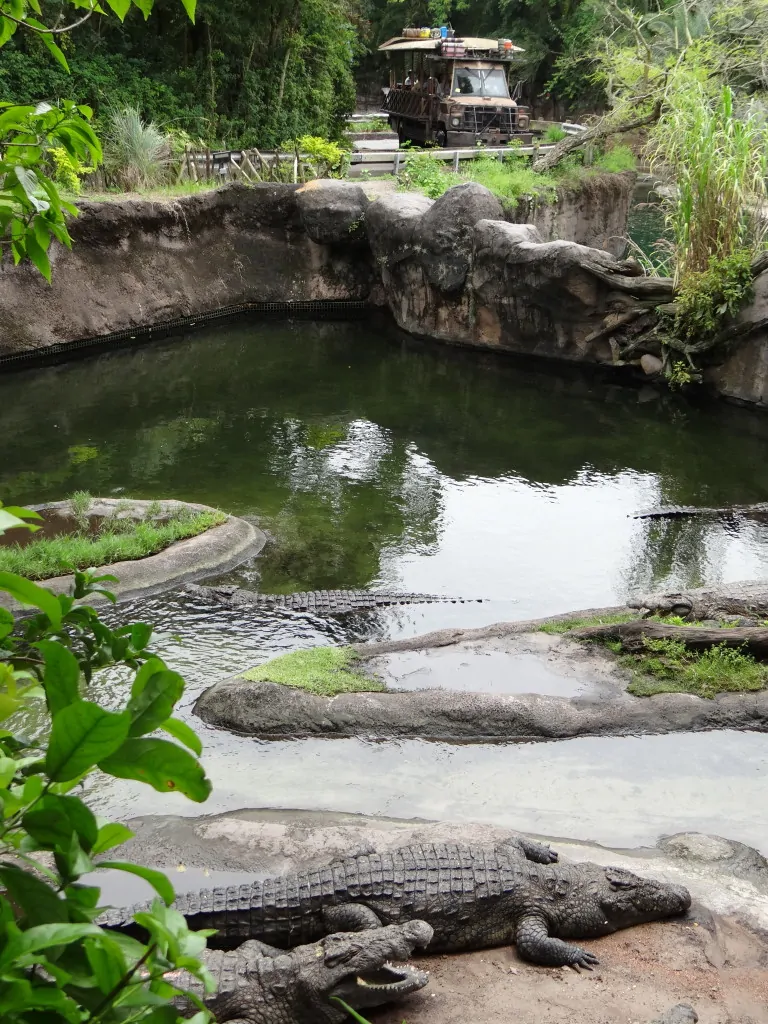 After our daring (but safe) animal encounters it was time for a break and eat some African-inspired snacks.  We were able to take off our gear and ride in an open air safari vehicle to lunch break location overlooking the savanna.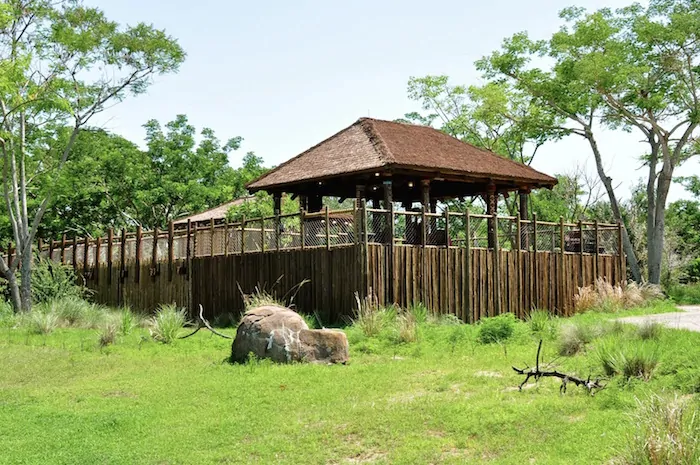 This is the view of the savanna from our outpost.  This is the same savanna where the Kilimanjaro Safaris drive through.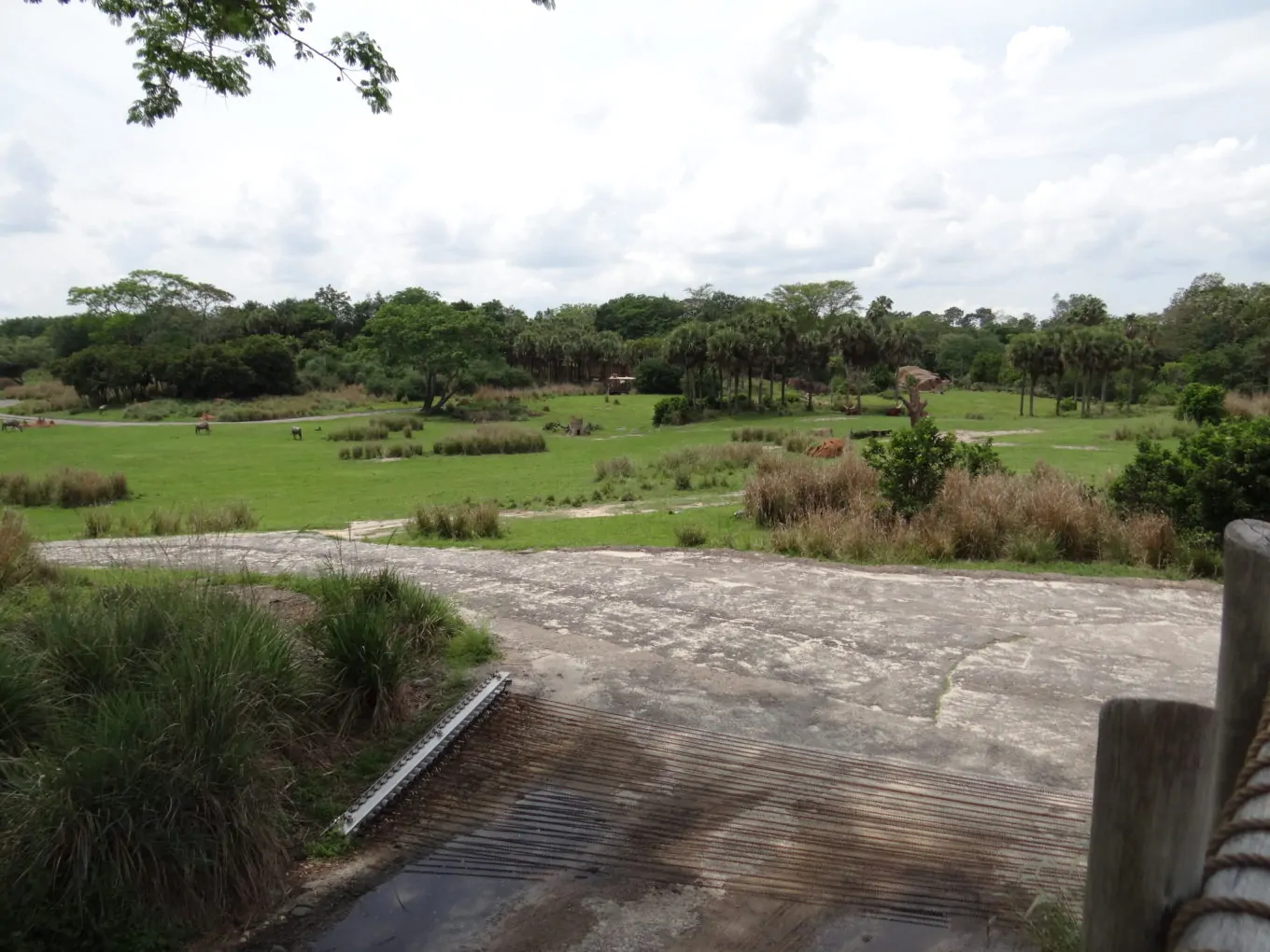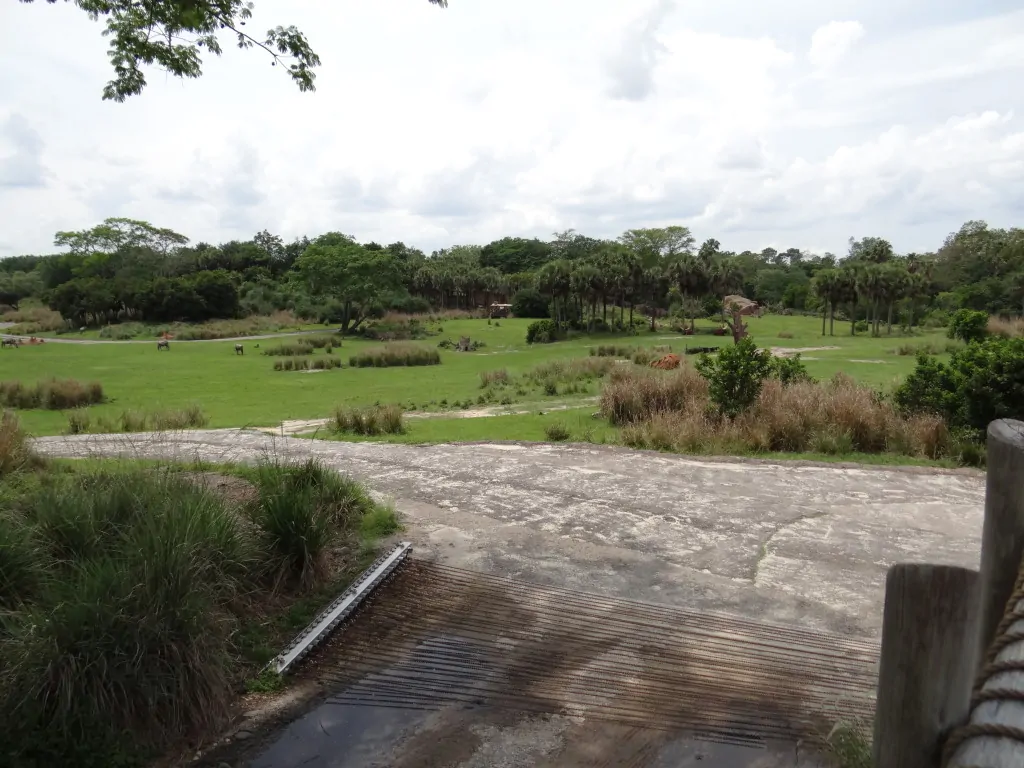 For lunch we ate:
Chicken curry salad
Sun-dried tomato hummus and mini pita
Marinated tandoori shrimp
Smoked salmon roulade with dill
Air-dried beef and prosciutto
Fresh fruit marinated in mint and ginger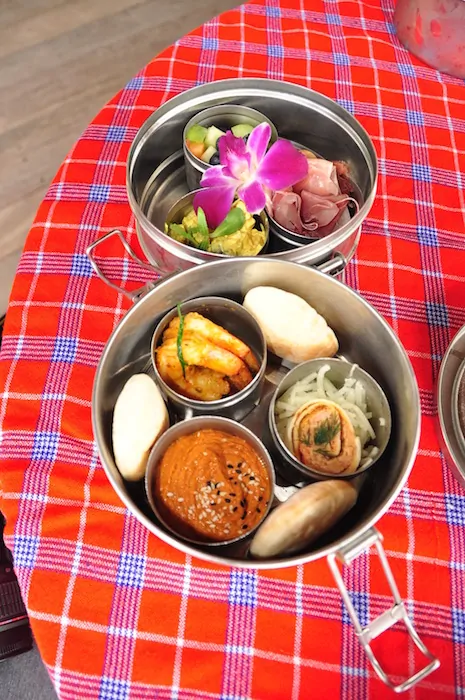 After our delicious lunch we hopped back into the open air ride vehicles for the second part of our tour.  This part of the tour take place on the same route as the Kilimanjaro Safaris but along the way the guide will ask the driver to pull over and stop at several places along the road.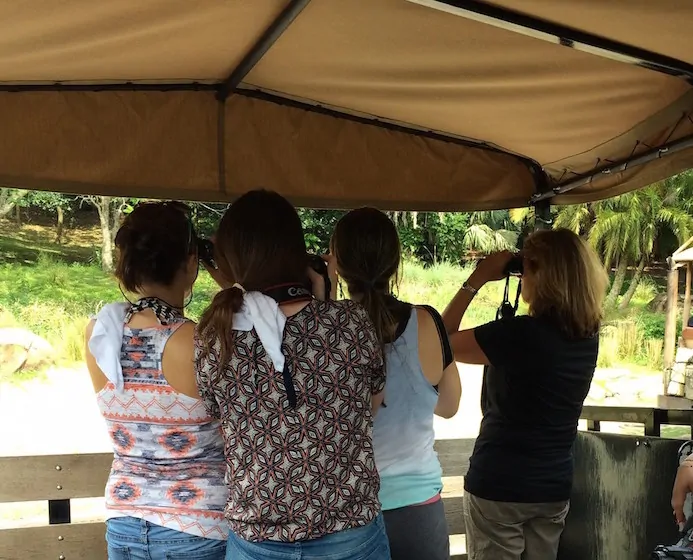 At these special locations the vehicle will stay for a few minutes while the guide provides more in-depth information about the animals we were looking at.
Here are some of the animals we saw on our adventrue.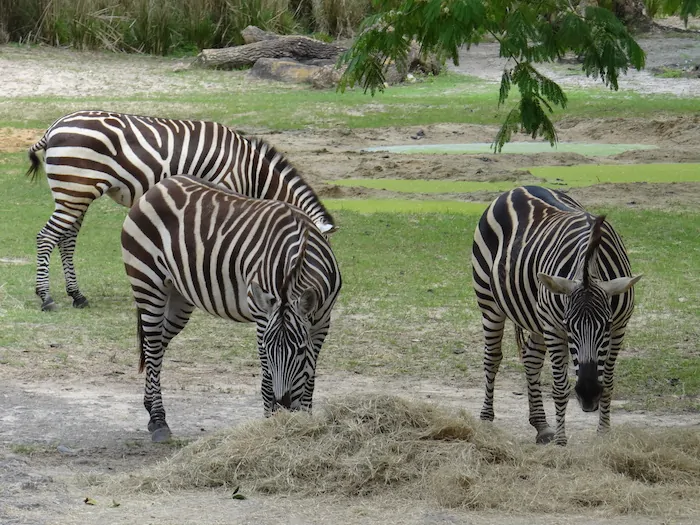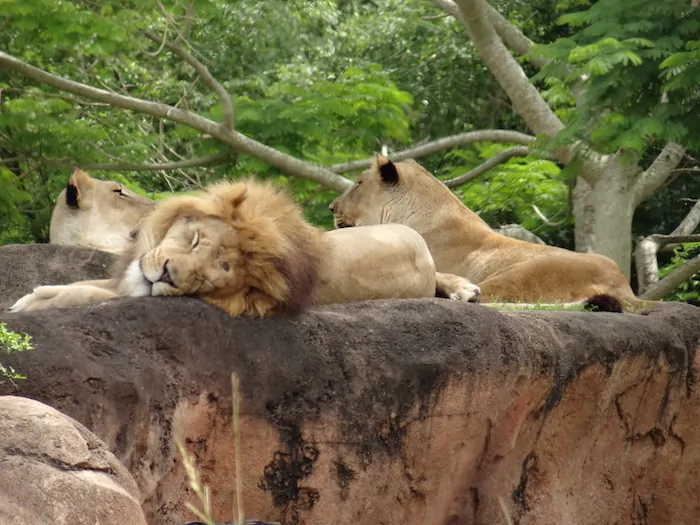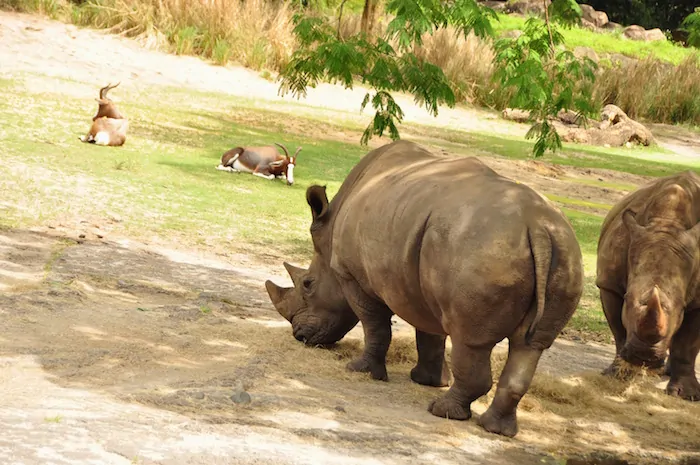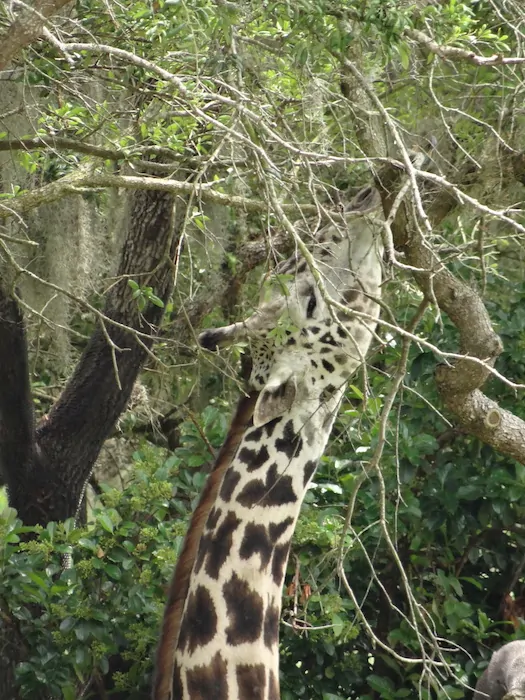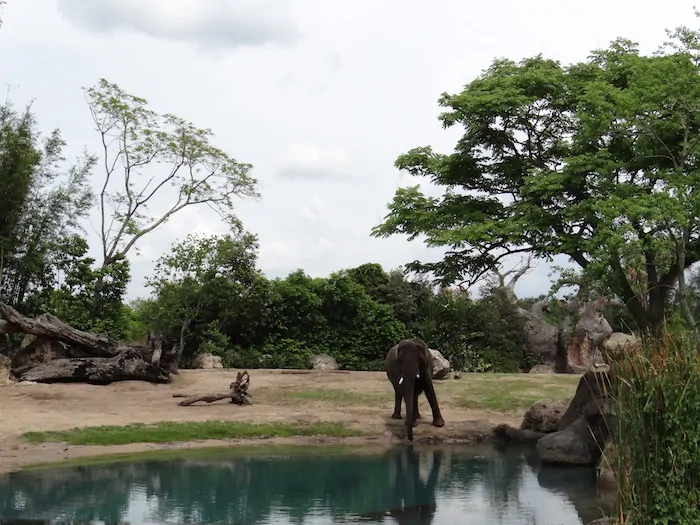 I highly recommend this tour, it was in-depth, fun and a great way to learn more about animals and their habitats. You will also learn more about Disney's Conservation efforts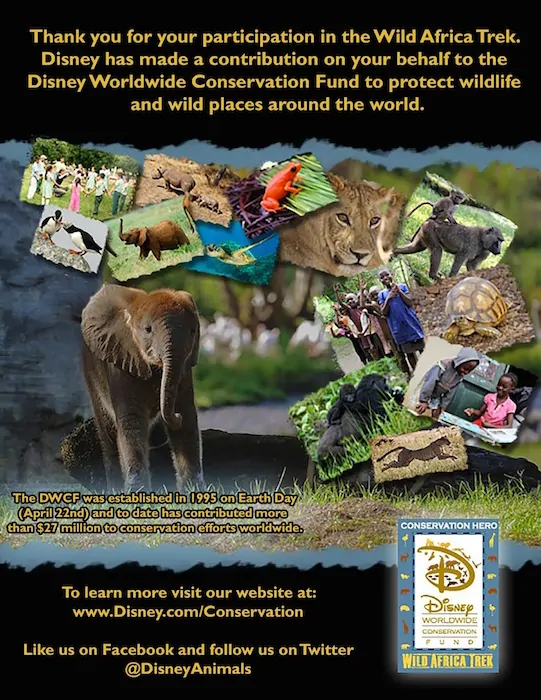 For more information about the Wild Africa Trek visit Disneyworld.com.
Monkey Kingdom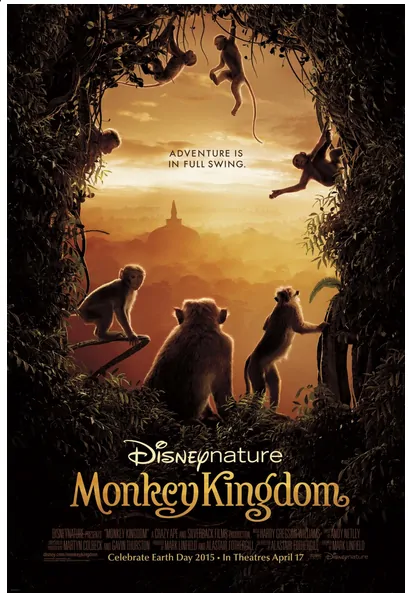 Like all families, Maya's has more than its share of colorful personalities—and she's determined to give her son a leg up in the world.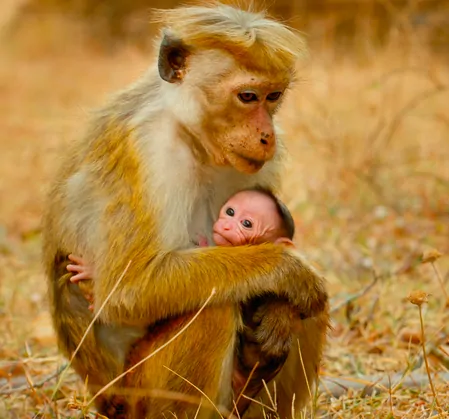 When their longtime home at Castle Rock is taken over by powerful neighboring monkeys, Maya's whole family retreats, and she uses her street smarts and ingenuity to uncover untapped resources amidst strange new creatures and unsettling surroundings. Ultimately, they will all have to work together to reclaim Castle Rock, where Maya can hopefully realize her dreams for her son's future.
Monkey Kingdom is now playing in theaters and for every ticket sold opening week (April 17-23, 2015) 
Disneynature
 will make a donation to Conservation International. It is the perfect way to celebrate Earth Day, spend time with your family and give back to nature.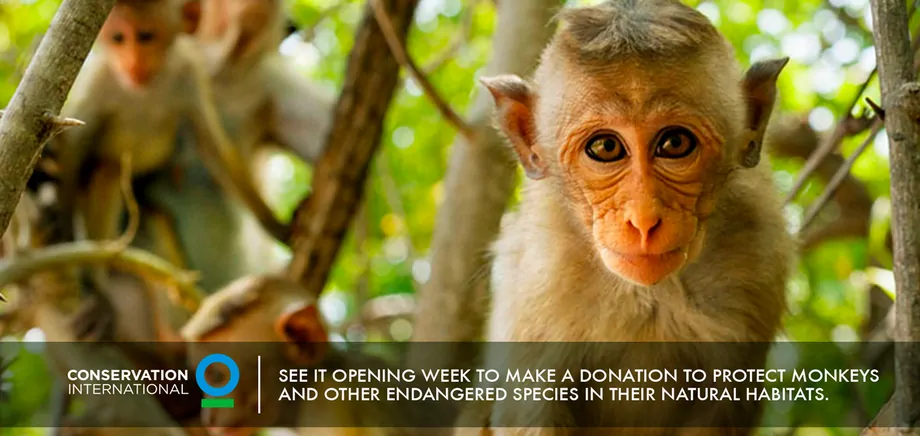 Read my review of Monkey Kingdom here.
Written by 5 Minutes for Mom Contributor, Dawn Cullo.