This post may contain affiliate links. Read my disclosure policy here.
Jennifer Donovan is here to share her love of a new product she tried and give you a chance to win a prize pack. This post is sponsored by Vaseline.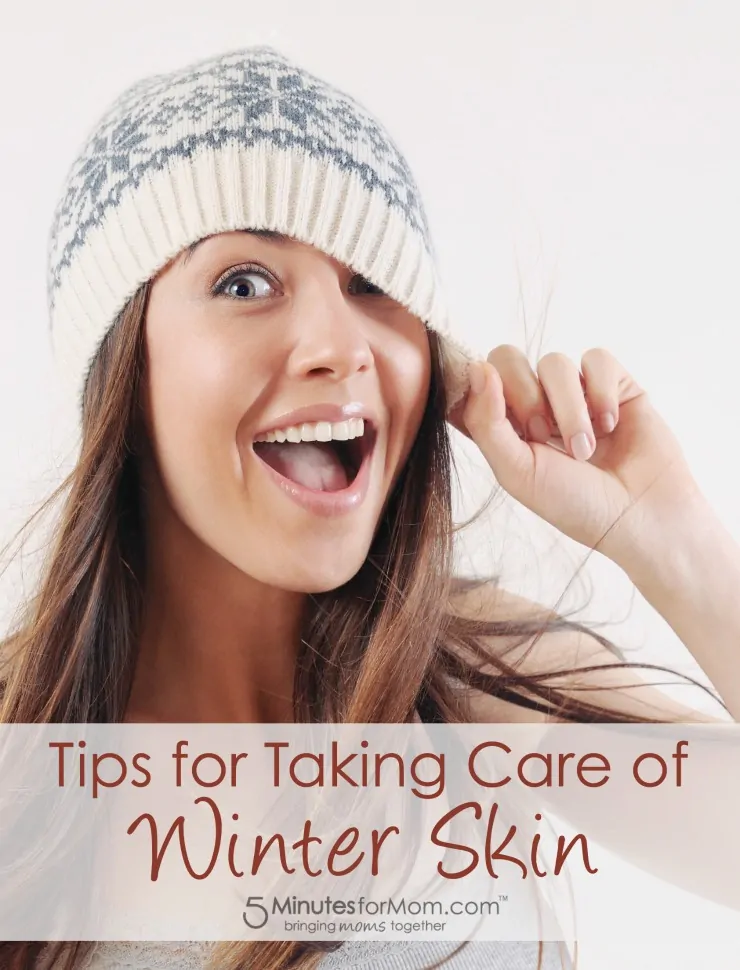 As a blogger who has done product features and reviews for over 8 years, I have been exposed to some products I liked, some I loved, and frankly, a few that I just didn't understand. I'm always thrilled to find a new product I love, something I end up buying as gifts for others again and again or something that becomes a staple in my kitchen or medicine cabinet or closet.
I received a product sample of Vaseline® Intensive CareTM Lotion Advanced Repair Fragrance Free to aid my coverage of Vaseline's cold-weather skin-care campaign, and it's definitely become a new staple. I have used the regular Vaseline lotion before, but I never had this reaction (feelings of true love). The formula at the bottom indicates that this is "rich," and indeed it is.

My tips for taking care of winter skin:
Moisturize every day, day and night is even better — I keep my lotion by my bed to remind me.
Take advantage of socks to deeply moisturize your feet — I am cold-natured so I wear my fuzzy socks around the house all day and sleep in them at night. Before I turn in, I slather up my feet to give them an extra boost.
Don't forget the areas that stay covered up — My daughter has itchy dry skin on her legs, so each night she treats them. I like to give my arms and legs extra attention as well.
Why Vaseline® Intensive CareTM?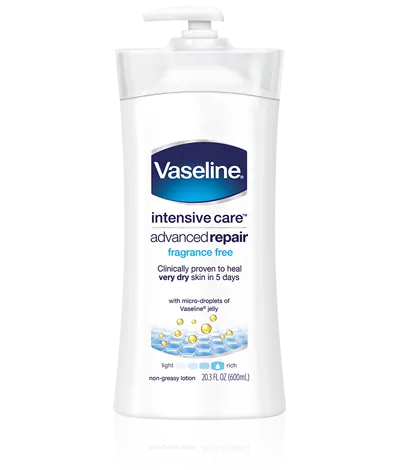 "Vaseline Intensive Care Lotions contain healing micro-droplets of Vaseline Jelly to deeply moisturize to heal dry skin."

This lotion has a great feel to it. My teen daughter has very itchy dry skin on her legs, especially in winter. She scratches, which leaves her with some discoloration (from the scabs) in the summer. When I asked her what she thought of it, she said, "It's great! It feels like I still have lotion on." It's not at all greasy, but I know exactly what she means. It absorbs but leaves my hands feeling soft all day long.

"Vaseline Intensive Care Advanced Repair Fragrance Free is clinically proven to heal dry skin in 5 days."

Like I said, my daughter does have dry itchy skin. When it gets cold and dry (which is rare here in Houston), my fingertips do get that dry scaly feeling. Literally after one day of using it day and night, that feeling is gone. I've moved on to my dry, cracked heels. They look like you'd expect winter feet to look. For that matter, even in summer, a pedicure is a rare thing for me. They still have a ways to go, but I'm putting lotion on them each night and sleeping in socks. I can't wait to show them off when sandal season comes.

"Vaseline Intensive Care is available at mass retail outlets. For the 10oz bottle, the SRP is $4.99."

I'm at the age where I'm not as reluctant to spend a little bit more for great skin care, especially on my face. But it's not just my face that shows age. I've also noticed those amplified lines in my hands, and so to find a product that I love this much at this price? Wow. When my daughter liked it as much as I did, I passed my 10 oz bottle to her and purchased a 20 oz bottle with a convenient pump for myself.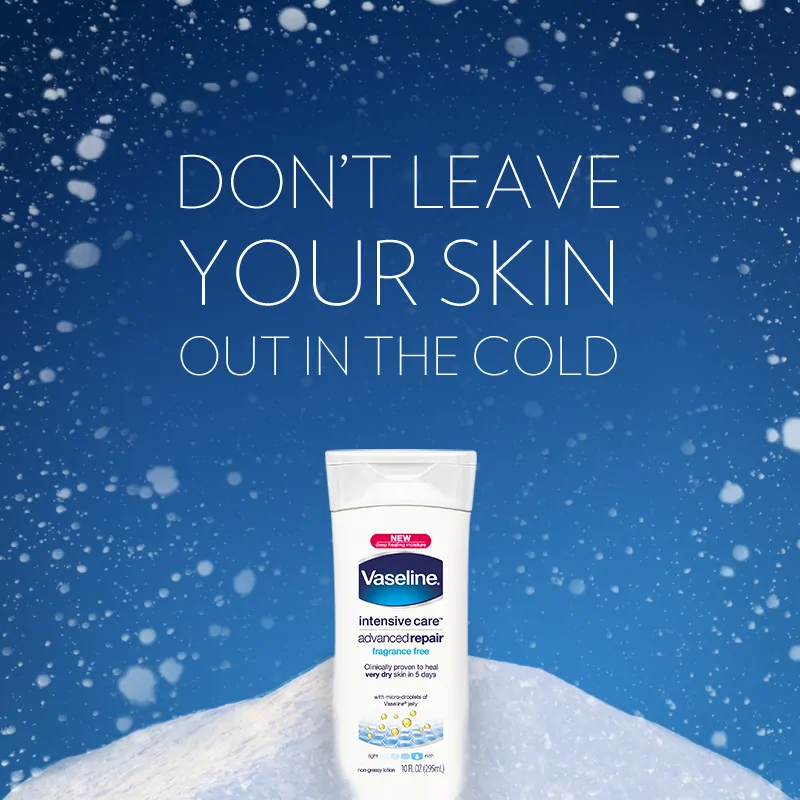 I also wanted to address the "fragrance free" designation. I have a family member and a close friend who are allergic to products with strong scents. Some lotions and soaps and body washes are labeled unscented, which you might assume is the same as fragrance free, but it isn't. You can even read the label to see something added. This product has no fragrance and no odd scent. For me, that means if I want to use some of my scented sprays or body creams, it won't compete. I love this.
Get Social
https://www.facebook.com/Facebook
Win your own Vaseline® Intensive CareTM Winter Kit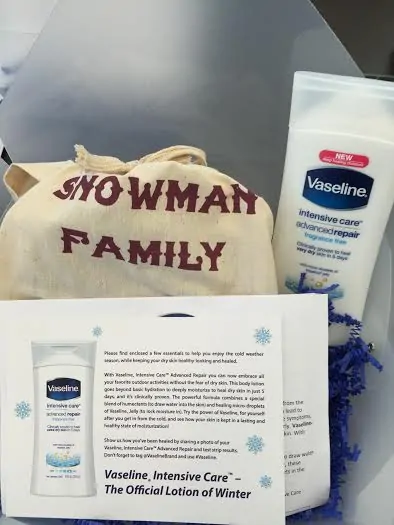 One of you will win a prize pack worth $50 featuring Vaseline Intensive Care Advanced Repair Fragrance Free so you can try it for yourself and items to help you have some winter fun ice skating, sledding and building a snowman.
It might not feel like it now for some of you, but winter will be over soon. Pamper and protect your skin now so it will be ready to show off come summer.
Follow the instructions below to earn one or more entries: