This post may contain affiliate links. Read my disclosure policy here.
Disney sent 5 Minutes for Mom contributing blogger Dawn Cullo to Los Angeles to attend a BIG HERO 6 press day. Dawn's expenses were paid for the trip but no other compensation was paid and all opinions are Dawn's.
The BIG HERO 6 press day was held at the Roy E Disney Animation Building.  It is quite a treat to be able to step inside the workplace of so many creative geniuses.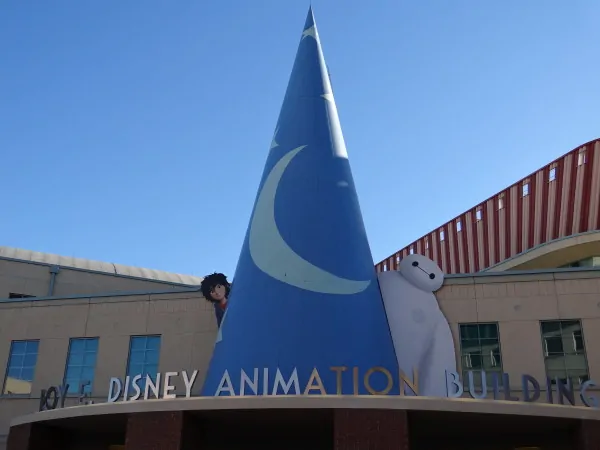 The entrance and lobby of the building are decorated with BIG HERO 6.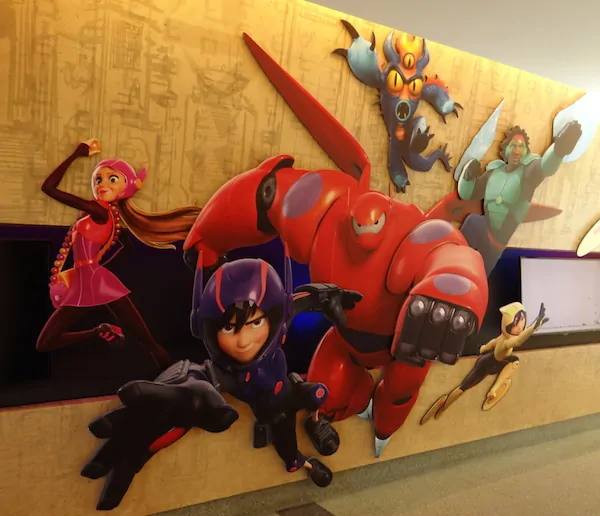 But one frozen fractal still remains. =)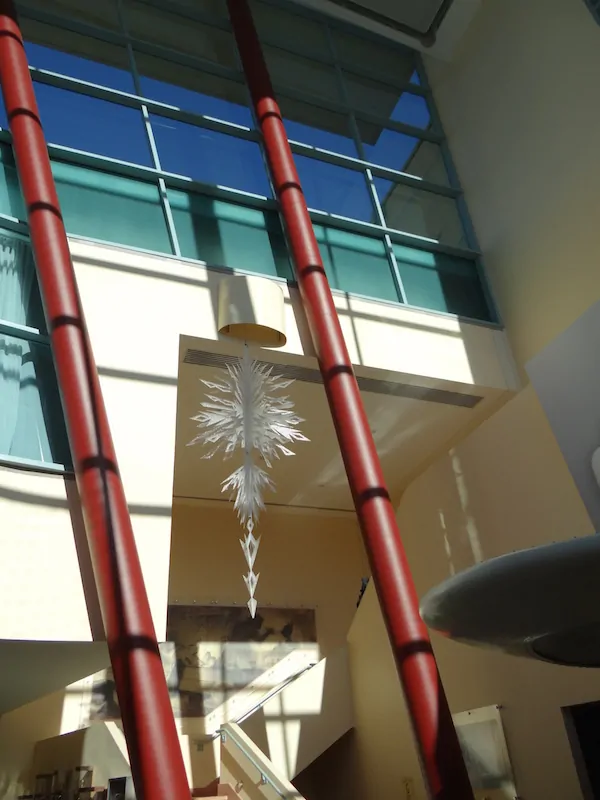 On display are a variety of awards including the Oscar for FROZEN, the Golden Globe for BEAUTY AND THE BEAST, FROZEN as well as LION KING.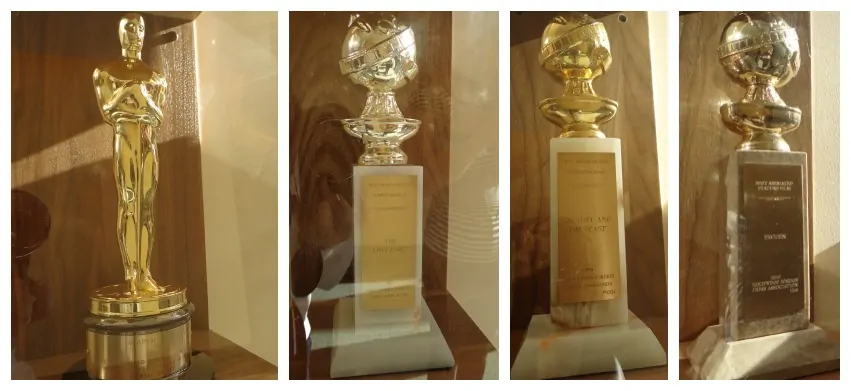 Interview with Filmmakers Don Hall and Chris Williams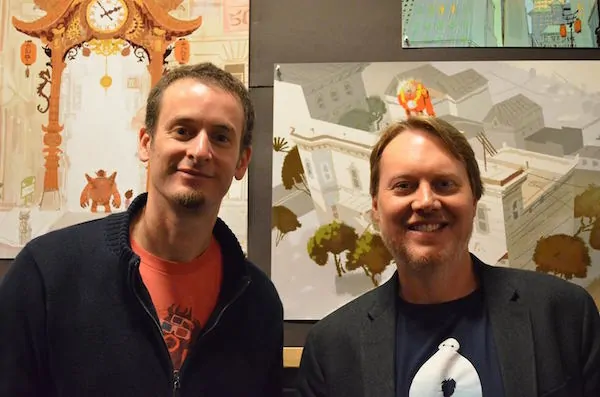 Chris Williams and Don Hall – Photo Credit: Staci Salazar
What attracted you to the story of Big Hero 6 being that it's a small publishing in the Marvel comic book world?
Don Hall: We normally pitch at least three ideas and the title sounded interesting.  It was a story about a Japanese super hero team and I thought it was cool.  The characters were interesting and I loved their names.  The creators loved Japanese Pop culture as well as anime and infused it with a Marvel superheroes story so I loved that.
Chris Williams:  The fact that it was an obscure property really helped us because the way we make movies here is we sit at this table and talk about it for years.  It evolves quite a bit, and we have screening after screening, and the story changes a lot. We know that whatever we start out with, it's going to end up being something different. The fact that it wasn't a well-known property where people were going to have their own idea of what it should be really helped us.
What is the biggest change from the initial script to the final cut of the movie? 
Chris Williams: I know that one that may not be the biggest but one thing comes to mind and it's that Baymax became more central. We realized that when he is driving the story, and driving the plot it really helps. Baymax became a real interesting character in uniting the story of "boy and his robot" and the superhero origin story.
Don Hall: You want the protagonist driving the story.  But the story wasn't coming together, and it didn't come together, until we put Baymax front and center.  We really took that idea that he wants to heal Hiro.  We put that idea in the forefront and made it really proactive, as opposed being reactive.
Chris Williams: I would say also the specific thing is the scene on the wind turbine after that first flight scene.  Where it's just the two of them sitting on the wind turbine above the clouds and it is really sort of a sweet scene.  It was a very late addition but that's the way we work.
We kept questioning our assumptions and kept challenging the story and then we realized there was something missing.  Once we added that scene it really solidified their relationship.  We understood how much they were invested, and how much they loved each other.  We then became invested in their relationship too.  I think that is a credit to the way that we make movies at Disney. We allow ourselves to constantly reassess the story and so I was really proud of that scene.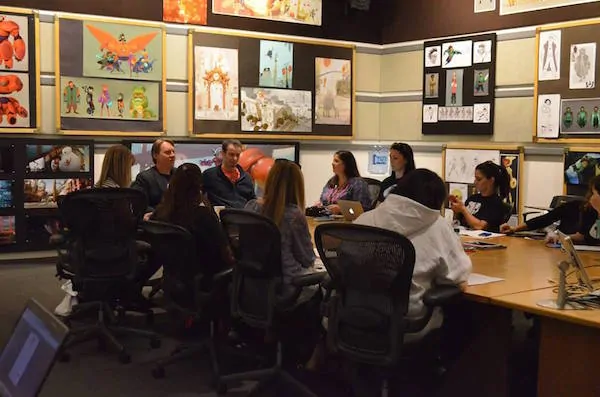 Big Hero 6 Interview with Don Hall and Chris Williams
The scenery is really exciting, mesmerizing, and there is so much to see in it. How did you go about researching what the actual backgrounds would be and how much attention you wanted to draw to it? 
Don Hall:  The scenery is a credit to our production designer, Paul Felix and our art director of environment, Scott Watanabe.  They really shared the burden of how we were going to integrate all of the Japanese elements into San Francisco.
Chris Williams:  To get all of the details the team took pictures and they really studied.  That is how you get all of the details to add up so that it feels really complete.  Even the placement of the sun in the sky, the sun will always be in the right place in the sky, depending on the time of day in the scene.  Depending on the geography of San Francisco and the moisture in the air.  These are things that I wouldn't have thought about that most of these guys are consumed by.
There were so many things we could recognize.  Instead of making something completely fantasy or completely real, how did you come up with the combination of these real places like that? 
Don Hall:  We had a meeting with Marvel and they said, "You know what, you don't have to worry about setting this in the Marvel Universe.  Don't worry about trying to integrate Captain America and Iron Man. Just take this and go make your own world."
Marvel Universe really takes place in sort of the real world, like it's New York essentially.  But I wanted to stay away from New York, and I really wanted to stay away from LA.  We knew we that no matter what we picked it was going to have this Japanese stamp on it.  San Francisco just felt cool because it's very recognizable and it's a contained beautiful city.  There's so many things that people recognize around the world, like the Golden Gate Bridge, cable cars, the topography and Coit Tower.  It just felt like we could make it really grounded and relatable.
Chris Williams:  Something that John Lasseter emphasizes is that over the course of the years of production the story is going to change a lot but you're going to live with the world that you create.
Don Hall:   I just want to bring up one little minor detail that we knew that there was going to be no superpowers in the movie.  That was another stake in the ground. Nobody is magic, or irradiated by anything, any kind of ray, cosmic ray or gamma ray or spiders, or anything.  It's going to be real people, and their superpower is gonna be super technology.  Both of those cities, Tokyo and San Francisco are kind of hubs of technology and that kind of felt like another kind of easy integration.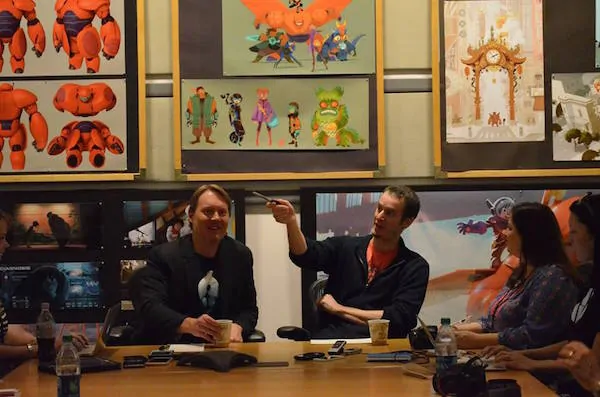 Big Hero 6 Interview with Don Hall and Chris Williams
The technology in the film is not only futuristic, but it's kind of ultra-modern.  Is that based on anything?  Did you guys work with a science team?
Don Hall: When you watch the credits you'll see, "Thank you, science."  There were many roboticist that I consulted with on the movie.   On a research trip I meet  Dr. Tom Wagner from iRobot, he became a consultant on the film early on.  We ran all types of technology through him such as plasma blades.  We want Wasabi to have plasma blades.  Can that happen? And he's would say, "Well, yes, if you do this, and you did that," and some of it we'd use and some of it we pulled back just for design reasons.
Everything in the movie is researched and grounded because we tried to keep it real as possible. Even with telekinesis which we thought we were really bending the rules there, but come to find out that people are actually working on that.
Chris Williams: It's a hard thing to do, to make a movie where you're trying to deal with the latest cutting-edge technology.  One of the challenges is the actual technology is moving so quickly and we have to make sure we get our movie out ahead of it.  I think we managed it.
Is there a message that you are trying to send about the emotional relationship between a boy and his robot, compared to nowadays, it's people and technology and their SmartPhone?
Don Hall: Early on as I was doing my research it became very apparent that Western and Eastern cultures view technology differently. This came to a head with Chris Atkinson, who was the soft roboticist.  He explained how frustrated he is as a roboticist that Western movies always portray the robots as villains.  He said "When is somebody is gonna put a robot up on screen that I've never seen before, and when is that robot going to be the hero of the movie?"  And I was said, "Yeah, yeah, yeah, you had me at inflatable."
There's an Eastern philosophy that technology will give us a brighter tomorrow. But a lot of times in the West, it's going to be our downfall.  So ultimately it has nothing to do with the technology, it's about who wields that technology.  The theme of loss is really our main theme, but there were a lot of elements that went into the movie.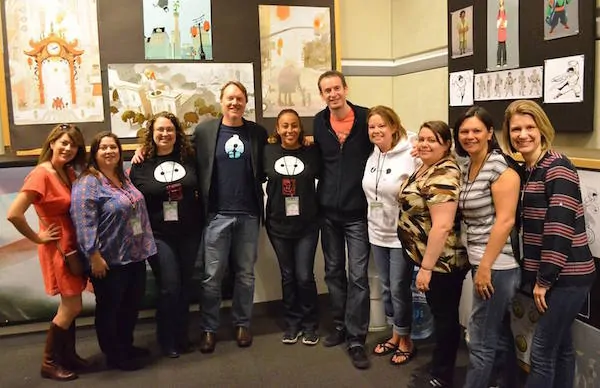 Group photo of Bloggers with Don Hall and Chris Williams
Artwork
The room we had the interview in had a ton of concept art lining the walls, I couldn't stop staring at all of it.  Here is my favorite piece that I saw.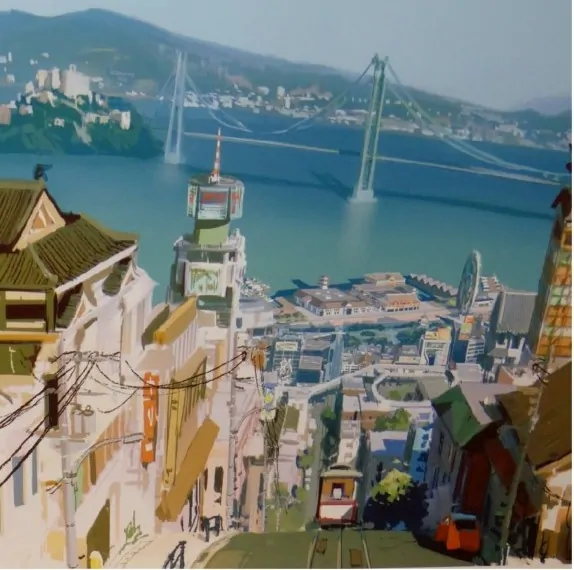 In the hallway of the second floor you can find even more artwork by the talented folks who worked on BIG HERO 6.
Drawing Demo
I had the honor of sitting in a 15 minute presentation with Jin Kim, Character Design Supervisor to learn how to draw Baymax.  I was in awe of how quickly he drew Baymax and then added in Hiro.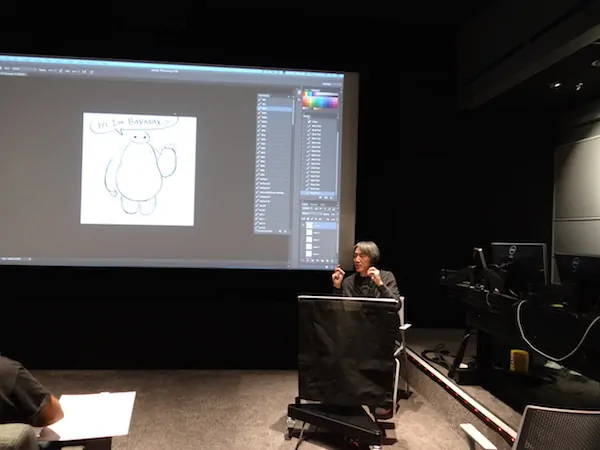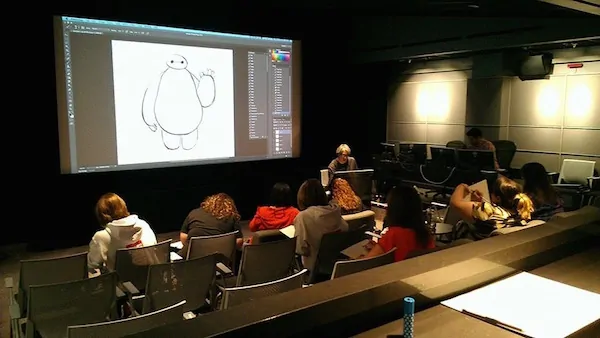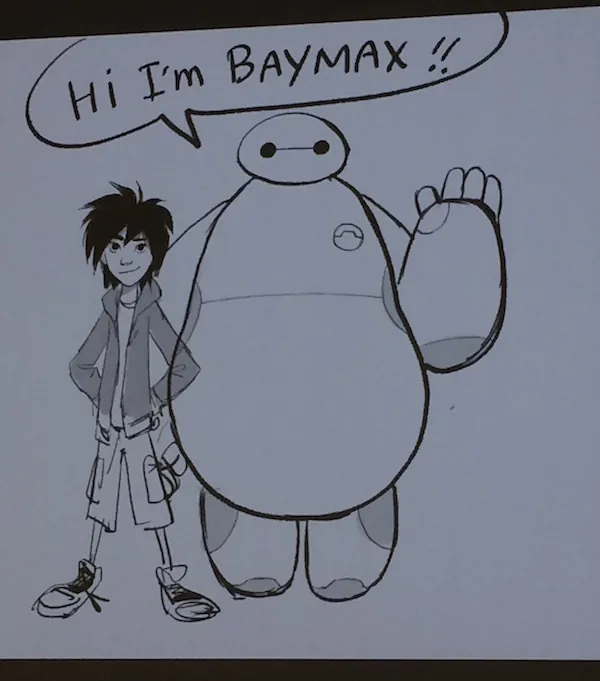 My Baymax looks like he is on a diet.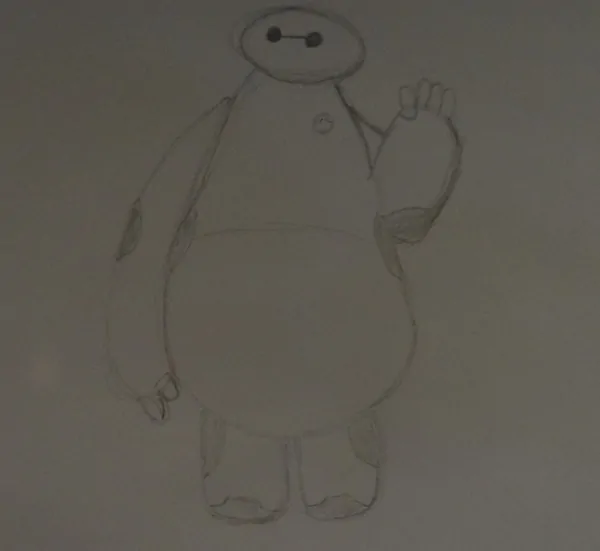 Now you can learn to draw Baymax with Jin Kim, Character Design Supervisor
When you have finished your drawing you can submit it to the
Big Hero 6 Creators Lab.
Be sure to come back later in the week for more pictures of inside the Roy E. Disney Animation Building and my interview with Jamie Chung and Genesis Rodriguez voices of GoGo Tomago and Honey Lemon in BIG HERO 6.
Written by 5 Minutes for Mom Contributor, Dawn Cullo.