This post may contain affiliate links. Read my disclosure policy here.
Janice here with some adorable breakfast time fun — lollipop pancakes! Yes, we are making pancakes even more fun and delicious with little pancake pops, dressed up with yogurt "icing" and sweetened with a drop of jam and Organic Pancake Syrup made by Wholesome Sweeteners. Thanks so much to Wholesome Sweeteners for sponsoring this post — and providing their scrumptious syrup which inspired me to create this yummy breakfast treat recipe.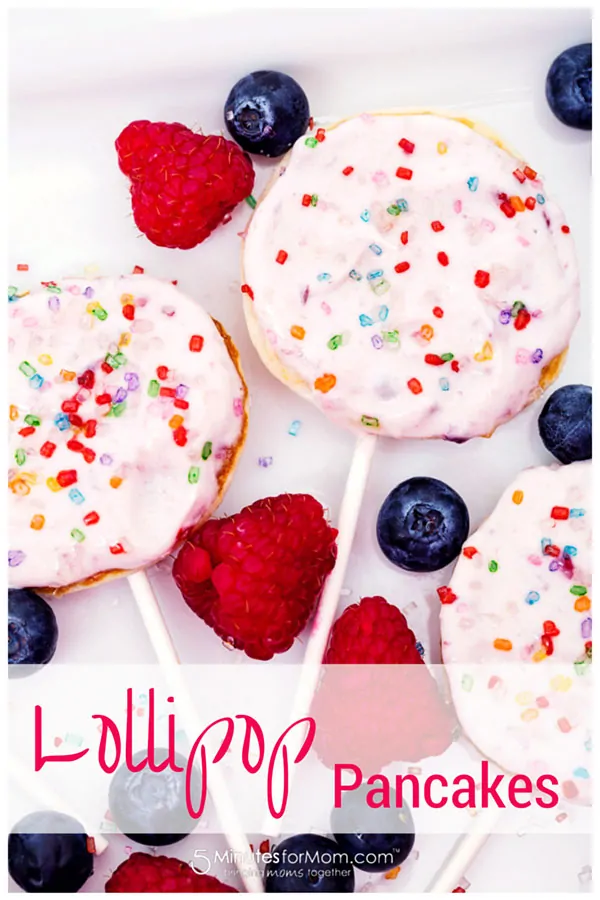 What is it about tiny food that makes it so darn cute?
Put that tiny food on a stick, and add sprinkles and syrup for dipping, and things just become irresistible.
I am not a talented cake decorator, nor am I a master baker, but this pancake pop recipe I whipped up is so easy, anyone can do it. In fact, it is a perfect recipe to get your little chefs at home involved.
And although it looks a tad too decadent for breakfast, these Lollipop Pancakes just look the sugary part. They are actually not overly sweetened. The "icing" is plain Greek yogurt flavored with a bit of berry jam and some Organic Pancake Syrup made by Wholesome Sweeteners. There is no high fructose corn syrup in these lollipop pancakes!
I also made my batch gluten free, but of course these pancake pops can come in any flour variety you wish.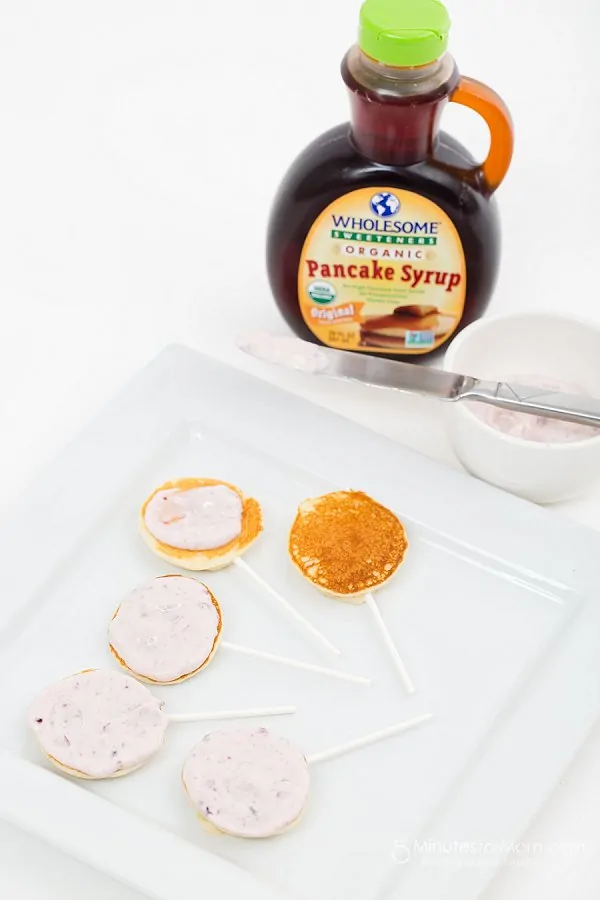 How to Make Lollipop Pancakes
Pancake pops are breakfast's answer to dessert's cake pops. If cupcakes can get tiny and jump on a lollipop stick, then why can't pancakes?
And while cake pops require you to get your hands dirty and spend some time molding little balls of cake, pancake pops only require you to place a lollipop stick in the batter as your pancake cooks. Yes, it is that simple.
A few tricks help things to work out for the best:
First, adding a bit of Greek yogurt to your pancake batter helps the pancake batter to thicken up a bit. But if you don't want to add yogurt, no worries. Just ensure you keep your batter on the thicker side.
Second, keep your pancakes nice and small – about a teaspoon of batter – so that they fit the lollipop sticks and are not too heavy.
Third, once you place your teaspoon of batter in the pan, allow it to cook for a minute or so and then gently place your stick on to the batter, allowing it to sink in slightly. Then, if necessary, add a small amount of batter on top of the stick to cover it.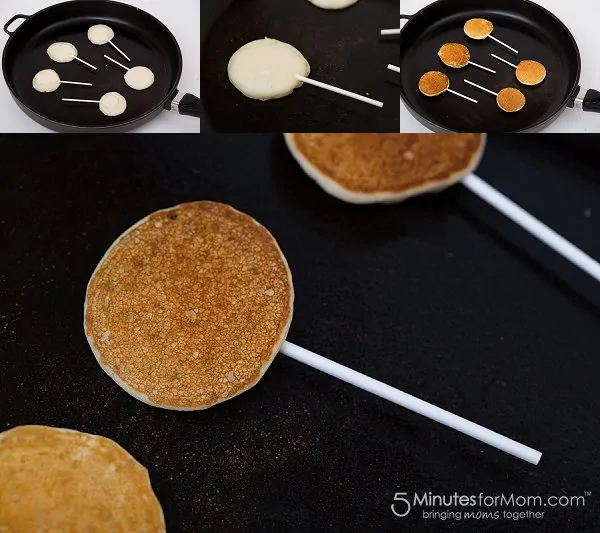 Make sure you leave room between your pancakes, as it is trickier to flip pancake pops than regular pancakes.
After your pancakes pops have finished cooking, you can serve as is or add some "icing."
I simply mixed plain Greek yogurt, with a bit of corn starch, (to thicken,) a teaspoon of jam, and a bit of Wholesome Sweeteners Organic Pancake Syrup. If you are providing some syrup for dipping, you can omit the syrup from the yogurt topping if you wish.
I sprinkled sparkling organic sugar on my lollipop pancakes to add some extra pretty and served with a side of Organic Pancake Syrup for dipping.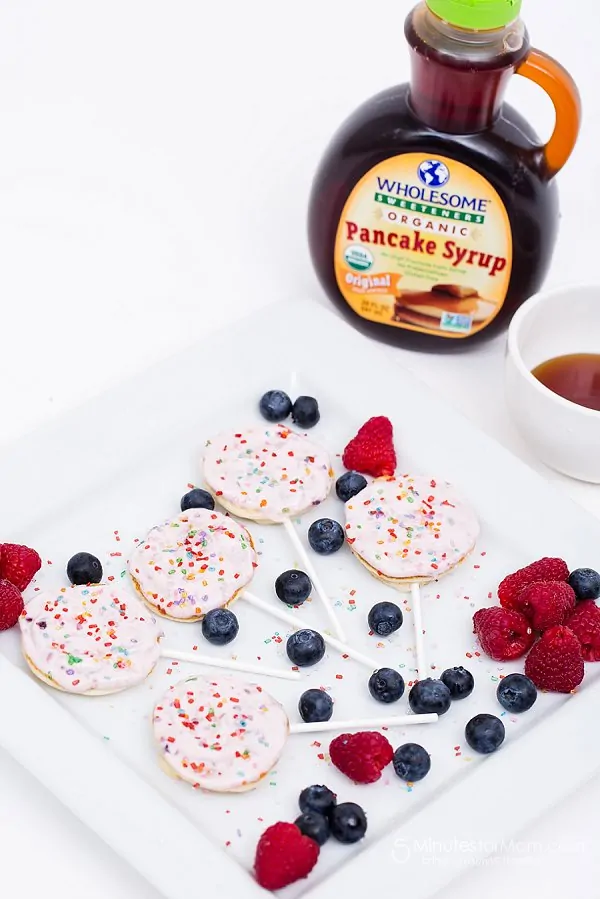 I am so excited to find out about Wholesome Sweeteners. They are committed to providing their customers with Fairtrade Certified, Organic, Natural and Non-GMO Project Verified sweeteners sourced from ethically and environmentally responsible growers and manufacturers. As a mom trying to remove high fructose corn syrup from my household, it is so great to be able to trust their products. And with such a huge variety of products, they have everything and more than I could imagine to add a little extra sweet to our treats.
How fun is this for a special breakfast treat or brunch? I can just hear the kids squealing with delight!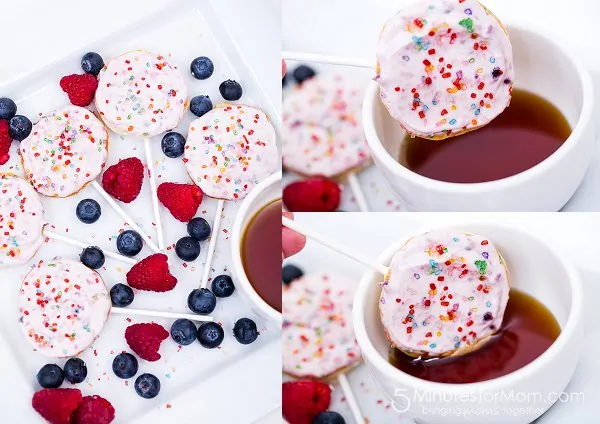 I hope you and your family have a ton of fun with these Lollipop Pancakes.
What is your family's favorite way to eat pancakes? Are you a mix or scratch pancake maker?
Lollipop Pancake Recipe
You can make these pancake pops either gluten free or with regular flour. I have provided both options in the recipe below. If you or your child require gluten free, make sure that your baking powder is also gluten free.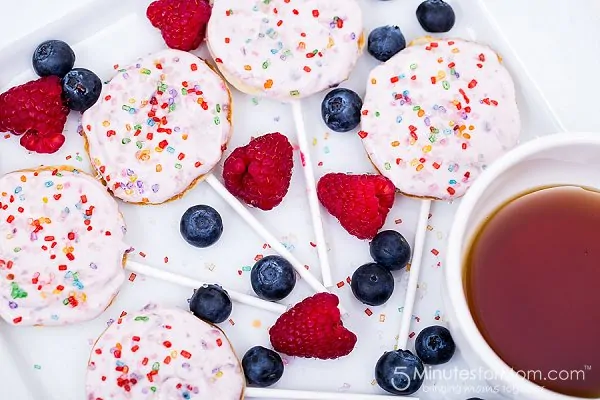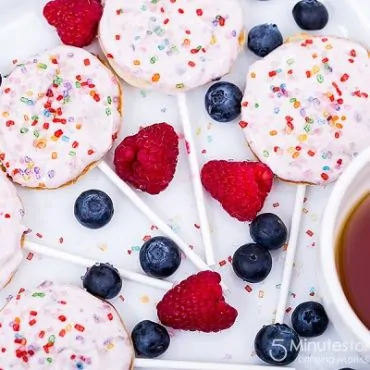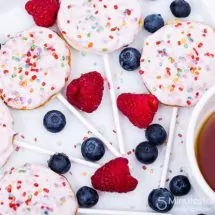 Lollipop Pancakes -- Bite Sized Breakfast Fun
Make pancakes even more fun and delicious with little pancake pops, dressed up with yogurt "icing," sweetened with a drop of jam and organic pancake syrup..
Print
Pin
Rate
Servings: 10 -14 pancakes
Ingredients
1 cup gluten free flour blend - or unbleached all purpose wheat flour
1 cup milk - or milk replacement
1 egg
1/4 cup plain Greek yogurt for batter
2 Tbsp melted and cooled butter or oil of your choice
1 Tbsp organic syrup or sugar
1/2 tsp vinegar unless you use buttermilk for your milk
1/2 tsp pure vanilla extract
2 tsp baking powder
1/2 tsp baking soda
1/4 tsp salt
1/4 xanthan gum if using gluten free flour
2/3 cup Greek yogurt for icing
1 tsp cornstarch for icing
sparkling sugar - optional
Assorted berries and fruit for garnish
1 tsp jam for icing
1 tsp organic syrup - optional for icing
Instructions
Pre-heat and grease griddle or frying pan

Combine dry ingredients in large mixing bowl and whisk together

In separate bowl, mix egg and wet ingredients

Add wet ingredients to dry and gently stir until just combined - do not over mix

Drop one teaspoon of batter onto medium heat griddle

When batter starts to thicken, gently place a lollipop or cake pop stick onto batter

Allow to sink slightly

If necessary, cover stick with a small amount of batter

When batter bubbles, flip pancake, being careful to not cause the stick to slip or fall

Cook until golden, keeping cooked pancakes warm on an oven-safe plate in a warm oven until all pancake pops are ready to "ice" and serve

For icing, blend together yogurt, jam, cornstarch, and syrup in a small bowl

Just before serving, spread a thin layer of icing onto each lollipop pancake

Sprinkle on sparkling sugar and serve with a bowl of organic pancake syrup for dipping

Garnish with berries and fruit
Written and photographed by Janice Croze, co-founder of 5 Minutes for Mom.
Please Note: I received product from Wholesome Sweeteners to review and test out in my kitchen, along with compensation for my time to create and publish these original recipes. All opinions are entirely my own.