This post may contain affiliate links. Read my disclosure policy here.
Susan here with a final update on the #DareToBare contest and a reminder that you can help pick who should go to Hawaii. I am a paid ambassador for Bare Snacks®, I am not eligible for the prizes and this post is compensated.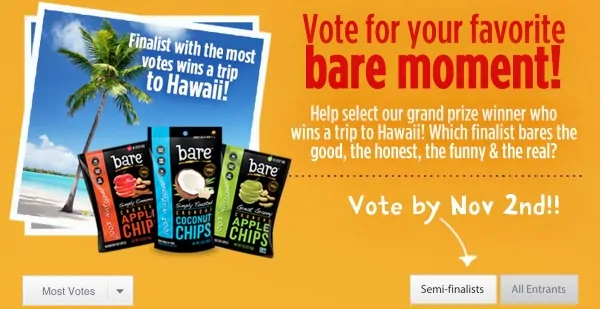 Bare Snacks® – the creators of Snacks Gone Simple™ – is running a fun contest to highlight their mission of stripping down and getting to the bare truth in the #DareToBare contest. It's all about sharing the good, the funny, the honest and the real!
If you didn't see the original video about the contest, watch it now (it's super funny)…
The semi-final voting has ended and we are deep into the final phase of voting for the Grand Prize of a trip to Hawaii.
At the moment, the leading entrant has more than double the votes than his closest competitor and she has double the votes of the next in line to win.
Will you change the outcome? Who do you think should win the trip to Hawaii? If you submitted your #daretobare moment before the submission deadline, you can vote for your own…and share it on Facebook so your friends and family can to vote, too!
Some of my favorites from the set of semi-finalists are those currently in 4th and 5th position. They are both funny entries…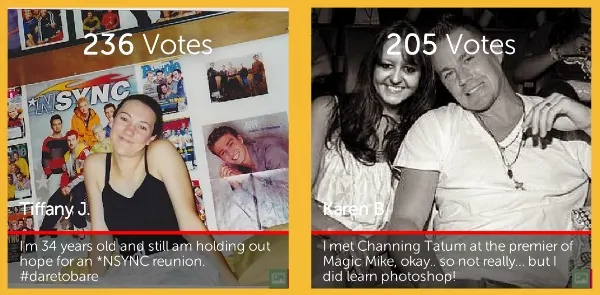 What do you think?
Go vote for the #DareToBare entry you think should win a trip to Hawaii.
The deadline for grand prize voting is November 2nd.
My Confessions
For fun, I created three #DareToBare confession videos and shared them with you in August and September. In case you missed any, watch them now…
Bare Snacks®
Tasty, healthy snacks with natural ingredients that we can actually pronounce… that's what we want and Bare Snacks® delivers. There's nothing artificial ever.
I love that all Bare Snacks are baked not fried, made from real fruit, gluten free, and Non-GMO Project Verified. It's great to give my kids a snack that's a good source of dietary fiber and free of refined sugar, preservatives, cholesterol and trans fats.
You'll love bare All Natural Crunchy Apple Chips, Organic Crunchy Apple Chips and the newest All Natural Crunchy Coconut Chips!
It's so awesome to know their products are gluten free, non-GMO, and all natural.
Vote Now
Vote on their Facebook app or directly on the mobile-friendly website: www.baresnacks.com/dare-to-bare.
Find out more at baresnacks.com and on the #DareToBare contest on Facebook.
Disclosure: This post is part of a sponsored campaign.
Written by Susan Carraretto, co-founder of 5 Minutes for Mom
Talk with me: @5minutesformom and Facebook.com/5minutesformom
Pin with me at http://pinterest.com/5minutesformom/