This post may contain affiliate links. Read my disclosure policy here.
Susan here with some tips to help make your Thanksgiving holiday cleanup easier. This post is part of a sponsored campaign but as always my opinions are my own.
Thanksgiving is a wonderful time to get together with family but it also means a ton of cleaning before, during and after the big celebration.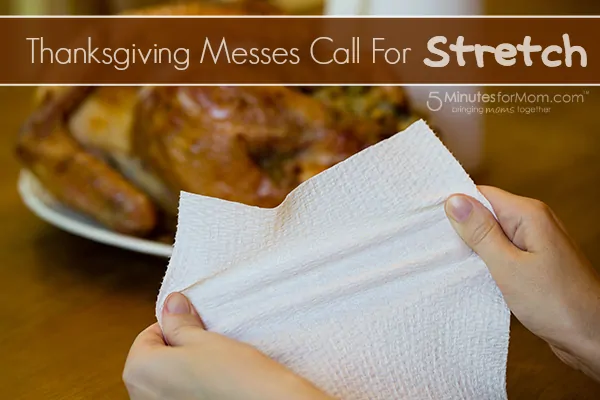 Here in Canada, Thanksgiving tends to sneak up so quickly and I always have to hurry to get ready. I can't believe it's only a few days away!
I think it's so important to spend Thanksgiving focusing on giving thanks and spending extra time with family, and NOT stressing about cleaning.
But the reality is cleaning and preparing your house for guests, cooking up a feast, serving and entertaining a houseful of family and friends (often including children who can't help but spill their food) and then cleaning up again after they all leave… well that calls for lots of cleanup.
Yes, for many hosts, the holiday stretches them to extremes and doesn't leave much room for relaxing and resting in gratitude.
I've taken inspiration from the new Viva® Vantage* paper towels that actually STRETCH to help you clean, and come up with a few tips to help ease your cleanup before, during and after your guests arrive.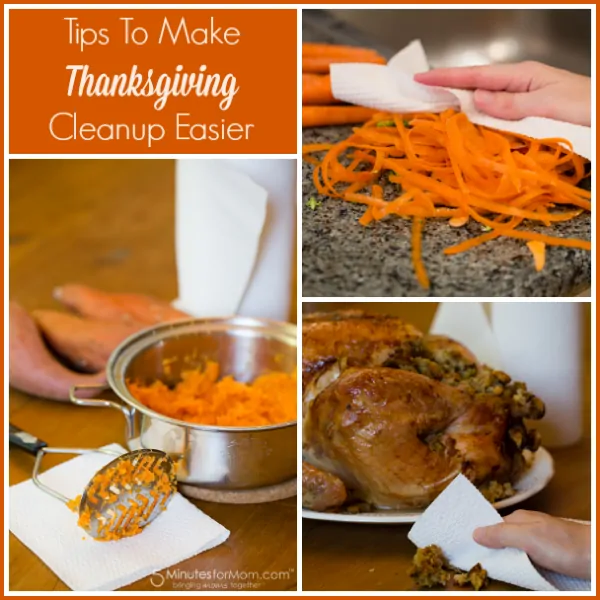 Tips To Make Thanksgiving Cleanup Easier
Keep It Simple.
Don't overwhelm yourself with too many extra tasks and let others help. If you're hosting a large dinner, many guests would likely love to bring a dish or dessert along. If you're hosting a small family dinner, allow yourself shortcuts that your family won't notice or mind.

I confess we purchase frozen, pre-stuffed turkeys and they taste just as good as any other bird we've had in the past. And to be honest, I far prefer canned cranberry over homemade. You can even pop open a can of creamed corn, and I'm still a happy camper.


Take Time To Cook and Bake Ahead.
If you want cook and bake lots of extras, get a head start a day early.

This is a wonderful time to bake with your kids… digging into a pumpkin and making a delicious pie from scratch is such a fun way to involve your children.

Prepare Your Fridge and Run Your Dishwasher.
Before the big meal, try to clear out anything unnecessary from your fridge to make room for leftovers.

Dig out your glass or plastic food storage containers and find the elusive matching lids. (Am I the only one who never can find the matching lids?)

Run and empty your dishwasher before guests arrive and take out the recycling and garbage. You may also want to pre-line your garbage bin with a few bags so that when you remove one bag, another is ready and waiting.


Pay Attention to Food Safety.
Since Janice got incredibly sick when we were 10 years old at a family reunion from eating some dip that had sat on a table a little too long, I've always been extremely cautious about food safety.

When you're handling the raw turkey, be careful to avoid cross contamination. I like to use paper towels to clean up the counters and surrounding areas so that I can quickly dispose of the mess and not let any lingering bacteria get in my dishcloths.

Don't let dips or other perishable foods sit out too long during the festivities and discard them afterwards.


Cleanup Quickly As You Go.
Keep a roll of paper towels handy and continually clean up spills as you go.

Whenever you're hosting a dinner with children underfoot, you're jumping from one mess to another. Whether you're wiping spilled gravy or a picking up a handful of fallen pumpkin seeds, quickly grab a paper towel, wipe and toss. You'll be thankful to not be scrubbing a dried-on mess later.

But if you do find yourself scrubbing, you'll love the "stretch" in Viva® Vantage* paper towels.


Get Kids Involved.
I admit that sometimes it's faster to do a job yourself than have your kids help. But it is great to get kids helping clean and prepare for guests. Setting the table is, of course, the perfect job to keep them busy while you're finishing up cooking.

Also let your children help clear the table. They often have trouble sitting still through a long dinner and welcome the chance to get up and moving.


Have a Strategy to Conquer Dishes.
Soak utensils right away. If you have a double sink, or a separate basin, fill with soapy water and immediately drop in all cutlery – except sharp knives.

Run the dishwasher with small items first such as plates, glasses and coffee cups and save the larger items to hand wash or run in a second load.

Pre-soak pots and pans as soon as possible, but let the turkey roaster soak overnight.


Don't Spend The Whole Evening In The Kitchen.
Remember you want to enjoy the holiday and visit with your guests. Resist the temptation to micro-manage those helping you in the kitchen. Several guests will offer to help, accept the assistance and don't worry if the dishwasher isn't stacked exactly as you would do it.

Enjoy a large slice of pumpkin pie and a scoop of ice cream. You deserve it.
I hope these tips help you enjoy your Thanksgiving holiday. And be sure to stock up with Viva® Vantage* paper towels to make your cleaning as easy as possible.
Try It Yourself
Viva's unique STRETCH — derived from proprietary technology called "V-Flex* Weave" — allows it to flex and conform to take on all your messes, big or small!
Test the stretch for yourself.
Canadians, click here to get a coupon.
Americans, click here to get a coupon.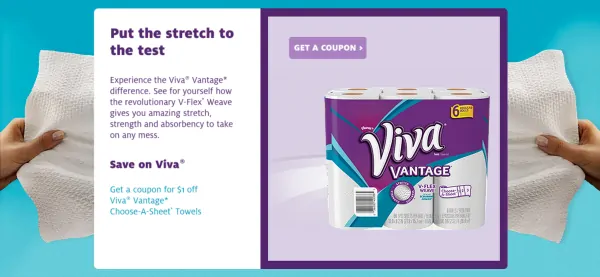 Disclosure: This post is sponsored.
Written by Susan Carraretto, co-founder of 5 Minutes for Mom
Talk with me: @5minutesformom and Facebook.com/5minutesformom
Pin with me at http://pinterest.com/5minutesformom/