This post may contain affiliate links. Read my disclosure policy here.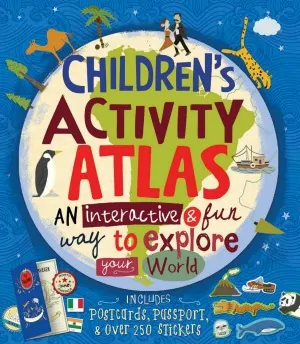 Though most children don't have the luxury of traveling the world, they do need to be educated about the lands beyond their own. Most atlases are informative, but dry, and not likely something children would pick up for pleasure. The new Children's Activity Atlas by Jenny Slater and illustrated by Katrin Wiehle and Martin Sanders is absolutely the opposite of dry, but is, in fact, quite engaging both in content and presentation, making it an entertaining and informative resource.
An introduction on the first pages of the book lets young readers know how to use the book and the various accessories that accompany it. The keys are explained, along with a world map that shows country lines and biomes differentiated by colors (such as coniferous forest, grassland/savanna, and desert/semi-desert). A special pocket in the inside front cover holds a mini-passport book with space for a child to write his or her own personal information and even a spot for a small photograph. The passport book includes extra information about each continent, with trivia and short quizzes that can be answered by using the main book as a reference. Over 250 stickers are provided as well, and spaces are indicated in both the passport and the main book for them. I was personally pleased that country flags are among the stickers, because I love that children can begin to make those visual connections when learning about countries. There are even six postcards provided that children can send to loved ones sharing information about the inhabited continents of the world.
The book itself is a fabulous resource, with continents, or segments of the continents for larger areas, each addressed individually across a two-page spread. Each map has a small "fact file" text box which identifies some superlative facts such as longest mountain range and largest lake on that land mass, as well. The colorful illustrations on the map depict animals, interests, and industries particular to each area, giving even more visual appeal.
I'm excited to share this book with my own elementary school aged children, who will undoubtedly want to immediately begin placing stickers in their correct spaces and try to stump me with their new knowledge.
Enter to Win
Would you like to win a copy of this interactive resource book for your child's collection? Please follow the directions in the widget below to enter. Contest open to U.S. residents only.