This post may contain affiliate links. Read my disclosure policy here.
Jennifer Donovan, 5 Minutes for Mom contributor, is here to let you know about a contest for kids who love art. This is part of a sponsored campaign, but as always, our writer's opinions are her own.
My daughter is about to turn 16 which means she'll be getting her driver's license. She also happens to love art. So art and cars are sort of where we live now.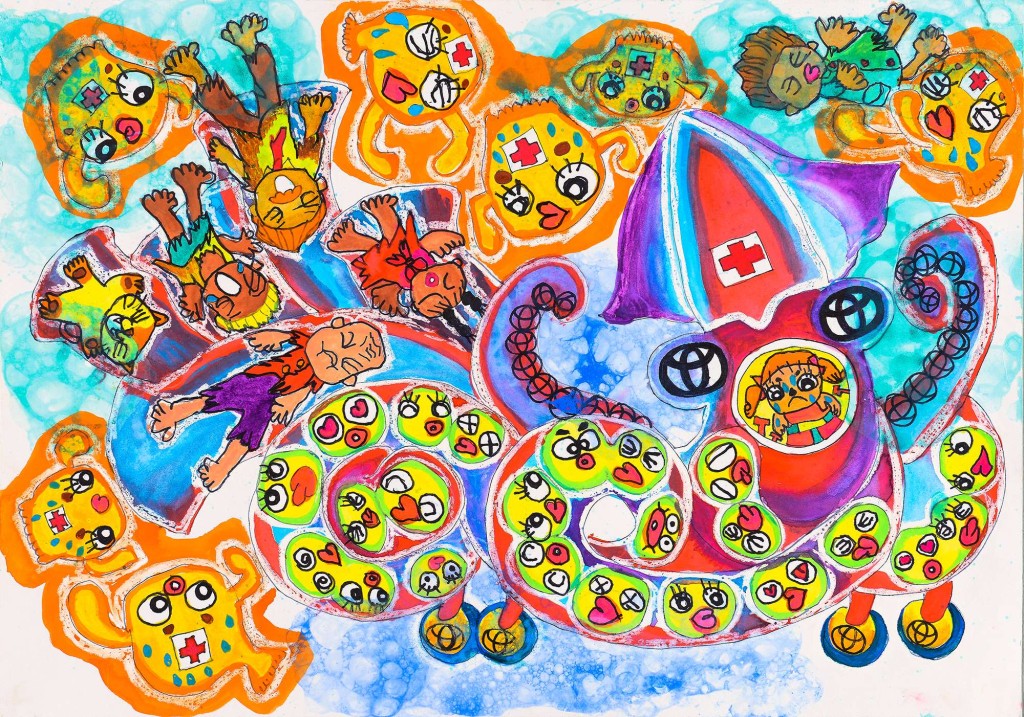 I'm thankful that she's in a school that offers the opportunity for kids to explore digital art media (her favorite area), drawing and painting, sculpture and more. By the time she graduates high school, her plan is to have taken 4 years of digital art and 3 of drawing and painting.
I've been pretty amazed at the 8th Annual Toyota Dream Car Art contest entries, which coincidentally happens to combine two of my daughter's passions (art and the dream of the perfect car).
The artwork of the 90 finalists is amazing, their ideas for the dream car are funny or smart or caring, and then the work that Toyota did to turn them into short videos truly makes them come alive. For example, the Multi-Tasking Fun Car was dreamed up by 9-year-old Momen Ushoshi from Bangladesh. I love the international flair as well; kids from all over the world are featured.
A young 7-year-old from Taiwan, Nakoto Ichikawa, created the
Robo Squid Rescue Car
. Seen at the top of the post, it's powered by water, and creatively combines a living creature with a car and gives it a purpose of helping.
I've loved sharing the Toyota Dream Car of the Day page with my kids. For the last 90 days, they've featured a new finalist, which showcases the original art, the artist's vision, a Vine video animating the work, and an extra page that showed how the video was made. Toyota partnered with creative agency Saatchi & Saatchi Fallon Tokyo to make the videos. My artist daughter loved this. She hasn't looked at all of them, but I know she will, and since she's so interested in animation, I wouldn't be surprised if it inspires her to try something new. Imagine how inspired those young finalists are, seeing their idea and their artwork come to life! I think it's amazing.
The last Dream Car of the Day will post August 26, and the awards ceremony that brought 31 of the finalists to Japan is on August 27 (which is the 26th in the U.S.).
The idea and goals behind the Dream Car Art contest is explained below:
I encourage you to share the pictures and videos with your children. You can like the Dream Car of the Day Facebook page, where they've also featured one each day for the last 90 days. Just as these artists were encouraged to keep dreaming by seeing their work in print, I predict that your little dreamers will also be inspired to create when they see these bright and imaginative works of art. They might even want to enter next year's contest. Stay tuned to see the announcement of the next Dream Car Art Contest sometime this fall.
Find out more