This post may contain affiliate links. Read my disclosure policy here.
This is a sponsored post written by 5 Minutes for Mom's contributing writer Bonnie Way on behalf of HARVESTLAND® and she was compensated by payment. All opinions are 100% hers.
I grew up on an acreage where we raised our own chickens, for both meat and eggs. My brother took care of the hens, which meant he had chores year-round and got to do egg-delivery-duty to our neighbours. I took care of the meat birds, which were fat and ugly but only stayed around for the summer. Besides giving my brother and I something to do in exchange for an allowance, the chickens also provided our family with a source of healthy food. Our birds had lots of space to roam, so they could eat green grass and bugs as well as grain (which included a mix carefully prepared by my dad to give them maximum nutrients during the winter) and all the vegetable scraps from our table. We had a freezer full of delicious, high-quality meat that I didn't really appreciate until I moved out on my own and began shopping for myself.
Yeah. Grocery store meat. I couldn't believe the prices. Farm fresh, organic chicken like the sort I'd grown up on was way out of my budget—I was working my first job after university and my husband was still a student. We watched for good coupons and often just bought cheap meat, trying to ignore thinking about where it probably came from.
Now, I have three girls and I find myself asking more questions about the food I eat. I want the best for them, even if we're still on a tight budget. I want meat that is pure and simple, without antibiotics, fillers, steroids or hormones. The sort of meat, as HARVESTLAND® says, that was eaten by my ancestors (which includes a long line of farmers). Since I can't grow my own chickens to ensure that my kids get healthy meat to eat, it's nice to know there's a brand I can trust that has the same high standards as I do.
Checking out the HARVESTLAND® website, I was impressed to see a whole list of family farmers who work with this brand. HARVESTLAND® believes healthy eating goes hand-in-hand with commitment to the land and respect for animals—something I learned from my dad, who grew up on a farm, but something that's definitely lacking in most huge meat-processing facilities. I like the idea that HARVESTLAND® works with small farmers, some of whom are seventh-generation farmers.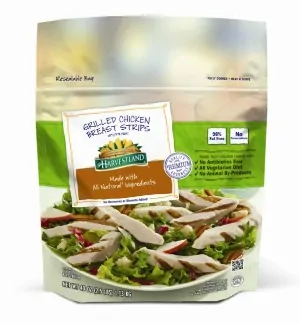 HARVESTLAND®'s products are made from chicken raised with no antibiotics ever, fed an all vegetarian diet (no animal by-products), raised cage-free, and certified gluten free. Whether you're looking for family packs of fresh chicken or turkey, grabbing some of their Fully Cooked products for a quick meal on the run, or throwing franks and burgers on the BBQ this summer, HARVESTLAND® has got you covered.
Harvestland also has some great old-fashioned recipes if you're looking for new menu ideas. Just reading through the recipes made my mouth water. And every recipe had simple, wholesome ingredients, along with a bit of history or trivia. While you're salivating over the recipes, remember to print a coupon to get $1 off your next HARVESTLAND® at the grocery store.
HARVESTLAND® products are available at a variety of grocery stores, including your neighbourhood Walmart. You can also connect with them on Twitter, Pinterest and Facebook for more tips and recipes, or subscribe to the Abundant Harvest® Newsletter.