This post may contain affiliate links. Read my disclosure policy here.
I am in shock. We have 220 people entered in our Alli's Originals jewelry give away contest! (210 bloggers and 10 non-bloggers)
Thanks so much to all of you for participating. It is an honor to meet you all – and somehow I will try and get through that Linky list and visit each of you soon. (Oh, if only there were more hours in the day.) It is so fun to meet new friends!
I love the comment Susie J made, "Winning things makes us feel like kids again!" How true that is! Life can get rough, and even a little dull sometimes. It is fun to add a little bit of youthful play into the mix.
Okay… now I am heading off to draw the winner's name. I am using random.org so it is totally official – no chance of errors on my part. I am seriously nervous for you all – I wish you all could win! My consolation to you is that I promise we will have lots more contests. (I will try to get more jewelry contests too – like Elle said in her comment, "I am a magpie when it comes to jewelry. Ooooh, shiny!")

So hold on…I will be back in a minute…
I am back… The Winner IS… # 51 – LOCAL GIRL of An Island Life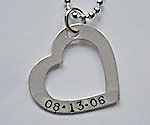 Congratulations Local Girl – I am sure you will LOVE your prize. Remember you can choose either the Sideways Open Heart necklace OR receive an equivalent gift certificate to use towards the piece of your choice. ENJOY!
And for the rest of you ladies – your turn will come… stay tuned for more contests…
(Also, you could always leave a browser window open with the piece you like best for your husband to stumble upon – I mean he might appreciate the hint for a Valentine's gift…)