This post may contain affiliate links. Read my disclosure policy here.
Yes girls – I am now fully addicted to giving away free stuff. So here is another contest to keep you going until the prize-filled Ultimate Blog Party gets here.
I have decided that I simply love contests and they will now be a regular part of 5 Minutes for Mom. It is just too fun to brighten someone's day with a wonderful prize. There is something so beautiful about announcing to someone that you are sending them an unexpected gift – and this last week I got to find out how wonderful it was to be the winner!
Yes – last week really was a fantastic week for me! In addition to getting some of the best news of my life, I also won a
contest. How sweet is that! I couldn't believe it. I opened my email to find out that I won a contest for a Norah Jones CD from Carrie at Mommy Brain.
"I can't believe it! I never win anything!" I wrote to Carrie. I laughed as I typed it too – how many of us say that exact thing when we do finally get lucky and win something. And even if the prize isn't a million dollars or a new house, it is such a smile-making moment to win something.
So girls – we are now in the smile-making business! 🙂

Today's contest is sponsored by Alli's Originals.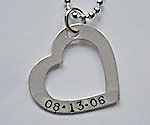 The winner can choose either this beautiful Sideways Open Heart necklace (valued at $33CDN) from the Princess Charming Collection (you choose your inscription) OR a gift certificate of an equal amount to use towards a piece of your choice.
Alli's work is gorgeous! I am in love with her site and I am so excited for this contest! Alli sent me this adorable necklace. Is it cute or what?!? Thanks Alli!
It is the Darling Discs piece from the Princess Charming Collection with Jackson and Julia's names engraved on the discs. (I will have to add a disc in October with my new baby's name!)
When I looked at the site, I didn't realize how tiny and delicate the jewelry would be. (Alli includes all the measurements, but silly me – I didn't measure.)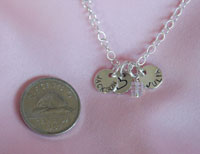 I was so thrilled when I received it and discovered how elegant the piece is. I chose the regular, 16" chain. It fits loosely around my neck and makes for a lovely, everyday charm necklace.
So to help you get the idea of the size of the pieces – I took a photo of my necklace next to a nickel. (Yes, it is a Canadian nickel – note the little beaver.)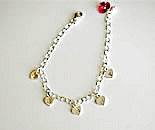 Alli's Originals has so many sweet designs it is hard to choose which pieces to buy! I have spent hours looking through her site. I have quite a few others on my wish list like the Charm Bracelet with a small Swarovski heart crystal and 5 letter charms that spell out MOMMY (or whatever letters you choose.)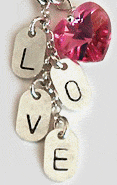 And – how could I not want the cute Mini Tags necklace too! Okay – I must stop – I love so many of them I could show her entire line.
But one more thing – I wish I had bought one of these precious Kids' Charm Bracelets for my niece Chantal's eighth birthday.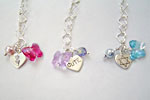 Since I just missed her birthday – I think I might buy it for her and keep it for next Christmas. Shhh…don't tell her…
(If you are thinking of a present for a young girl or teenager, many of Alli's designs would be perfect to give and they are all so reasonably priced. And of course – you are supporting a fellow Mom!)
The Contest:
Now that you are in love with her cute designs and have all kinds of ideas of which ones you would like to buy for yourself or as gifts – let's get back to how you can win one for FREE!
Let's make it really simple – here is how we will do it:
First – sign the Mr. Linky with your name and URL by Sunday, February 4th at 6pm Eastern. (If you do not have a blog, but would like to participate, leave a comment asking to be entered and email me at janice at 5minutesformom dot com with your contact information.)
Second – on your blog, link to this contest so that your readers can get in on the fun too. Gotta spread the smiles! If you want to link to Alli's site as well, I am sure she would appreciate it. (If you don't have a blog – you obviously can't post about it. No worries. But if you want, you can spread some smiles by passing on the contest info to one or two of your friends.)
We will announce the winner on Monday, February 5, 2007. Good luck!
(Don't worry if you don't win this time – there are more contests to come! And remember our big prize giveaway at the Ultimate Blog Party is coming up in March. Check out our Prize Page to see the huge assortment of prizes and to visit the prize hosts' sites. More prizes are coming in everyday! We are doing our best to keep up with the listings, so if your prize isn't listed yet, we will be adding it as soon as possible.)
Updated February 5, 2007
The Winner IS… # 51 – LOCAL GIRL of An Island Life
Congratulations Local Girl and thanks to all of you for participating!!!