This post may contain affiliate links. Read my disclosure policy here.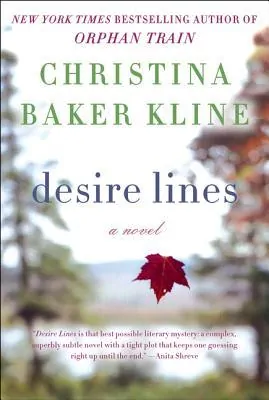 High school friendships often stay with us forever, and even if we lose touch with the individuals who saw us through the turbulent time of adolescence, their memories can remain strong with us as the years pass. In Christina Baker Kline's novel Desire Lines, the mysterious disappearance of Jennifer Pelletier on the night of her high school graduation leaves her family and group of friends with unanswered questions and an unsettled feeling for years, none more so than Kathryn Campbell, Jennifer's best friend. After a decade passes, Kathryn is at a crossroads in her life, and perhaps the key to finding her own path is uncovering the one Jennifer took ten years earlier.
After a short-lived marriage and a career that was never fully developed, Kathryn doesn't know what to do next. Until she can figure out where she wants to be and what she wants to do, she returns to her hometown in Maine to stay with her mother for what she imagines will be a short time. Coincidentally, she returns just in time for her ten year reunion, an event that bears the weight of Jennifer's disappearance, and one that she wasn't particularly enthusiastic to attend. However, when an old classmate and friend from her circle of high school pals asks her to write a piece for the local paper focusing on Jennifer's disappearance, Kathryn once again immerses herself in the memory of that night.
As she begins to pick up the stories where the reporters and detectives left them years earlier, her connections to the people who played big parts in Jennifer's life give her an edge the others didn't have. Her interviews with the people who were closest to Jennifer only elicit seemingly meaningless tidbits about the teenage friendships and relationships- the stories of who liked whom, and who felt slighted by whom. With each person interviewed, Kathryn discovers another perspective about Jennifer that is new to her, and she starts to realize that perhaps none of them actually knew her very well at all, or at the very least, they each knew a part of her, but putting together the whole picture might give the needed clues to solving the mystery of her disappearance.
While the unsolved disappearance of Jennifer Pelletier is at the heart of this novel, the mystery component of the story is just one part of the narrative, with Kathryn's discoveries about herself making up another significant portion. Discovering how much of her post-high school life was influenced by the loss of her best friend, Kathryn might finally be able to stop drifting and figure out a path of her own.
At first, I had difficulty liking the character of Kathryn, for when we meet her, she's at her absolute lowest point, and her attitude reflects that. She borders on surly with her mother when she returns to Maine, and it took me a little while to get to the point where I could start to feel compassion for her. I have to like at least a few things about the protagonist to truly enjoy a novel, and as Kathryn begins to get honest with herself, she became more likable to me as a reader. Though there were details to the climactic ending that I found inconsistent to the characters at hand, I was satisfied with the arc of the story as a whole. Though I'm not a reader of mystery stories, I enjoyed the mystery component to the novel, as it was coupled with a narrative focused on a female character searching for her way in life.
Enter to Win
We have one copy of this captivating novel to give away. Please follow the directions in the widget below to enter.
Find More
Find more great book suggestions on our Books Pinterest Board.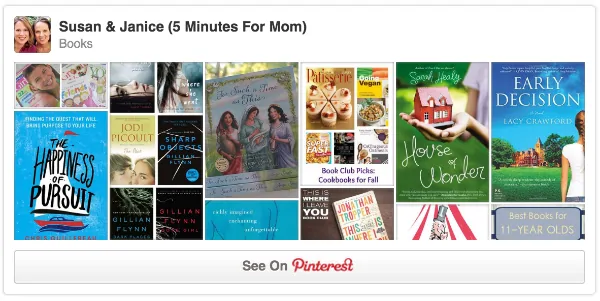 Follow all our Pinterest boards at pinterest.com/5minutesformom