This post may contain affiliate links. Read my disclosure policy here.
Anna here with some adorable DIY crafts you can make with school supplies.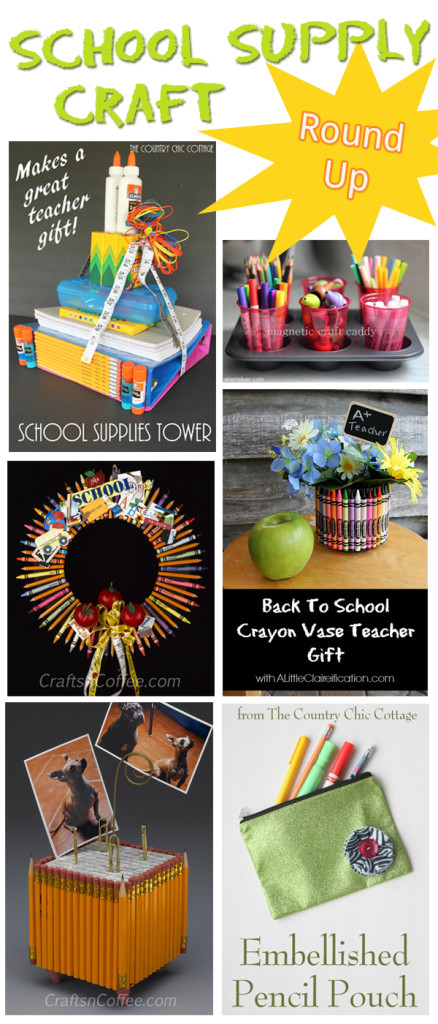 I think this craft is so cute. I love the little plastic cups and using the magnets in the cupcake pan to keep them stable. I always see the little caddies in the pre-k and kindergarten rooms and they are not nearly as cute as this!
I'm a sucker for wreaths of any kind. Well, maybe a few from the 80's I wouldn't love but anyway. This wreath is adorable and any teacher would be proud to hang it on her door. If you know your teacher beforehand you can easily customize it according to their tastes or their room decor.
Back to School time can be just as important in helping those in need as Christmas. This would be a neat and unique way to display school supplies to hand out at a local church or organization that helps supply school supplies.

My daughter LOVES to have her own unique no-one-else-will-have-one school supplies. And she always ends up needing more than one pencil pouch or box. My daughter also loves to craft. This cute pencil pouch is simple enough for her to do and super cute to boot!
This is a unique craft. I love the erasers on the bottom as little "feet". And teachers always have lots of memo's and photos that need displaying. A fun twist would be to use colored pencils instead of no. 2's.

I love the look of NEW crayons, I'm pretty sure everyone does. With this crayon vase you can have brand new crayons on your desk all year long, you could use it as a pencil/pen/highlighter/marker holder, a flower holder, or even rulers, etc. I'm sure there are LOTS of things teachers could store in it in a very cute way.
Do you enjoy making crafts with school supplies? These would be great teacher gifts for "back to school" or teacher appreciation.
More Crafts
Find more ideas on our DIY Pinterest Board and on our Crafts Pinterest Board.
*All photos used with permission.