This post may contain affiliate links. Read my disclosure policy here.
I love a good steak. By good steak, I mean totally juicy and tender, full of amazing flavor in every bite. For big Sunday dinners, when my dad would bust out the grill we knew there was likely another melt-in-your-mouth steak coming our way, and we loved it! Now with my own family, I try to mix-up the flavors with our steaks, but not the quality and deliciousness.
This Rosemary Marinated Garlic Butter Steak is no exception, and is now one of my family's favorites!
Now, I usually try not to add too much butter to things, but this recipe is just too good to cheapen it with 'healthy' thoughts. The butter makes the meat so juicy, and helps bring the whole flavor through every bite. The rosemary and garlic are such a great duo, I'm trying them in a lot of recipes lately!

I prefer my steaks medium-rare, with just a hint of beautiful pink in the center. My grandma, on the other hand, likes hers so rare I think I can still hear her plate 'moo'! Just make sure you cook the steaks enough to avoid food poisoning.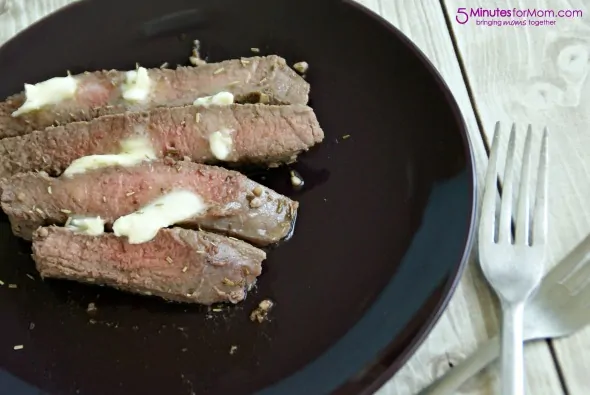 Ingredients
2 Steaks, about 1 inch thick
2-3 Garlic Cloves, minced
2 tbsp. Rosemary
3 tbsp. Butter
Salt, to taste
Pepper, to taste
1 tbsp. Olive Oil
Splash of Red Cooking Wine
Directions
In a small bowl, mix the garlic, rosemary and salt. Rub all over the steaks generously, leaving just a bit for later.
Heat a skillet to medium-high heat and melt the butter. Add the oil, then the steaks. Sprinkle a bit of pepper to the steaks and cook for about 3-5 minutes per side. Add the wine and leftover rosemary garlic butter mixture. Cook steaks for about 2-3 minutes more. (this is for a medium-rare steak)
Remove steaks from skillet onto a plate and tent with foil for about 5 minutes. Serve, ENJOY!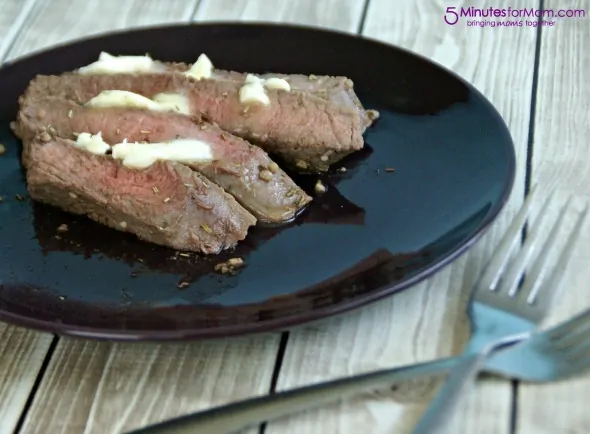 Find More Recipes
Join us on our Recipes Pinterest Board for me delicious ideas…
Danielle Reeves wrote this post and we originally published it here at 5 Minutes for Mom on July 29, 2014. We're reposting it again now because it's such a delicious recipe. Enjoy!