This post may contain affiliate links. Read my disclosure policy here.
Susan here to share a taste of my recent trip with my girls to Harrison Hot Springs Resort and Spa. If you're visiting or you live in British Columbia, Canada, you can't miss visiting Harrison Hot Springs. Last weekend we reviewed the resort in order to blog about it here at 5 Minutes for Mom. We were given a night stay, dinner and breakfast and a boat ride on the lake to facilitate our review.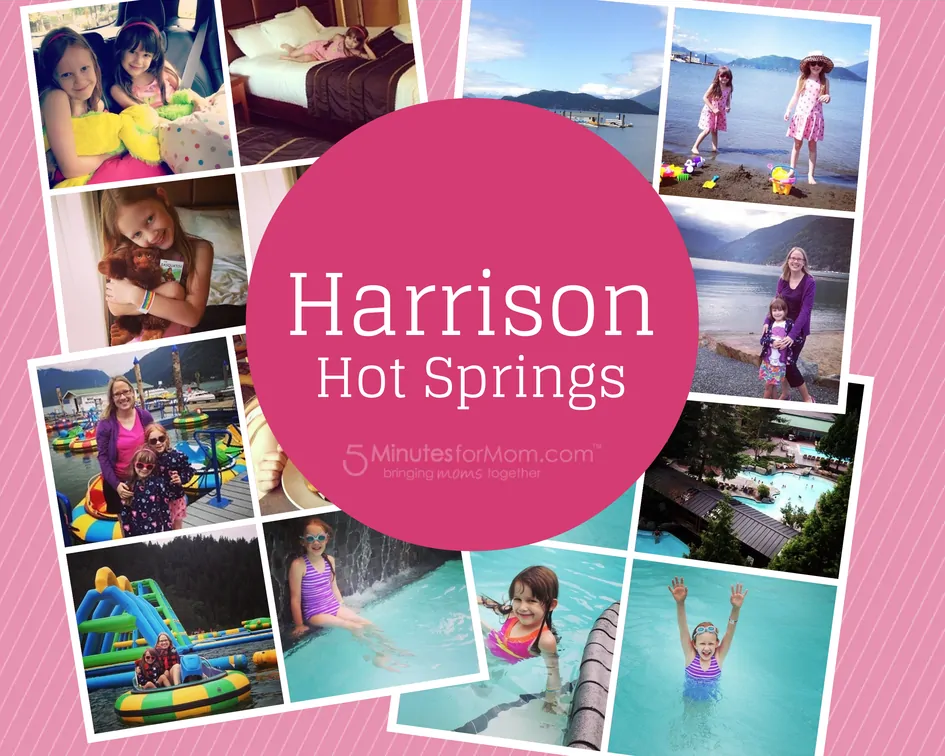 I've lived my entire life in British Columbia, yet I'd never visited Harrison Hot Springs. Now I can't wait to go back! Thankfully it's only a short drive from Vancouver and the Harrison Hot Springs Resort and Spa – while being a luxurious resort – is surprisingly affordable.
The Road Trip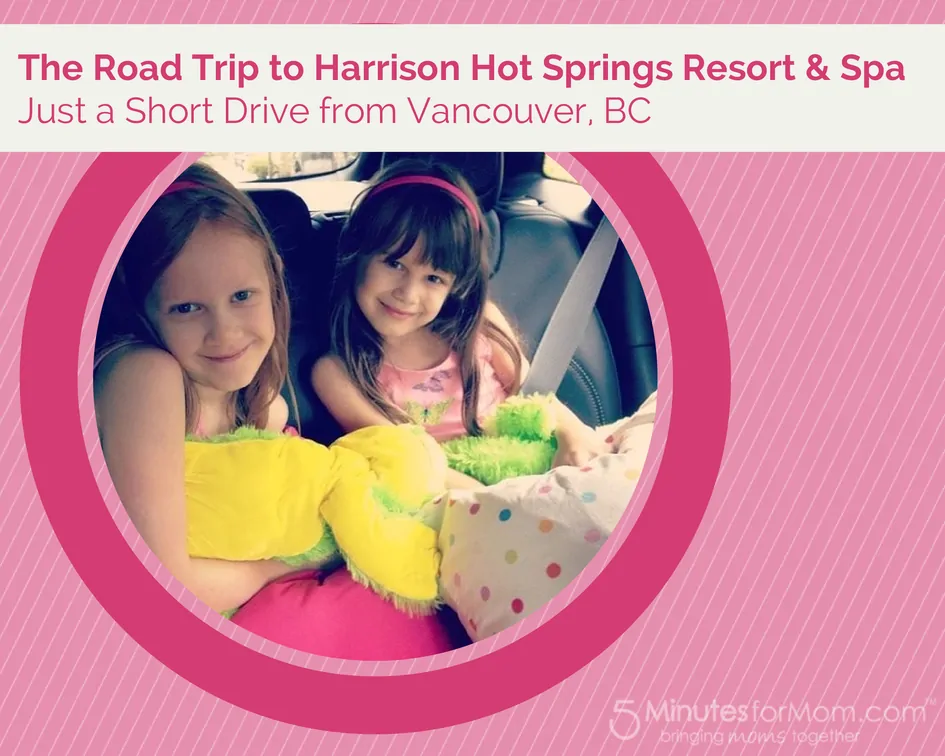 "Are we there yet?"
YES… Actually we are!
My girls are brutal on long car rides and so I've avoided lengthy family road trips with them. But the drive to Harrison Hot Springs was perfect. A scenic hour driving was just enough for them to feel like they'd gone far out of town and short enough that I didn't have to listen to whining questions asking how much longer.
The Rooms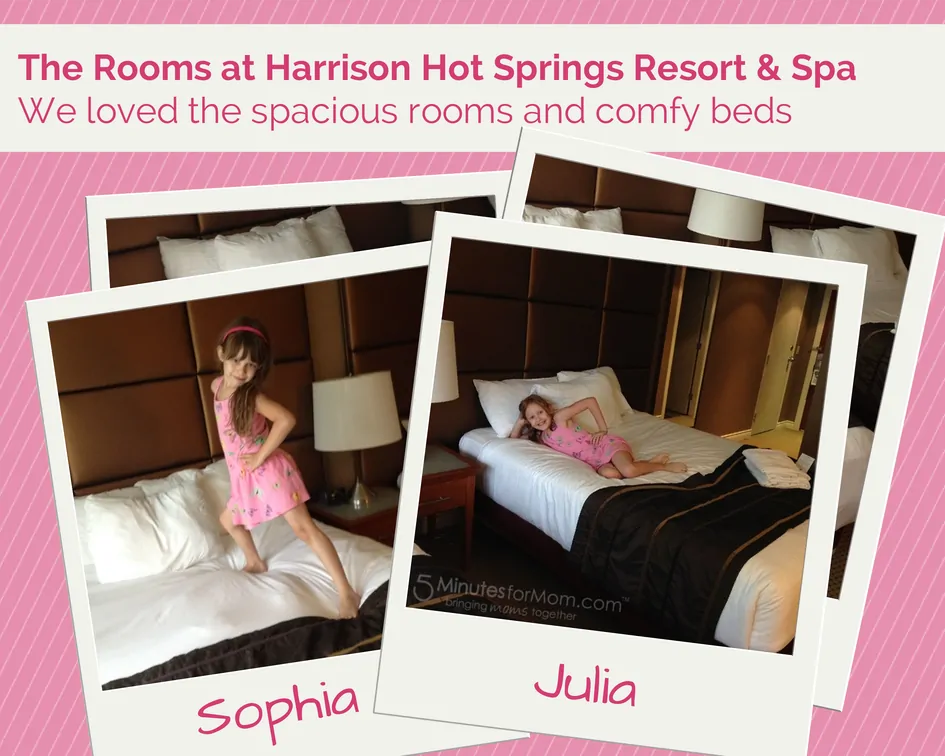 Staying in a hotel tops the fun charts for Julia and Sophia. And they were so excited by the spacious rooms and the beautiful grounds.
The Pools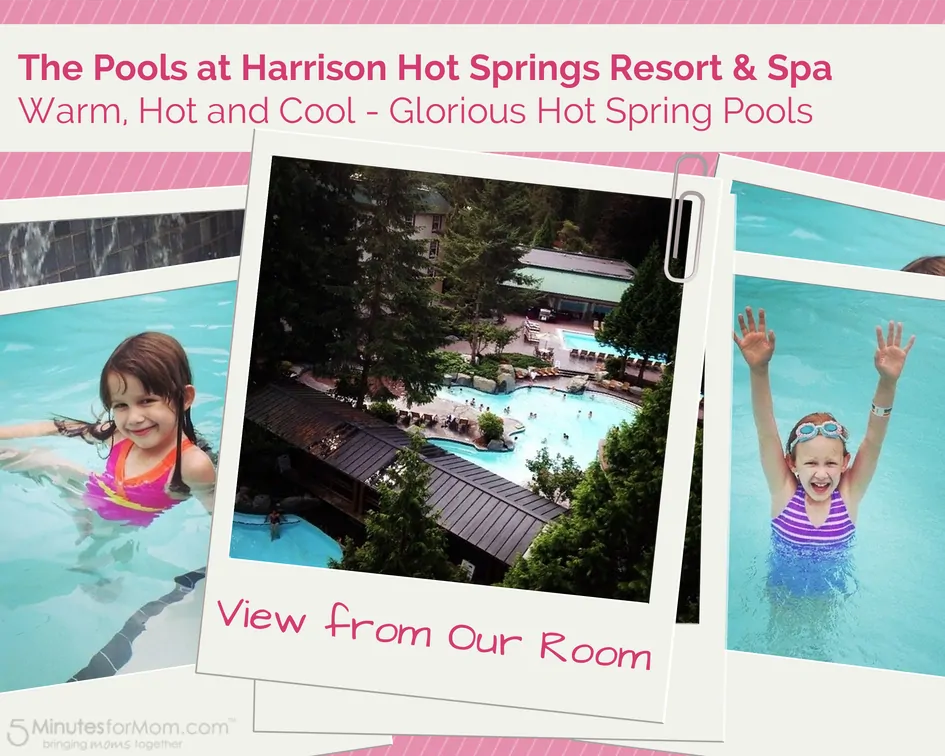 There's no question that the best part of Harrison Hot Springs Resort & Spa is the phenomenal collection of hot spring pools. There are three outdoor pools and an indoor pool all with varying temperatures as well as an indoor hot tub.
The warm swimming pools are absolutely perfect for enjoying the water with young children. When we arrived the weather was a little cold, but we were still able to swim outdoors and enjoy the pools because they were so warm. My little Sophia especially loved that she could touch the bottom throughout the entire family-friendly, warm outdoor pool.
The adult only swimming pool offers a quiet place for those who are traveling without children.
The variety of pool temperatures and depths meets everyone's needs… I've never experienced anything like it!
The Food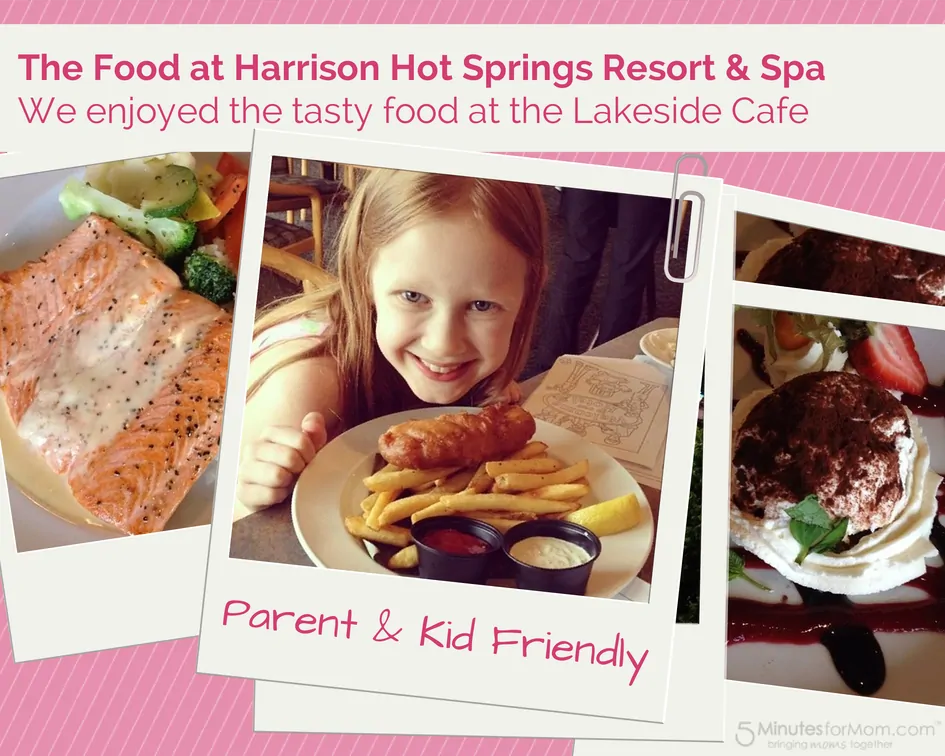 We enjoyed dinner and a breakfast buffet at the Lakeside Cafe in the hotel. The menu selection was excellent and provided great choices for parents and children.
The Beach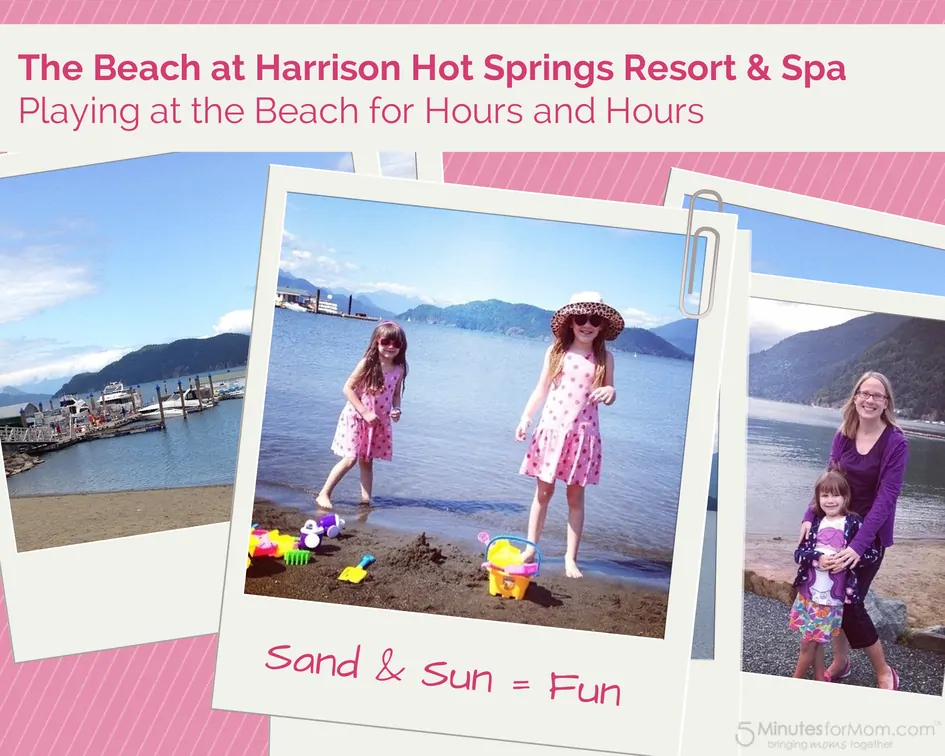 The sun came out and we spent the afternoon at the beach that is just outside the hotel's front door. An advantage of it being a lake and not an ocean beach is the clean, fresh water that's free of seaweed and rough rocks. The water was cold but so very refreshing.
The Water Activities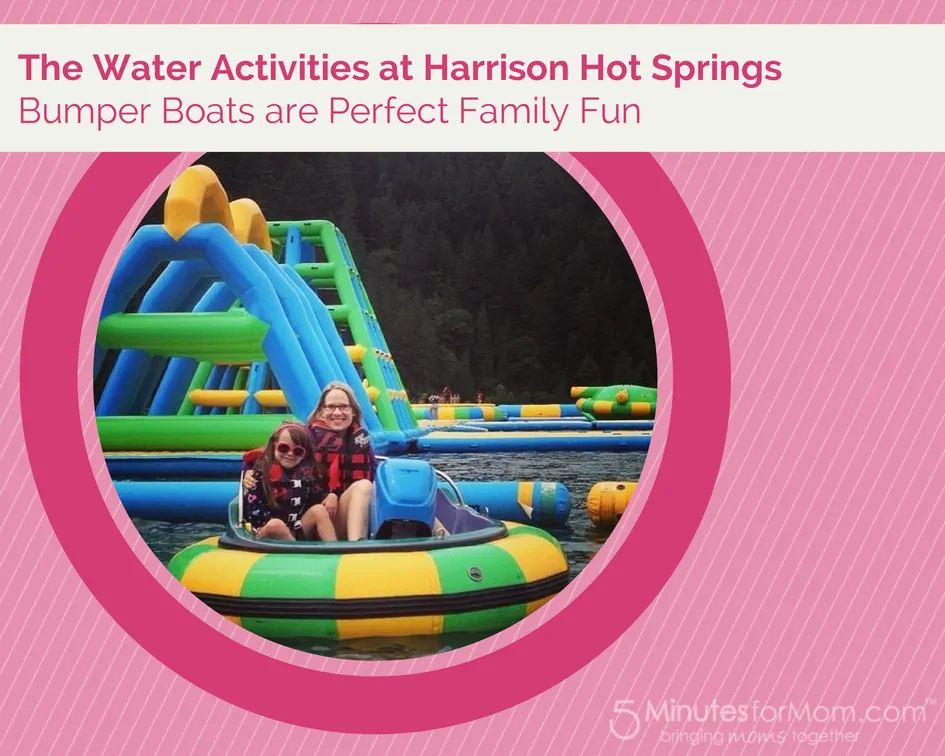 We had so much fun riding in these Bumper Boats!
Harrison Watersports offers jet ski rentals, ski boats, banana tubes and bumper boats. They also have a huge floating Waterpark that's perfect for older kids and adults to keep cool and have an outrageous amount of fun.
The Spa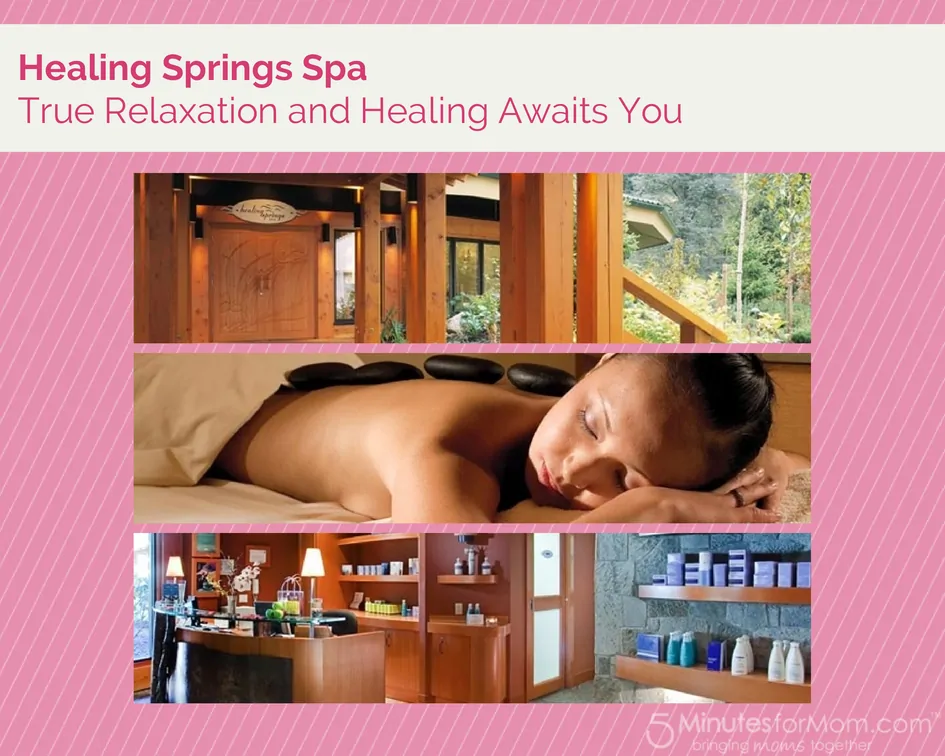 You definitely deserve to relax and enjoy a facial or a massage at the Healing Springs Spa. I was treated to an Express Facial and it was phenomenal. I'm dreaming of going back for a massage… It truly is a place of healing.
Thank You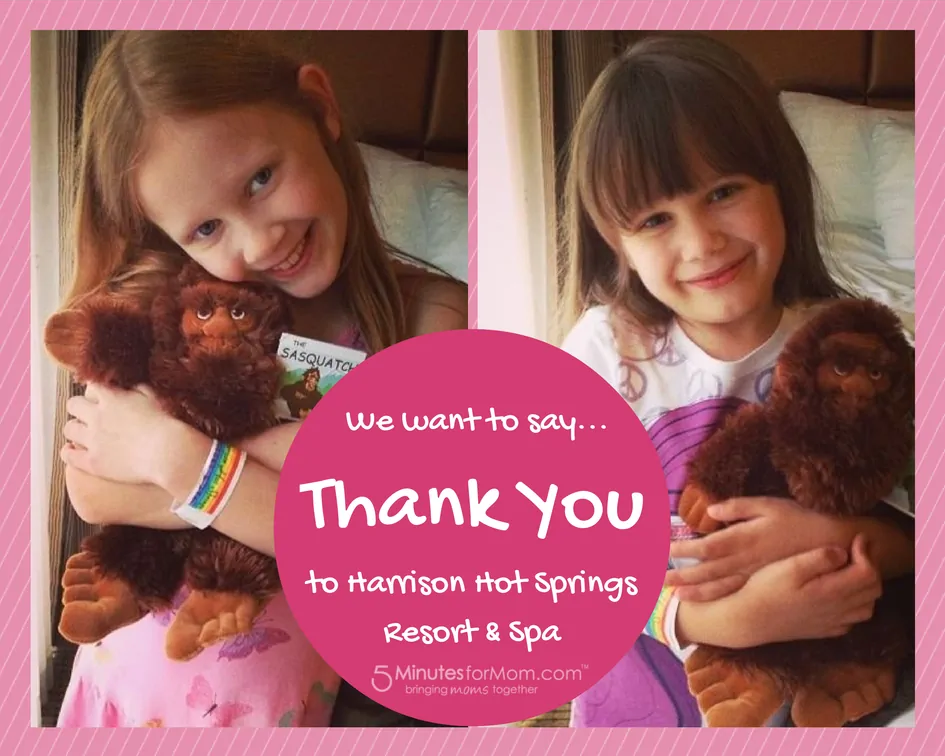 We are so thankful to have had this opportunity to experience and fall in love with Harrison Hot Springs. We will definitely go back.
Pin it for Later
Written by Susan Carraretto, co-founder of 5 Minutes for Mom
Talk with me: @5minutesformom and Facebook.com/5minutesformom
Pin with me at http://pinterest.com/5minutesformom/