This post may contain affiliate links. Read my disclosure policy here.
Susan here with Tip #3 in the Merry Maids "Summer Mom-Cation" program. This post series is sponsored, but as always, my opinions are my own.
My girls are obsessed with making lemonade!
While I admit I too love the taste of ice cold lemonade in the summer, I do NOT like cleaning up the sticky spills. Even using cups with lids, spills still seem to happen. So I loved this cleaning tip from Merry Maids for their "Mom-Cation Moments" campaign…
Get Kids Helping with Summer Messes while You Take a Mom-Cation Moment
The idea of a "Mom-Cation" moment is when you get a little help tackling a summer mess and your kids take some of the clean-up duty off your shoulders.
How much your kids help clean does depend on how old they are, but Debra Johnson, Merry Maids home cleaning expert, has identified the top five kid-made messes and provided simple solutions for moms and kids to conquer the sandiest and stickiest messes – all while getting kids involved in the process.
"The Summer Mom-Cation" Tip #3
This tip is from Merry Maids' home cleaning expert, Debra Johnson:
Tip #3 Sticky Season – Cleaning Up Spilled Lemonade
Neighborhood lemonade stands and juice boxes are summer staples, but there's no avoiding the spills when the kids are running in and out of the house for refreshments. To help prevent the spill area from being sticky, Johnson says the best trick is to wipe up the lemonade or juice immediately – first with a paper towel and then with a wet microfiber cloth, soaked in warm water, to ensure no residue is left behind. If the juice spill occurs on a cloth surface, rub the wet area with ice cubes and blot the area with a dry microfiber cloth.

Make It a "Mom-Cation" Moment: Turn the cleanup task into a team project and get the kids involved by having one person rub the juice stain with an ice cube while the other pats the area dry.
Putting Tip #3 Into Action
We tested out this tip for cleaning up lemonade that was spilled on carpet. Julia used ice cubes on the wet area and then blotted with a dry microfiber cloth.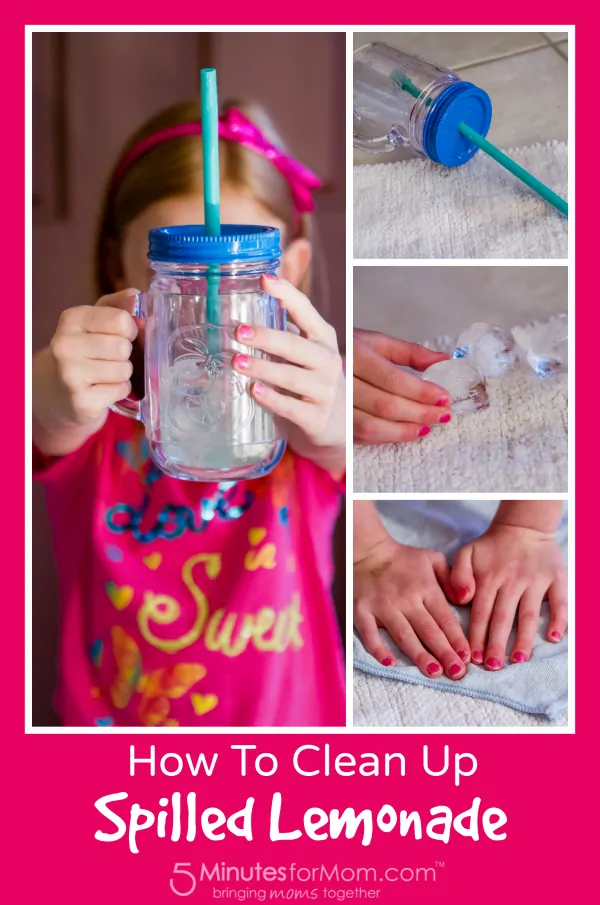 When you have fun tricks for cleaning up messes, kids are more likely to get involved and let you enjoy a summer "Mom-Cation Moment".
All Five "Summer Mom-Cation" Cleaning Tips
Find "Summer Mom-Cation" Tips #1, #2, #3 in our posts…
Tip #1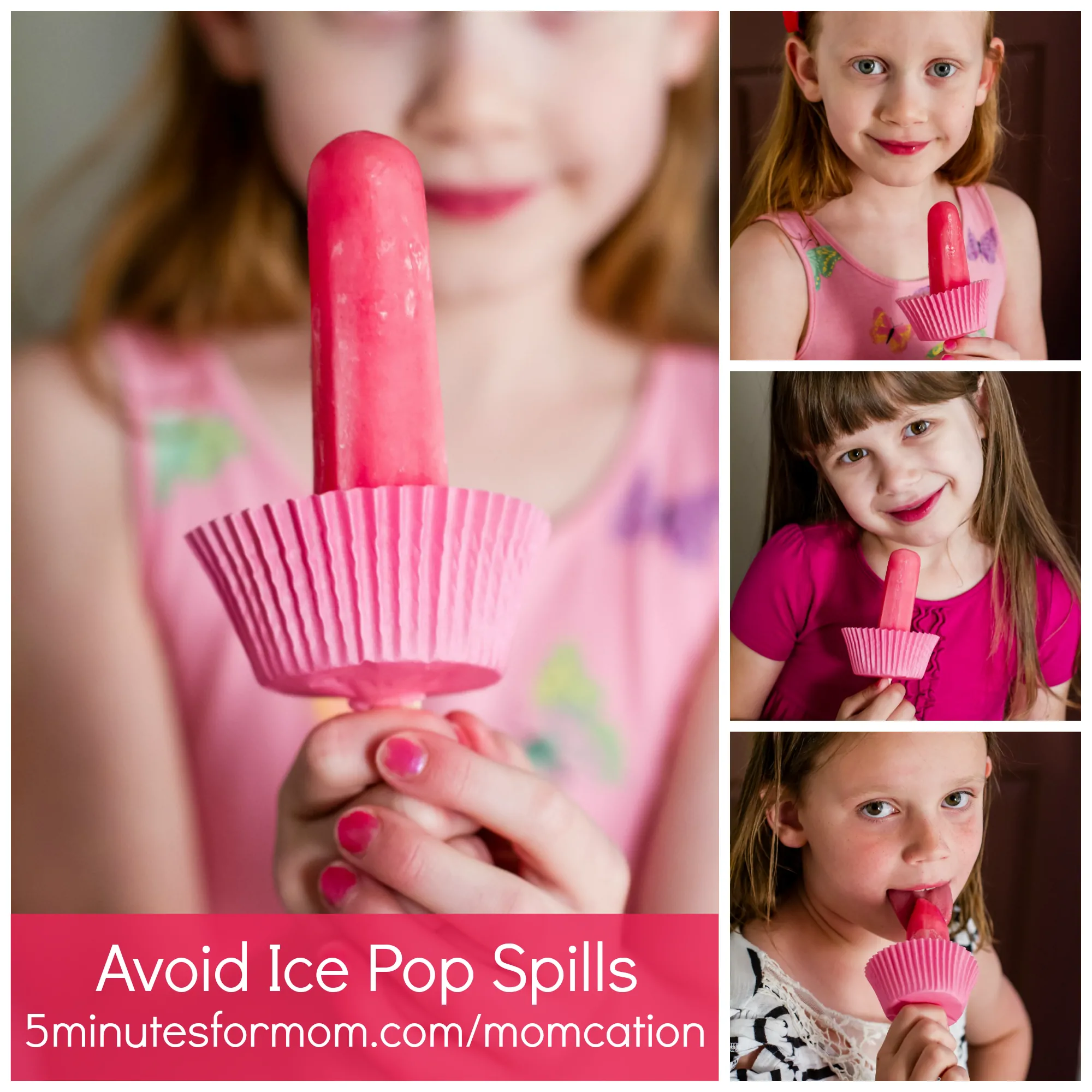 Tip #2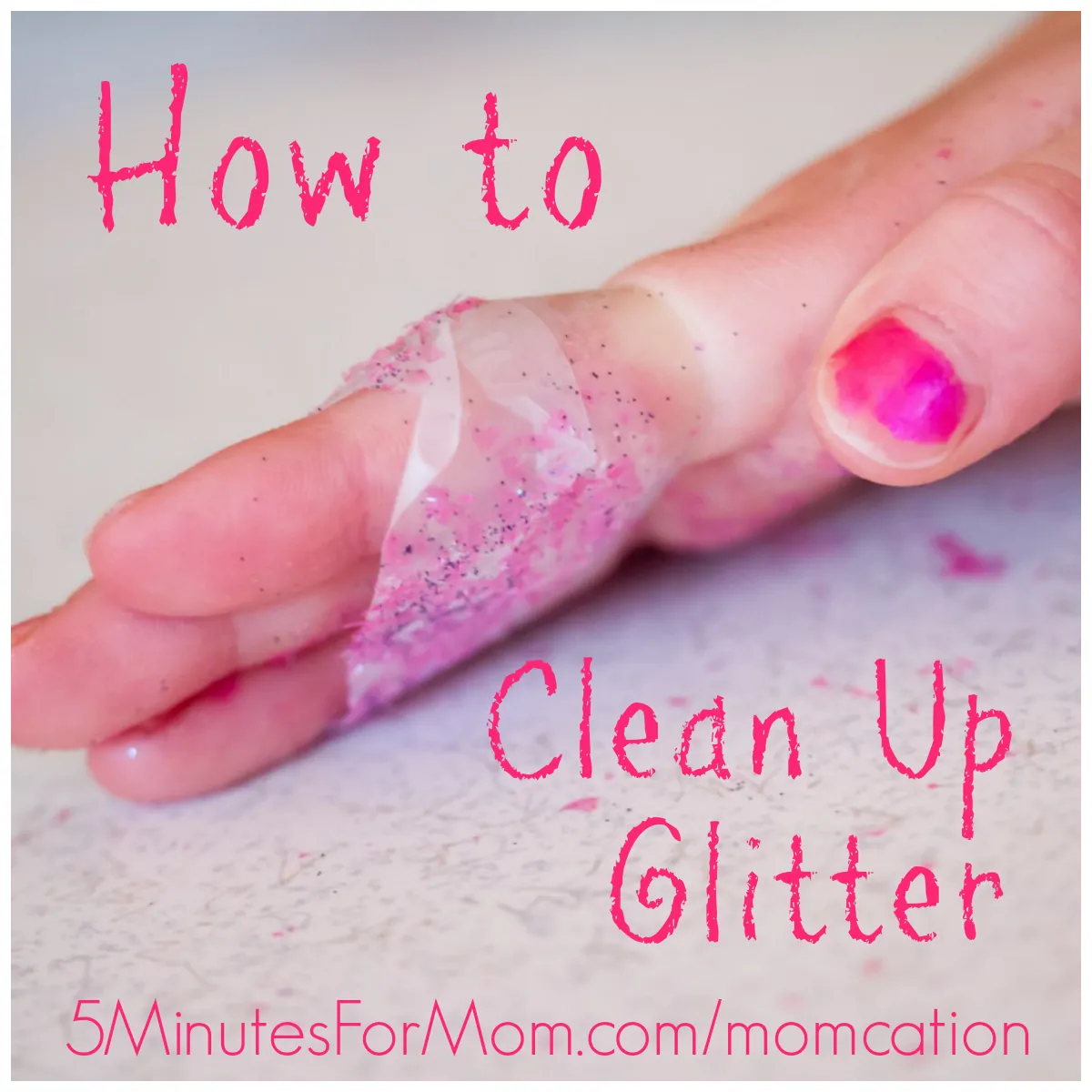 Tip #2 for cleaning up glitter.
Tip #3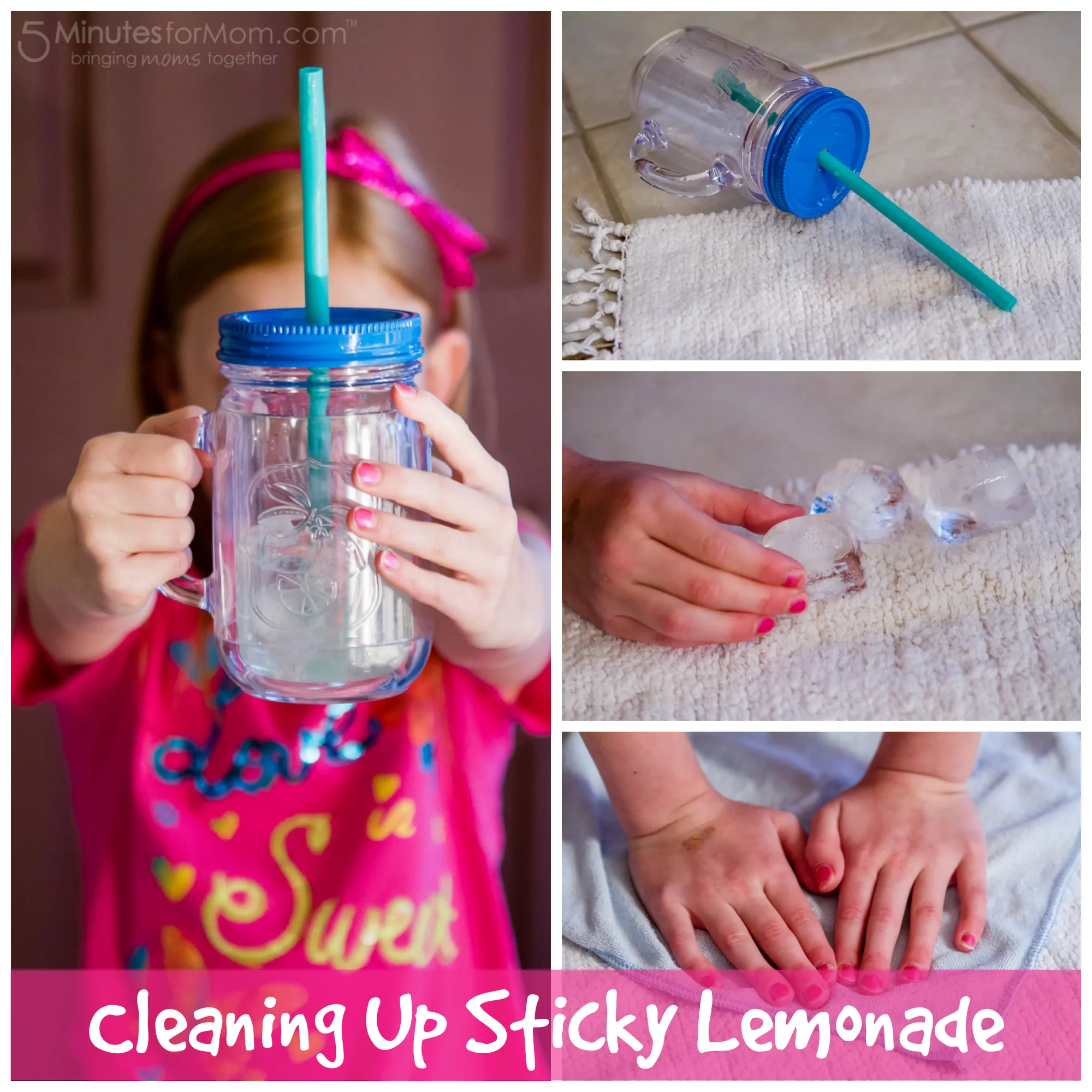 Tip #3 for spilled sticky lemonade.
And Tips #4 and #5 on the Merry Maids Facebook Page at
Tip #4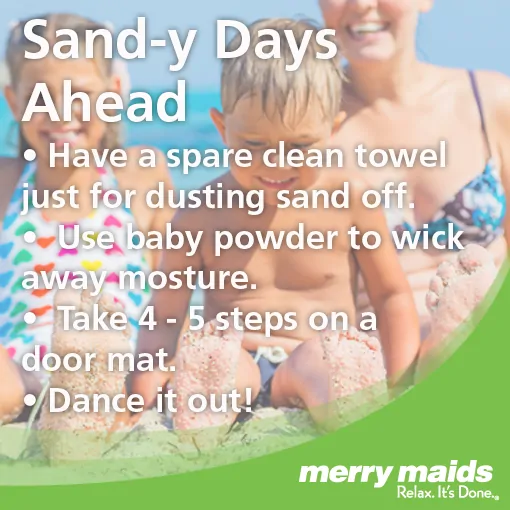 Tip #4 for tackling "sand" messes.
Tip #5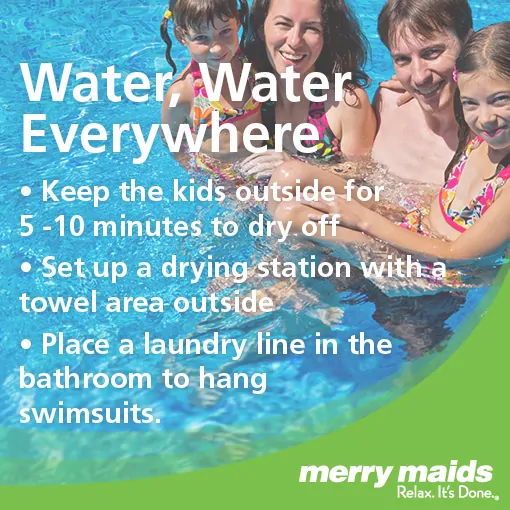 Tip #5 for preventing slippery, water messes.
Also you can share your own tried and true cleaning tips as well as share your best "Mom-Cation" moments using hashtag #MomCation. Keep an eye on the Merry Maids Facebook page for fun contests throughout the summer.
Find Merry Maids on Facebook: https://www.facebook.com/MerryMaids, Twitter: @merrymaids, Website: www.merrymaids.com
This post is sponsored by Merry Maids.
Written by Susan Carraretto, co-founder of 5 Minutes for Mom
Talk with me: @5minutesformom and Facebook.com/5minutesformom
Pin with me at http://pinterest.com/5minutesformom/