This post may contain affiliate links. Read my disclosure policy here.
Times are tough. The economy is hurting. Everyone is feeling the pinch.
Sadly, there has been a notable impact on food banks across the United States. Over the past year, the need for emergency food assistance has grown significantly and more than half of Feeding America food banks are reporting that they are seeing more children as clients.

So Libby's Vegetables and Feeding America are doing something about it! They are teaming up to host the first virtual canned food drive to help hungry families get back to the table.
"Libby's and Feeding America share a passion for bringing families together over meals, and we hope this program gives everyone an opportunity to support mealtime for families that can no longer provide for themselves." – Vicki Escarra, president and CEO of Feeding America.
The Libby's Virtual Canned Food Drive needs your help! Please consider creating your own canned food drive or team up with friends, family or co-workers and make a huge difference for hungry families in your community.
It may seem like a daunting task, but it really isn't. A little bit goes a long way! For every $5.00 raised, Feeding America provides 35 meals to those in need. Every $1.00 donated provides 9 pounds of food.

If you raised just $25.00, you could provide 350 meals for hungry families. That is incredible!
Also, supporters who raise $1,000 or more for Feeding America will get their pantries stocked up with a year's supply of canned vegetables from Libby's. In addition, Libby's Vegetables will match up to $30,000 of donations raised by December 13, 2009, to total 350,000 meals for needy families.
I started my own Libby's Virtual Canned Food Drive this morning, and I hope that you will too. Rally your friends and share the site with everyone you know. Encourage them to start raising money for the Libby's Virtual Canned Food Drive. Together we can make a huge difference!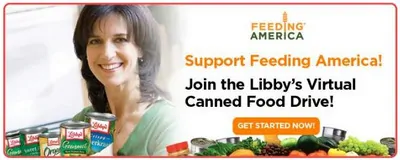 *Libby's is running an advertising campaign on 5 Minutes for Mom.