This post may contain affiliate links. Read my disclosure policy here.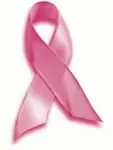 October is Breast Cancer Awareness Month so you tend to see pink everywhere you look. Pink ribbons on blogs and avatars. People are "racing for a cure" and even Sports Illustrated 'went pink' this month!
Well, if you tune in to "The Martha Stewart Show" Friday, October 16th, you'll be seeing a lot more pink!!!
Tomorrow the Queen of Homemaking will be joined by a very special audience full of Breast Cancer survivors and supporters as she devotes the entire show to Breast Cancer Awareness!
Ford's Warriors in Pink is teaming up with Martha to share with us how to reduce the risk of Breast Cancer (with special guest Dr. Dara Richardson-Heron), along with some delicious cancer-fighting recipes. They will also be unveiling a new limited-edition breast cancer stamp set featuring Ford's "Symbols of a Warrior"!!!
You can watch a preview of tomorrow's show HERE. You'll notice in the preview that the entire audience is wearing pink, of course, but you may not have noticed the amazing scarf they are all wearing. The woven scarf, seen below on Martha, is part of the limited edition Warriors in Pink apparel and accessories created by Ford. You can purchase items like this scarf at FordCares.com where all net proceeds are donated to the Susan G. Komen fund.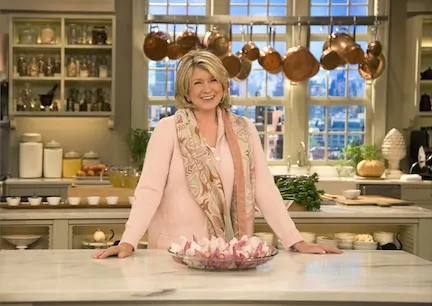 This special episode of "The Martha Stewart Show" will culminate with the giveaway of two all new Ford Taurus' outfitted with Martha Stewart-inspired items! This will definitely be a show not to be missed! So, put on your pink, check your local listings, and join in the fight with Martha and Ford!
GIVEAWAY:
In celebration of this special episode and Ford's 15-year partnership with Susan G. Komen for the Cure, we have an amazing basket full of Warrior fashion and accessories to give away to one of our readers!!! Believe me when I say this basket has some amazing products in it, including the woven scarf seen above and the all-new stamp kit!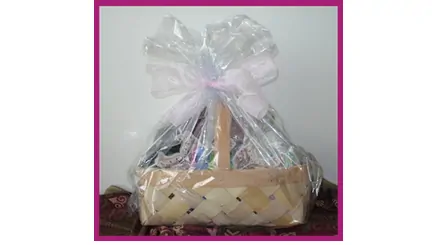 To enter leave us a comment on this post by Friday, October 30. Our winner will be announced on Saturday, October 31st. US addresses only please.