This post may contain affiliate links. Read my disclosure policy here.
How many of you are Wendy's fans? I sure am, and although we don't get to eat out very often, I'm just as thrilled as the kiddos when we get to swing by there for a meal! I'm not sure if they still serve this delicious treat, but a few years ago I got totally addicted to their Caramel Apple Vanilla Frosty!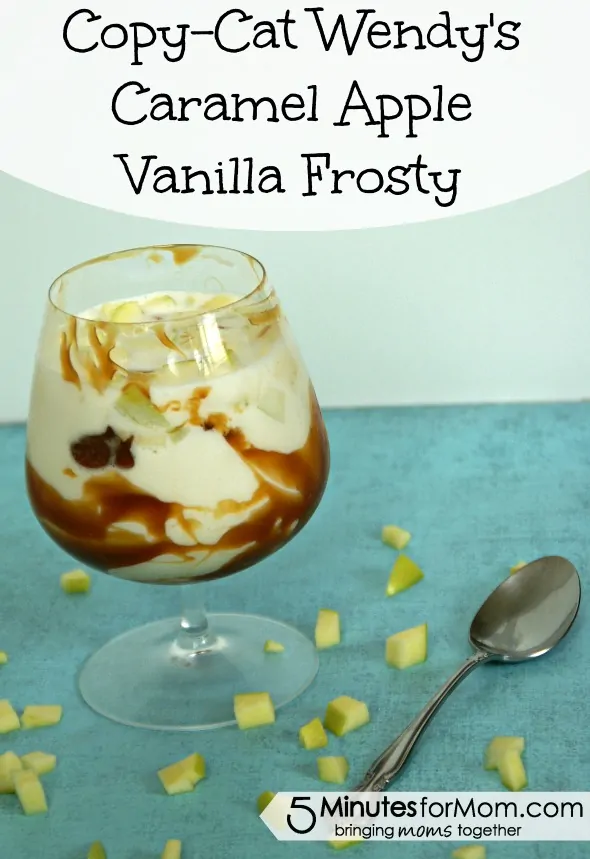 Since the weather here in Texas has been SCORCHING the past couple months, we've needed some type of chillin' treat every now and then. When I first whipped this up, the kids ate all of it before I had a chance to even try it! So after round 2 (and 3… and so on) I was able to really test the comparison to the real Wendy's version. I was so excited, it tasted just like the REAL Caramel Apple Vanilla Frosty they served! I did add more apples in mine, though….to make it healthier, of course!
One thing I love about this frosty is that you can change it up to fit your own personal preferences! My hubby likes a lot less malt powder, while I prefer a crazy amount ton of caramel sauce. Make a little to start, then adjust as you want!
Ingredients
1/2 cup Milk
1/2 cup Heavy Cream
2 1/2 tbsp. Vanilla Malt powder (such as Nesquick)
4-8 cups Vanilla Ice Cream (depending on how thick you like it)
Caramel Sauce (I just used basic Caramel ice cream topping) – as much as you'd like
1 Green Apple
Directions
If you don't want the skin on your apple, peel it now. Wash and dice the apple into small bits.
In a blender, mix the milk, heavy cream, malt powder, and ice cream until smooth.
Pour the frosty into tall glasses, and gently stir in the apple bits and as much of the caramel sauce as you'd like. It should create pretty swirls all around, so it's fun to use a clear glass.
Enjoy your ultra-refreshing treat!