This post may contain affiliate links. Read my disclosure policy here.
5 Minutes for Mom contributor and long-time breast-feeder Bonnie Way received a package of nursing products from Bamboobies to try out for this review; all opinions expressed are her own.
I've spent five of the last seven years breastfeeding. I remember, as a new mom, struggling to learn how to nurse my baby daughter. Breastfeeding seemed like it should be so natural and easy, and yet it wasn't. In the two babies I've had since then, I've learned more about the period of adjustment that comes after having a baby—the huge changes that happen in a mother's body to nourish her child and how each child brings their own unique abilities to the breast as well. I've also learned to look for things that make this process easier.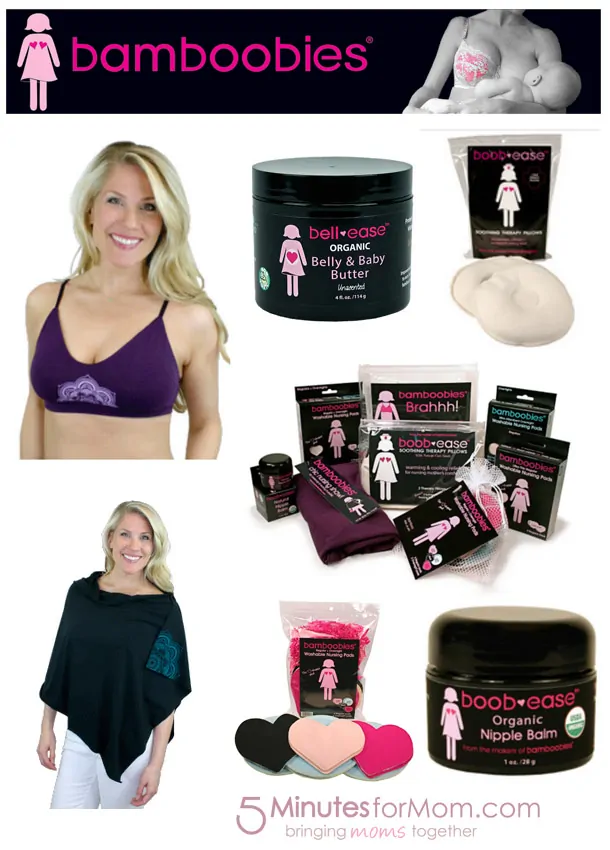 Bamboobies offers moms a variety of products to help with breastfeeding.
The company began in 2009, when one mom needed a solution to her leaky postpartum breasts. Since then, the company has grown to offer more than just nursing pads. They now have a whole line of products to meet the needs of pregnant women and new moms.
I
first encountered Bamboobies after my oldest daughter's birth, when I needed a pad to soak up the constant milk leaking from my boobs. I found disposable pads annoying because they got lumpy and sometimes broke and felt clammy and, of course, created more garbage. Bamboobies pads are big, soft, and super absorbent, and even after three babies, my pads are still going strong. The pads come in two sizes, regular and overnight (for extra leak protection, such as when your milk first comes in).  The pads are discrete and never feel yucky, even when they're full of milk.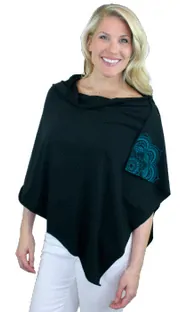 The Bamboobies chic nursing shawl is light and soft, easy to slip over your head. I love the fact that it's multipurpose; it can be used as a nursing cover, but it can also be worn as a light shawl while pregnant. The flower is a bright and pretty design on the black shawl. The stretchy fabric made it easy to put on and use, even with a baby who was squirming and growing.
Nothing my midwife or nurse said to me as a new mom prepared me for the pain of engorgement. I seem to have a huge supply of milk for my babies, and after my second daughter, my breasts so big and heavy with milk that I had a terrible sore back. I wish I'd had the soothing therapy pillows back then. These beautiful little pillows are so soft against your skin and the perfect shape to ease boob pain. They can be used warm or cold to help with engorgement, plugged ducts, mastitis, pumping and even for babies' and toddlers' bumps and bruises.
In five years of breastfeeding, I've tried a lot of nursing bras. Some work better than others or fit better than others. The Bamboobies lounge bra is one of that works. Made of super soft, stretchy bamboo and organic cotton, this bra is a sports-style bra with relaxing support that's super comfortable. I liked how easy it was to slip on (no playing with clasps) and the pretty flower in the center (similar to the flower on the shawl).
I was very excited to try the Boob-Ease Organic Belly & Baby Butter. I haven't had a problem with stretch marks (thankfully), but my youngest daughter has had very dry skin since birth. I've tried a variety of lotions on her skin but hadn't found one that I really liked—until I opened my Bamboobies package. The Boob-Ease Butter felt greasy when I first rubbed it onto her skin, but I was surprised at how quickly it rubbed in and how smooth it left her skin feeling. The butter is also two of my favourite scents: lavender and lemongrass. I've tried it on my own skin too and I like it just as much as my daughter does.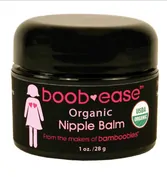 Bamboobies also offers a lanolin-free nipple balm which soothes, protects and moisturizes sore nipples, yet is also safe for baby—so there's no need to wash it off or worry about when you're next feeding the baby. The nipple balm is soft and easy to apply.
All of Bamboobies products are natural and organic. The therapy pillows have flax seeds in them, rather than a gel or other chemical. Flax seeds hold their temperature longer than gel. These products are great for both mom and new baby.
If you are expecting or have a friend who is, I totally recommend checking out Bamboobies. They have the best pregnancy and postpartum products available. I could tell, even before I dropped by the website to find out for sure, that this is a company run by a mom for moms. Their products show that they've been tried and tested by real women with real problems who've found real solutions. They offer gift certificates as well as awesome bundles (perfect for a baby shower gift).
You can also find Bamboobies on Facebook, Twitter and Pinterest (follow them to hear about great deals and giveaways as well as new products).