This post may contain affiliate links. Read my disclosure policy here.
Summer break is just around the corner for a lot of us. My kids are getting out this week and we are all MORE than ready!
After we take a couple weeks to relax and just enjoy not having to be somewhere every single morning, we have some fun activities planned for the Summer. Free bowling, library Summer reading program, parks, playgrounds, hiking. And of course Miss Thang will have friends over for sleepovers every single day/night that we allow it.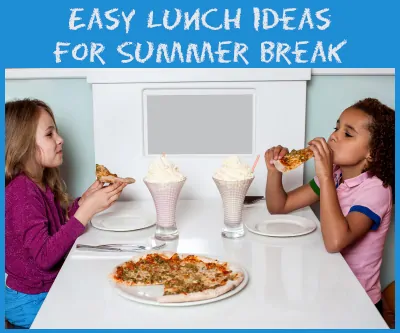 My kids are picky eaters. I
am
trying to get them to try new things more than one time to ensure whether they actually like something or not, but during the summer I want to have some "staple lunches" if you will, that are kid approved, easy to make, inexpensive, and fairly healthy.
Homemade versions are going to be much healthier than store bought versions. And honestly I am trying to incorporate more homemade versions of foods instead of buying boxed or processed. But we are not a perfect family, and these changes are still being put into action.
Hop over to my blog Green Eyed Country Girl for the 15 Summer Time Lunch Ideas I put together.
Do you tend to have a lunch rotation for the summer break or is summer when you try new recipes?
~Anna