This post may contain affiliate links. Read my disclosure policy here.
Disclosure: As a book reviewer, I received a copy of this book from the publisher and was compensated to facilitate this review. All opinions are 100% my own.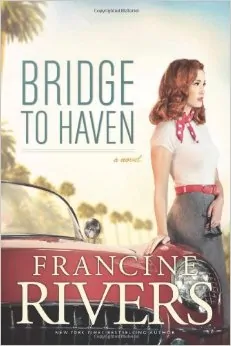 From the moment I started reading Bridge to Haven I knew I'd like it. Although, I had no idea how much it would affect me or stir up my emotions. I could blame it all on my pregnancy hormones, but the truth is, it's a gripping story and had me in tears often.
About Bridge to Haven:
Bridge to Haven, written by New York Times bestselling author Francine Rivers, centers around a girl named Abra, who since day one of her life has wanted to feel like she's somebody. The book starts out in 1936 where a man, Pastor Freeman, finds Abra as a crying, abandoned baby under a bridge in town and saves her. He and his wife soon adopt her and she is raised by the Freemans for a bit of her childhood, until unexpected events occur and Pastor Freeman feels his only option is to give Abra up.
Abra, of course, is devastated and angry with Pastor Freeman for abandoning her.
Soon, Abra is whisked into another loving family, but never really feels connected to them. She battles this throughout the whole book, where the circumstances that surround her birth seem to define her and Abra is quick to shut people out, especially those that love her the most.
As she gets older, Abra grows tired of her seemingly mundane life in Haven and leaves town on a whim with a flashy, young man from Hollywood who promises her the world. She starts fresh in Hollywood with a new name and new look aiming to be the next big starlet since Marilyn Monroe.
Abra has burnt every bridge she has come to know to be famous, and still feels so alone. All she really wants is to be loved unconditionally, but she keeps putting herself in unhealthy and often scary relationships trying to obtain this. What she discovers is, fame can come at a devastating price.
Throughout every ordeal she experiences, she just wants to go home back to Haven and be forgiven.
My thoughts:
The story was gripping and moved quickly. From the beginning, I found myself carrying the book around and reading it whenever I had a chance. I became invested in the characters, especially Abra, and found myself talking out loud to her. Though, mostly yelling at her quietly about her decision making. I always find it amazing when an author can draw you in like that and make you feel something for the characters.
Each character in the book displays their own strengths and weaknesses, making them all likable. I feel they were all developed too throughout the book, even right up until the end.
I really enjoyed the backdrop of most of the story. Rivers painted an informative picture of what Hollywood's Golden Age was like. I found the glamor and way of life to be fascinating. She truly knows how to transport the reader to a different place and time.
Bridge to Haven is a story of hope, unconditional love and redemption.
If you don't mind a good cry while at the same time being uplifted, then this is the book for you. I highly recommend it.
Enter to Win:
10 of you (U.S. and Canada only) can enter to win a copy of this book. Use the widget below to log in one or more entries.
Courtney is a super charged mom who loves taking care of her toddler daughter, infant son and Lhasa Poo.
Courtney is a life-long Rhode Island resident. When she's not blogging about parenting, food and pets on her website www.ModMommy.com, she's writing local news at a Providence TV station. Follow Courtney on Twitter: www.twitter.com/CourtneyCal