This post may contain affiliate links. Read my disclosure policy here.
I received a copy of this book for review purposes. I was also compensated for writing this post, but all opinions remain my own.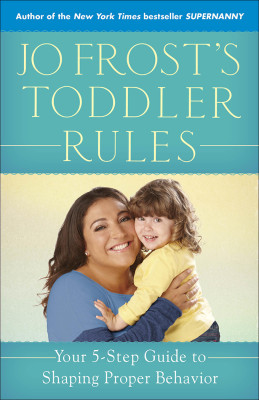 Raising children is no easy task, and from my own experience over the last 13.5 years of being called Mom, I can say that whatever stage my kids are in right now is the most challenging. But back when we were navigating the toddler years with our first born son, I remember thinking that the "terrible twos" just didn't need to be that way. Jo Frost, also known as child care expert Supernanny, agrees. In her new book, Jo Frost's Toddler Rules: Your 5-Step Guide to Shaping Proper Behavior, she presents a straightforward method of parenting with love and discipline, two ideas that are intricately intertwined.
Now, let's get this out of the way first thing– discipline is not a dirty word, and it doesn't have to bring to mind an idea of harshness. Discipline in parenting terms, as Frost explains, is simply the act of providing children with a framework of expectations through boundaries and rules, with consequences for inappropriate behavior. These consequences serve the purpose of helping children to reflect on their behaviors and taking responsibility for their actions. Of course, what this looks like differs through childhood, and in this book, Frost focuses primarily on kids in those early years of intense development- the toddler years.
The framework for Jo Frost's advice lies in five key areas. I happen to love when parenting books break their ideas down into easy-to-remember lists, making it easy to remember when in the trenches, you might say. All of the guidance in this book revolves around these five components that all children need:
enough sleep each day
proper nutrition at regular mealtimes
socialization and physical activity
stimulating early learning experiences
clearly communicated expectations for appropriate behavior, or in other words, discipline
Sounds simple enough, right? As an early childhood educator, I know that these are the exact tenets that I lived by in my role as a preschool teacher, but I'd be a liar if I said it always came as easy as a parent. Now that I'm spending my days caring for some toddlers again, I appreciated the reminders and guidance offered in the series of chapters focused on each of these components.
Incorporated into each is Frost's signature S-O-S method that parents can incorporate into all their parenting decisions. (And trust me when I say that these are not only valuable to parents of toddlers… I'm trying to remember them for my interactions with my teenager as well!) Again, the concept is simple and logical– Step Back, Observe, Step In. In short, parents must be able to stop themselves from immediate reactions (unless in an emergency situation, of course) and take a moment to look past their emotions and see what is actually happening, so that they can react logically and thoughtfully. While this is applied to each of those five ideas above, perhaps the most sought after application is in the final "bonus" chapter specifically about tantrums. Oh yes, the S-O-S method can be as helpful to parents as it is to the red-faced toddlers it can be used on!
I was especially happy to see Frost address one factor early on in the book that I have always found to be helpful– routine. As a teacher, I constructed my preschool students' day around a predictable routine that provided for their needs (sleep, snacks and meals, socialization, physical activity, and learning experiences) and incorporated a sense of appropriate expectations for their behavior, too. It is no different for me as a parent, and routines are in place for our various types of days– school days, summer break days, and weekends, and though they may not look exactly the same, my kids know that there is a basic structure that remains. Especially in the early years, routine provides a sense of familiarity and comfort that young children absolutely need, and Frost advocates this as well.
Anytime I've ever seen Supernanny on television, I was always impressed by her positive attitude even when trying to assist families who were combative or unwilling to change even though they reached out for help. In this book, Frost retains that positive tone in a confident manner that gives even more strength to her credibility while maintaining her overall likeability. New and seasoned parents alike will find gems of wisdom in her latest book.