This post may contain affiliate links. Read my disclosure policy here.
Written by Michelle of Honest & Truly! who received a sample of Monkey Pod Games Tangram Set for review purposes. We are not otherwise compensated for this post, and all opinions remain our own.
I love games, and so do the wee ones. Most of their favorite gifts for birthdays or Christmas tend to be games they're given, especially ones they can play on their own when they need to or with others when they want to.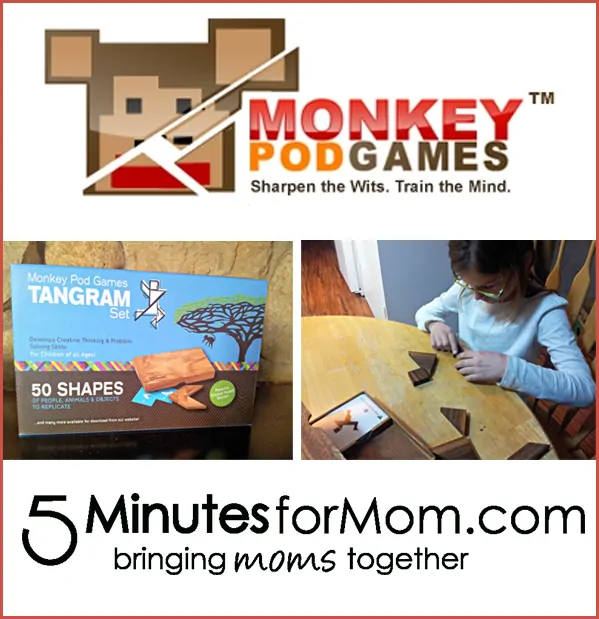 We used to have a tangram game when they were younger, but it was made of cardboard, and both the designs and the game pieces didn't last long, and it has been long consigned to the land of lost games. The
Monkey Pod Games Tangram Set
($34.95) is a wonderful reintroduction to one of their old favorite brain teasers.

The tangram wooden puzzles we had previously were aimed at preschoolers, as well. They were great for fine motor skills and mental dexterity, but they tended to be fairly simply puzzles where the wee ones merely needed to place the right shape in the right hole, much like paint by numbers activity. The Monkey Pods version is more like real art, and it is just as challenging – but in a good way.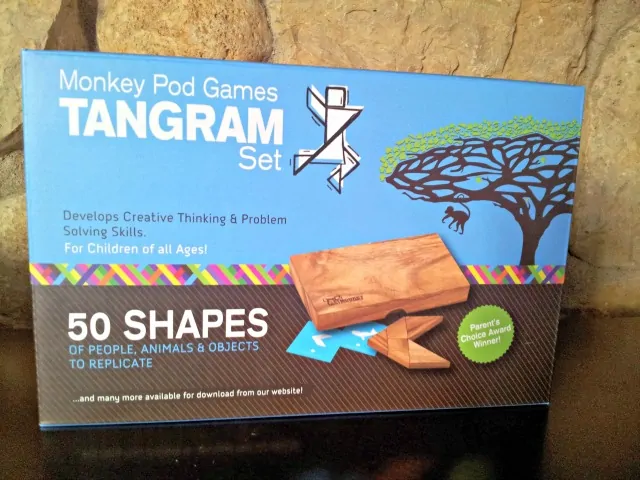 The Monkey Pod Games version comes in a gorgeous wooden case with a hinged lid, helping to ensure that no pieces go missing, and includes the traditional seven pieces that are used to make up various complex shapes. There are varying levels of difficulty within the 50 silhouette options included with the puzzle set, but even the most difficult has the solution shown on the back so that if cheating is necessary to solve the puzzle, you can easily do so.
The actual tans (the 7 pieces of wood used to make up the shapes) are made from the same eco-friendly Monkey Pod wood (yes, there is an actual Monkey Pod Games tree that grows in northern Thailand) as the case. They are thick enough that they will last, unlike our previous set, and they are incredibly soft and smooth, making playing with them a pleasure.
When Little Miss first tried out the Monkey Pod Games Tangram Set, she got a little frustrated because the pieces weren't fitting together for her the way she thought they should. Once I showed her how to solve the puzzle and how the tans didn't necessarily line up the way you think they would, she got it and quickly started work on her next tangram. The pride in her voice when she solved it – and the next one and the next one – was exactly what every mother wants to hear from her child.
I love how the case holds the tans when they aren't in use, as well as the thick, laminated game cards. We have been keeping the cards in the box even when playing with the tangram set because it works so well to keep the cards from being damaged as well and ensuring that we all know what puzzle we're working on. The biggest challenge was actually trying to figure out how to get the tans back into their square in the wooden case, but fortunately the cheat for that was also on one of the cards!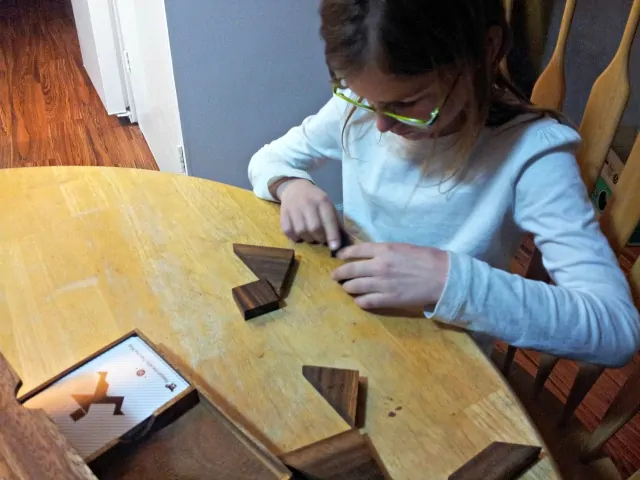 While Little Miss started out playing the with the tangrams by herself, she quickly attracted a crowd. I helped her, and Mister Man was all over the game, as well. Not only is the game great for increasing their spatial reasoning, problem solving, memory, and more, but working on the puzzles together is a great lesson in cooperation as they each have ideas of how to best solve the puzzle but have to determine which theories to test first and how to make it happen together.
While educational puzzles like tangrams are primarily thought of as a child's game – and the Monkey Pod Games version is designed for those 7 and up – tangrams are great for adults, as well. Research has shown that puzzle games like this increase long term mental performance in adults, as well as the ability to process new information and memory retrieval. I know those are benefits I need, and this would make a great gift for my parents, as well.
The Monkey Pod Games Tangram Set was chosen as a 2011 Parent Choice Winner, and it's easy to see why. Brain teasers are fun for all ages, and this particular set is one that we enjoy displaying because of its gorgeous case, which also reminds us to play it regularly!
Want to win a set? We are giving away 5! Enter in the form below.
Michelle may never stop running around Chicagoland, but she always makes time for the important things in her life – her wee ones, cooking, reading, and spending time with friends – and of course, writing. You can see what she's up to on her blog Honest & Truly! or on Twitter where she tweets as @HonestAndTruly.