This post may contain affiliate links. Read my disclosure policy here.
Jill Berry, 5 Minutes for Mom contributor, celebrates the fun of Barbie. This giveaway post is sponsored.
I'm sure you have a Barbie or ten(!?) in your home. I know I do! Or you had a Barbie when you were a child.
Did you know that:
Barbie is the world's most popular doll and a powerhouse brand among girls of all ages.
Barbie has had more than 150 careers to-date.
One Barbie doll is sold every 3 seconds somewhere in the world.
With 10+ million Facebook likes, Barbie has the largest Facebook fan page of any doll.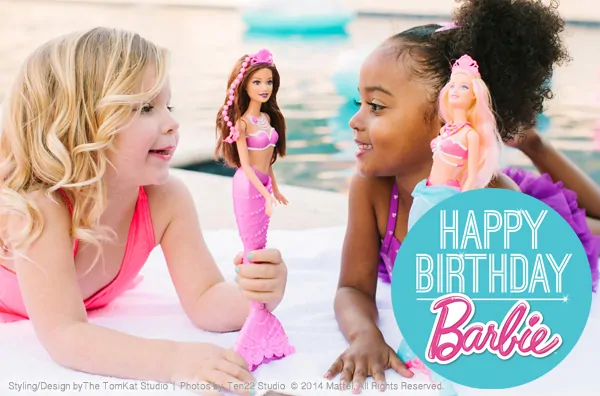 So it is fitting that the world's most popular doll is about to
celebrate a birthday
!
How do you think Barbie is going to celebrate?
How To Throw A Barbie Birthday Party
I know how my daughters would throw a fabulous birthday party for Barbie…
The color scheme would be pink, pink, pink, and just for a touch of color…purple! The dress would be Barbie dress up dresses…the more frou-frou and frilly the better. I love seeing little girls dance around in princess gowns, don't you? So sweet. You can never have too much pink tulle at a Barbie Birthday Party. The food would be delicate and oh so tasty…tiny sandwiches cut in to hearts and stars, lemonade…pink lemonade of course, and a delicious pink-frosted cake with lots and lots of pink candles for the birthday girl.
My daughters would greet their guests at the door and then the fun would begin. They would have me read a story about Barbie, decorate a princess crown with pearls, and play "Pin the Crown on Barbie." At the end of the party, the guests would leave with a goodie bag filled with Barbie toys.
Toys"R"Us Birthday Deals
In celebration of Barbie's birthday, Toys"R"Us will have a special Barbie Birthday feature shop in stores now through March 16th
Toys"R"Us, the go-to destination for all things Barbie, is having some great deals during her birthday celebration, visit here for details and offers. You can stock up for your very own Barbie Birthday Party! Plus, at any Toys"R"Us, the feature shop will be giving away a FREE Barbie Purse Perfect Makeup Case with ANY Barbie doll, playset, or accessory purchase of $30 or more at Toys"R"Us. This special offer is available March 9th through March 15th. Quantities are limited.
Barbie Birthday Twitter Party
Join a Barbie Birthday Twitter Party #TRUBarbieParty on March 11 at 2 p.m. EST. Toys"R"US and mommy bloggers will be sharing tips on how to throw a great Barbie party. And @Barbie will be joining the #TRUBarbieParty Twitter Party to chat about birthday party ideas.
Barbie's Birthday Pinterest Board
In honor of Barbie's Birthday, Toys"R"US has created a Barbie's Birthday Pinterest board. Check out Barbie's Birthday Pinterest board to find more fun party ideas.
Follow ToysRUs's board Barbie Birthday on Pinterest.
New Barbie Movie
Just in time for her birthday, Barbie is launching her 28th movie "Barbie: The Pearl Princess," on March 11, 2014. Like each Barbie movie, "Barbie: The Pearl Princess" features a positive and valuable message for girls. In this new title, Barbie learns the importance of leaving the world a better place than she found it. It's a great addition for every family's Barbie movie collection, a birthday party gift, or even for the Easter basket!
Win a Fabulous Barbie Prize Pack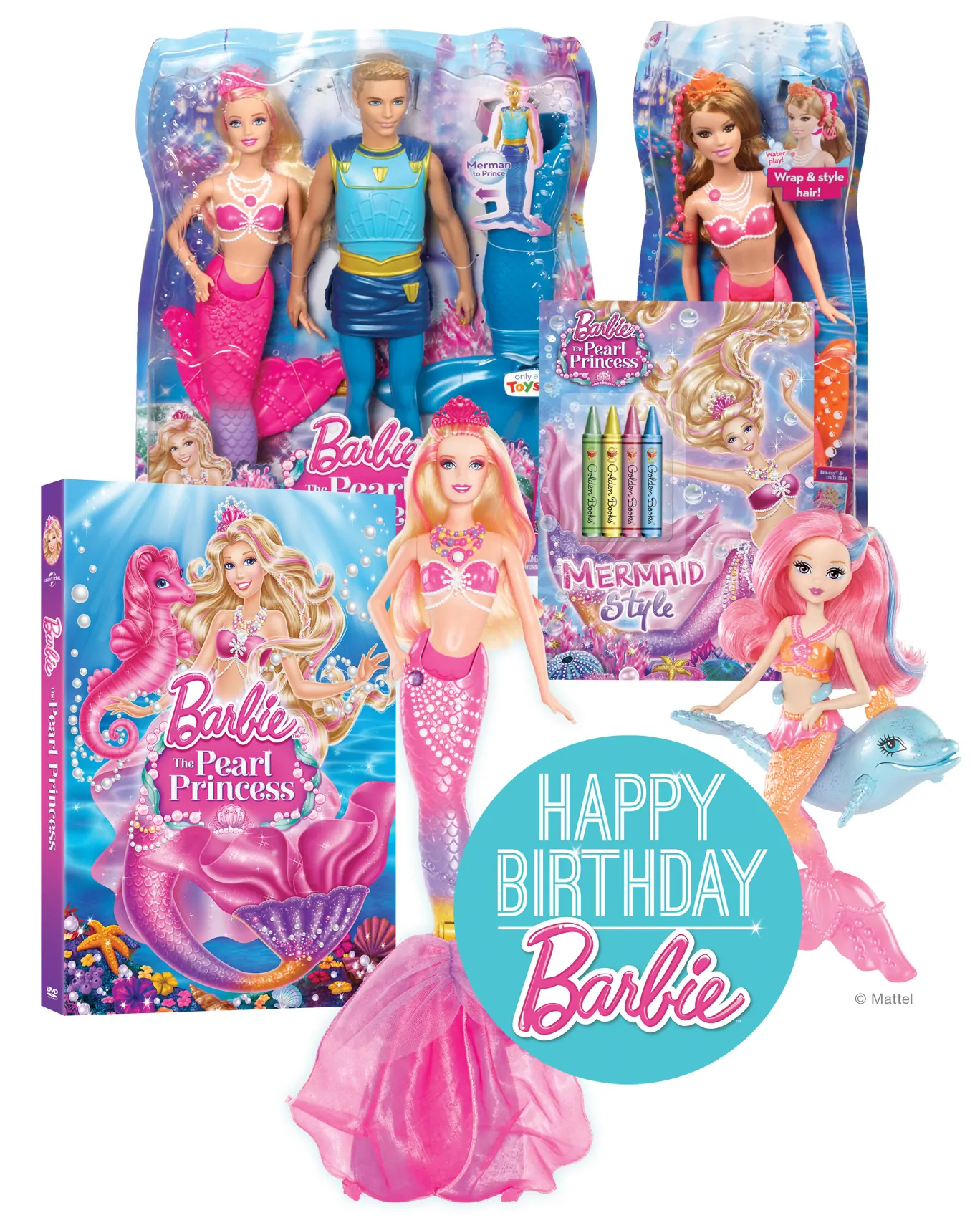 One very lucky 5 Minutes for Mom reader will win a fabulous Barbie Prize pack (U.S. residents only).
The Barbie prize pack is valued at over $90 and includes:
Barbie: The Pearl Princess DVD
Barbie: The Pearl Princess Lumina Doll
Barbie: The Pearl Princess Lumina and Prince Dolls
Barbie: The Pearl Princess Mermaid Co-Star Doll
Barbie: The Pearl Princess Mermaid and Pet
Barbie: The Pearl Princess Mermaid Style Coloring book and Crayons
Send Barbie a Birthday Wish
You can be the first to share the news of Barbie's birthday with Barbie product purchase at Toys "R" Us available starting March 9th. In honor of Barbie's birthday, you can have your child send Barbie a birthday wish on her official birthday, March 9th! You can send a birthday wish via Facebook or Twitter.   Jill Berry @MusingsfromMe is a writer who stays at home or a SAHM who writesit depends on the day and her mood. While playing a writer on the internet, Jill has the gray hair AND blogposts from raising a kid, a preteen, and a teen. When not blogging at Musings from Me, Jill seizes family time whenever she candinner as a family, movie night, marathon family game sessions, travelingyou name it she wants to do it.