This post may contain affiliate links. Read my disclosure policy here.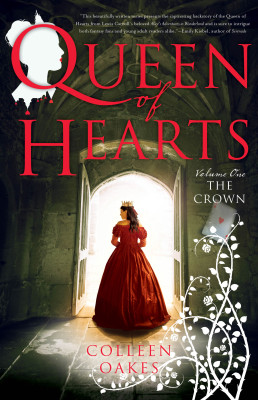 I received a copy of this book for review purposes. I was also compensated for writing this post, but all opinions remain my own.
The trend now is to deconstruct our fairy tales and to create back stories for the characters who until now have had just quick, simple looks into their lives. There are television shows and movies and books, and Queen of Hearts: The Crown by Colleen Oakes is exactly that. The first in a series follows the not-yet Queen of Hearts, Dinah, during her teen years.
This is actually billed as a Young Adult novel, something I didn't realize when I picked it up and read it. While the main character is a teenager, it has a darker story with more issues than your typical teenager deals with. It is definitely a book an adult could pick up and enjoy without feeling as though it were one written for their children.
Until now, the Queen of Hearts has always been looked at as a cruel, vicious woman whose moods and whims change dramatically with little provocation.  After having read the first book in this series, I can see how she became the queen she will.  For now, she is a 15 year old girl, the Princess who is everything her powerful and bloodthirsty father the King of Hearts never wanted.  She is dark and thick and clumsy, and he loathes being in her presence.
Dinah is instead coddled by her servants Harris, who fusses around her and wears a pocket watch (the future white rabbit?), and Emily, both of whom treat her more as parents than her own father does. They sneak her tarts and teach her and love her, something she receives neither from her father nor her dead mother – nor even from her mad brother Charles who spends all his time locked in his rooms making hats.
When Dinah's father introduces to all the noble cards his new daughter Vittiore, the younger, blond, petite, beautiful daughter he sired when on campaign – and still married to the love of his life, Dinah's mother, Dinah takes an immediate dislike to Vittiore.  She sees her as an interloper, and her relations with her father deteriorate.
Now 17, Dinah is approaching her coronation as queen, where she will rule with her father until she marries and her father steps down. Though she prepares for her big day, she senses that something in the palace isn't as it should be and starts to dig, little as she is able.
The images that Colleen Oakes creates within the pages are striking. You are completely immersed in the foreign world that is Wonderland, its customs and climate and atmosphere all so different from that which we are used to. It is a fascinating world she has created, and the detail that brings it to life is amazing. You can so easily picture each of the hats Charles makes and his staircases that lead to nowhere. The tea table in Vittiore's room seems like it's there with you.
However, for the majority of the book, it feels as though it's leading up to something.  It's building the world that will become the series rather than being a book in the series. Not enough happens until near the end of the book, and even then, it's vague and uncertain. I find that frustrating to me as a reader, but at the same time, I cannot wait for the next book to come out to find out what happens to Dinah next and how she will react.
Win it
One of you can win a copy of this novel. Use the widget below. Start off by leaving a comment telling us who the most memorable character in Alice in Wonderland is.
Written by Michelle who is once again reminded why it is that she has no desire to be royalty. See how incredibly common her life truly is on her blog Honest & Truly! and follow along with her on Twitter where she is also @HonestAndTruly.