This post may contain affiliate links. Read my disclosure policy here.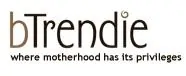 Okay — I admit it. I get a rush from bargain shopping. I just love to find a great deal.
In fact, I can find myself almost boastful when I find a trendy product at a fraction of the price!
But, as I am sure you can relate, the experience just isn't quite as exhilarating with my three little ones in tow. With the tantrums, tears and frequent sighs of boredom, sometimes it's easier to just stay at home.
So that's why bTrendie is my hero. Seriously ladies, I am really excited about bTrendie! It provides me with the excitement of bargain shopping from right here — with my trusty little mouse and my loyal laptop.
bTrendie is an exclusive members-only shopping destination offering exclusive designer sales lasting 48 – 72 hours. The site features mom-tested and mom-approved merchandise from the most coveted names in women and children's fashion, accessories, bedding and bath, toys and baby gear for moms and their children ages 0-6 years.

Top brands including Morgan & Milo, Quinny, Chaiken and Liz Lange Maternity Wear, SkipHop, Sage Creek Organics, Tea Clothing, Phil and Teds, Melissa and Doug, and Peanut Shell are all featured at up to 70% off standard retail prices.
A Special bTrendie Offer Just For You
bTrendie is for members only and entrance is by invitation only. But don't fret. You are a 5 Minutes for Mom reader, which makes you special! We want to get you into the bTrendie doors, so we have an exclusive invitation just for YOU!
Joining bTrendie is fast, easy and FREE! No strings attached.
And please feel free to invite your friends and family as well. With the holidays right around the corner, bTrendie will be THE PLACE for finding INCREDIBLE deals on some AMAZING gifts.
Oh and one 5 Minutes for Mom reader will receive a Do Not Disturb Spa Package, retail value $150.00, just for joining. Get the details here.
I know — you are starting to feel the rush already. So I will stop talking and let you get over to bTrendie right now! 🙂
(Just so you know, this post is part of a sponsored campaign with bTrendie and this post contains affiliate links.)