This post may contain affiliate links. Read my disclosure policy here.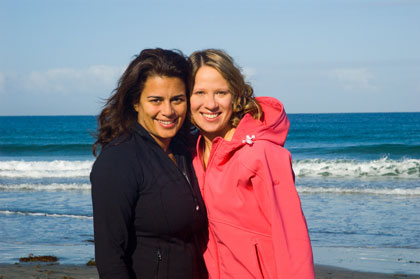 Every mom deserves an All Natural Adventure like Kashi hosted in La Jolla, San Diego.
In fact, I think you should plan one yourself for you and a few of your local girlfriends. Maybe plan a day with some Twitter peeps in your area.
Here's how you could host a similar wellness event…
Get together a small group of friends.
Decide to get inspired about your health and wellness.
Book a day for your activities and arrange babysitting for your kids.
Start the morning with a yoga class. (We were treated to yoga on the beach… but still, taking a local yoga class will work.)
Take a healthy, natural cooking class.
Go for a light hike where you can all enjoy talking while walking.
Go out for dinner and share your own healthy living knowledge, experiences and goals.
The Kashi Mommy Blogger Event lasted for two days and included information sessions learning about the Kashi company, their products, initiatives and goals. We learned about natural foods and how the 7 whole grains and sesame seeds in Kashi products work together to improve your health.
When you host your own All Natural Adventure Day you could ahead of time have each person do a little research on healthy, natural eating and prepare a short list of notes and reference sites. Then at dinner, have each person share what they learned and pass out a copy of their notes.

A great resource is the Kashi.com website. For example you could simply pull a few resources from the site and at dinner share about Whole Grain Basics and Getting Good Fats in your diet.
I generally consider myself a healthy eater and I think I'm quite informed when it comes to shopping naturally and organically. But I did learn some key information about whole grains and how the carefully selected 7 grains and sesame seeds can benefit my health.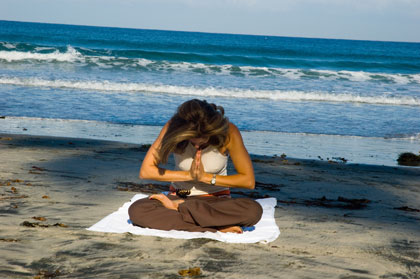 This wellness retreat inspired me to take action to increase my fitness level. I've signed up for a Yoga class on Tuesday afternoons and I'm committed to adding more whole grains to my diet and my family's diet.
(Yes, as my friends and family have already noticed, since the event I've become addicted to Kashi products. My entire family loves the Go Lean cereal and the TLC crackers. I'll soon be making a run for the border to stock up on more variety of Kashi products since you lucky Americans have way more Kashi stuff than we Canadians do. Poor us. LOL)
And of course, I had a ton of fun at the event.
The folks from Kashi were so awesome. What a treat to learn about a company who lives and breathes it's mission to promote healthy natural living.
The best part of any Mommy Blogger Event (or Mom Blogger Event as I often call them) is hanging out with new and old blogging friends.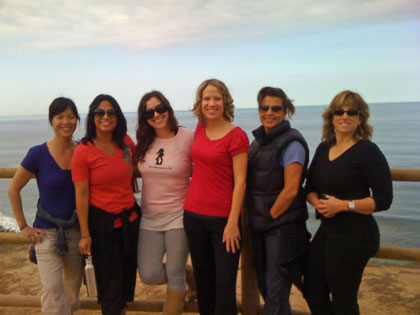 Here's a photo from our hike (shot from my iPhone) of all the bloggers at this Kashi event. From left to right…
BabyCenter's "MOMformation"/ Mrs. Mogul / Mogul Baby – Lisa Estall
Mommy Tracked / LizzieBTV – Lizzie Bermudez
Hot Moms Club – Michelle Fryer and Jessica Denay
5 Minutes For Mom – Susan Carraretto
Alpha Mom – Isabel Kallman
Mom Central – Anne-Marie Nichols
Both Kristen Chase from Cool Mom Picks and Whitney Wingerd from
Mommies With Style were planning to join us but unfortunately they both got sick at the last minute and couldn't make it. We missed you!
Here's a video with some highlights from the event. You can see more photos on Flickr and see my tweets with #kashimom.
In case you're curious, Kashi covered all expenses for this trip, but they did not pay for this post, nor did they ask us to post about the event.
Written by Susan Carraretto, co-founder of 5 Minutes for Mom
You've signed up for our RSS feed, right?