This post may contain affiliate links. Read my disclosure policy here.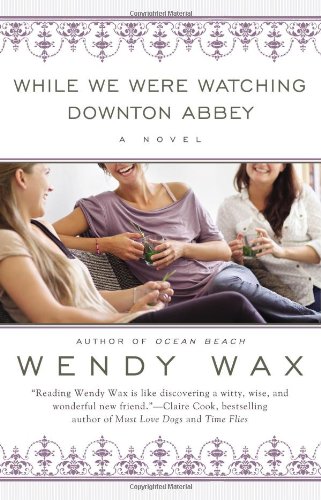 Yes, I'm a fan, are you? I was really excited when it came back on. Even if you aren't, if you like novels about women's friendships, you might appreciate Wendy Wax's novel While We Were Watching Downton Abbey that explores what goes on in the lives of some residents of an upscale downtown Atlanta high rise apartment building.
Edward, the British concierge, schedules a Sunday night screening party to introduce season 1 of Downton Abbey to get ready to watch season 2 when it comes on. He wants to foster more of a community bond in the building, and he thinks this is the way to do it. He feels like he practically has to force some people to attend that first week, so he's not sure it will be a success. But week after week, women keep showing up, and bonds are formed, especially between 3 unlikely residents: Claire, Brooke, and Samantha.
Claire and Brooke first meet when Brooke's dog's leash entangles Claire's legs in the lobby, bringing her down with a dog and a child on top of her. Brooke already feels out of place in the posh apartment that she and her husband moved into shortly before he left her. It's "accidents" like this that confirm her feelings of unworthiness.
Claire is understanding, because she also knows the pressure of being a single mom, but now her only daughter has moved out to go to college. Claire took her departure as a chance to sell her house in the suburbs, move into town, and pursue her writing full time. She's given herself a year to write her 3rd novel, but that gift is beginning to feel a bit more like a curse.
Brooke meets Samantha later that week when she decides to check out the building's gym. She knows she's out of shape, but decides to try to do something about it, hoping to perhaps drum up some endorphins to counteract the sadness she feels as she tries to carve out a new life for herself. When perfect Samantha gets on the machine next to her, Brooke feels even worse about herself. When she can't even figure out how to get the elliptical machine started, she ends up in tears.
Samantha seems perfect on the outside, but she knows the truth. Though her rich husband takes good care of her, Samantha knows that he only married her because she and her family were in dire straights. She can't figure out what he wants from her, she can't manage to make a decent meal no matter how hard she tries, and her mother-in-law constantly belittles her. Will Samantha let down her guard to let in some friends?
When Claire, Brooke, and Samantha are seated next to each other at the first screening, their friendship is given a nudge. It turns out they all need each other, and each has something to give. They help each other navigate through marital problems, money problems, family trouble, work upsets, and forging new pathways.
I devoured this novel in a couple of days. I love novels that explore the rich relationships of women. I enjoyed getting to know all the characters and was curious to find out how everything would work out for them. If you are a new fan, you might appreciate getting introduced to this hot show along with these women.
Enter to win
If you're a fan of the show, tell me who your favorite character is. If you're not, tell me what interests you about this book.