This post may contain affiliate links. Read my disclosure policy here.
Our writer Jennifer D. was compensated for writing this post.
I recently got out our winter/holiday dishes. They are a fun set of red and green plates and bowls that have snowmen on them. I like the fact that they aren't simply Christmas dishes. I feel good using them through January as well. My teenage daughter didn't remember them, and immediately perked up, saying, "These make me so happy! I love these plates. Can we use them all the time?"
It got me thinking about people who I know who always make their home feel beautiful, special, and festive, no matter the season, and I felt a little bit of pressure to live up to the challenge myself.
Brylane Home has a nice selection of holiday tableware that is sure to make your family or your guests feel special.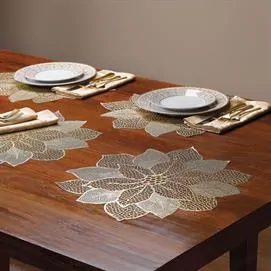 I particularly like the Poinsettia Placemats, because I think that like my dishes, they could be used after the immediate Christmas season as well.
I try to add something new to my holiday collection each year, whether it is new plates, or a table runner, or fun placements.
Does "Deck the Halls" extend to your holiday table as well? Do your children or guests appreciate the effort?