This post may contain affiliate links. Read my disclosure policy here.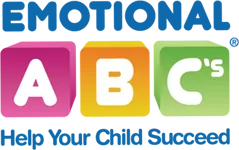 Happy. Angry. Scared. Calm. If your kids are like mine, they probably show these emotions. In fact, kids show a broad range of emotions each day. Or each hour, minute, or even second! I have emotional kids who run through the gamut of emotions on a regular basis. With three kids, it seems as though one of them is having an amazing day, one is having an O.K. day, and one is not having a good day at all. What can I say…it is all in a days' work in my home.
When my child is having a great day, I'm smiling a long with them. Happy that they are happy. Other days are harder. When one is having a day with an attack of the "angries." Or one is swinging from happy about a new toy to frustrated about not knowing how to do something with the new toy. In those times of frustration I want to help my child. Really, I want to just make my child's hurt or pain go away. But my child needs to learn how to manage emotions. It's a life skill that is more than just important. My child needs to learn how to cope with a range of emotions…from happy to sad to angry…in order to be a well-balanced adult.
As with any childhood milestone, change doesn't happen over night. I've tried reading books to my kids to spark conversations about feelings. Books help a lot. I've talked to them about better ways to show anger than screaming and shouting and crying. Enter…Emotional ABC's.
Emotional ABC's is a DVD activity kit for children aged 4 through 9. Emotional skills can be learned, just like any other skill set such as reading, writing, or swimming. Think of the Emotional ABC's kit as a creating a common language for parents to use with their children. The kit can be used by an entire family to model positive emotional skills.
At the core of the Emotional ABC's is a DVD. The DVD contains short, 3-minute chapters. Accompanying the Emotional ABCs are activity books, playing cards, a music CD, and stickers for hands-on, fun activities.
Emotional ABC's combines therapists' best techniques for working through emotions with a child-friendly hands-on format. By using a specific set of tools, children can identify feelings and make good choices. Emotional ABC's has received several awards, including Dr. Toy's Top 10 Socially Responsible Products, Tilliwig's Brain Child Award, Creative Child Magazine's Product of the Year, and a "Great Find" Award from AblePlay.org, an organization that evaluates products for their effectiveness in teaching children who have learning differences or special needs. Think of this equation… Academic + Social Success = Emotional ABC's.
More about Emotional ABC's
Jill Berry @MusingsfromMe is a writer who stays at home or a SAHM who writesit depends on the day and her mood. While playing a writer on the internet, Jill has the gray hair AND blogposts from raising a kid, a preteen, and a teen. When not blogging at Musings from Me, Jill seizes family time whenever she candinner as a family, movie night, marathon family game sessions, travelingyou name it she wants to do it.