This post may contain affiliate links. Read my disclosure policy here.
Written by Michelle of Honest & Truly! who is sharing her views on Snaptee for this review of their custom t-shirts. Our writers are compensated for their time, but all opinions remain our own.
The wee ones love t-shirts, and it never fails to amaze me how many they seem to "need" either because they love a shirt or because other shirts are no longer wearable for a variety of reasons. I like finding and buying shirts that are unique and different, and they love standing out from the crowd, too. Making our own custom t-shirts from Snaptee?  Now that's right up my alley.

Snaptee allows you to create a custom designed t-shirt from your phone.  The app is free, and you build your custom t-shirt using artwork that you've uploaded yourself or based on designs that others have created. Some designs you can alter to further customize them, as well. And if you really like the t-shirt you created? You can publish and sell your shirt design, which then allows others can then purchase it, and you earn a 10% commission on each shirt that sells with your design.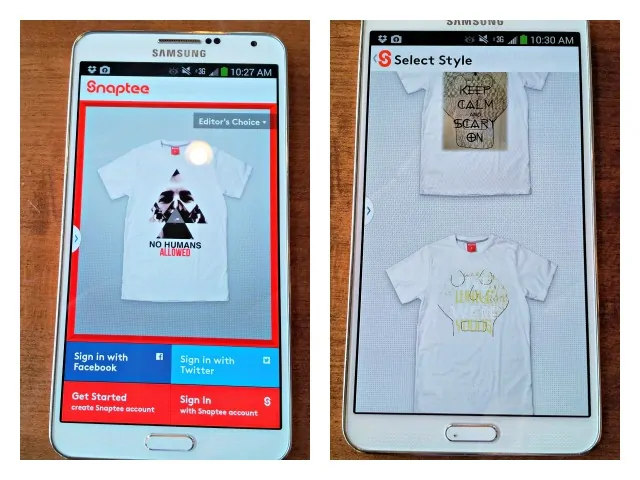 I am not personally a good artist, but you can upload photos, as well. This would make a great unique shirt for special occasions from prom to bachelorette parties to family reunions and more. I chose to upload a drawing Little Miss had made in school that I thought was pretty cool.
Once you create an account and sign in, figuring out what to do next is easy. You can browse the available shirt designs or choose to create your own. Once the design it uploaded, there are so many different ways to can edit it from making it pixelated to having various designs on it to changing the shape of what is printed of your artwork. You can also add text to your design in various colors and fonts.
The only downside I had in design is that the white background of the paper didn't match the white of the t-shirt (all shirts are white or black at this point), so it looked off. The ability to change the shape of what is printed saved me, however, and I think our design turned out very cool.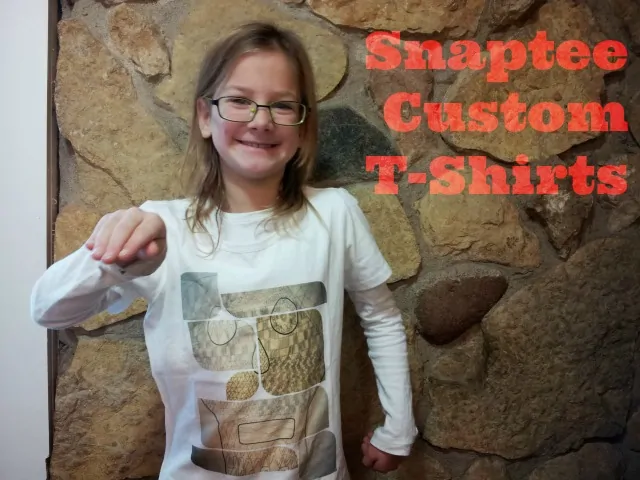 The t-shirts are all made of organic cotton, which I love. They are available as crew neck shirts for men, women, and kids. In my opinion, the sizing runs fairly small. The women's large, for example, fits a busy 35-36" with a waist of 29-30". Kid sizes go up to a 7, which is designed for those 4'6-4'9 with a chest of 30". When purchasing Little Miss's shirt, I chose to order a women's small, knowing that it might be a bit big now but that she'll be able to wear it longer.
Once I completed the ordering process, I awaited my shipment. Snaptee is located in Hong Kong, so even after the 7 business day printing process, shipping takes awhile (10 business days per the website, though mine took longer). My t-shirt took just under a month to arrive from the date I placed my order. So long as you plan ahead, this works. There is also an upgraded shipping for $26 (versus $5 for standard shipping) that will get the shirt out the door in 4 business days and delivered in another 5 business days if you need it faster.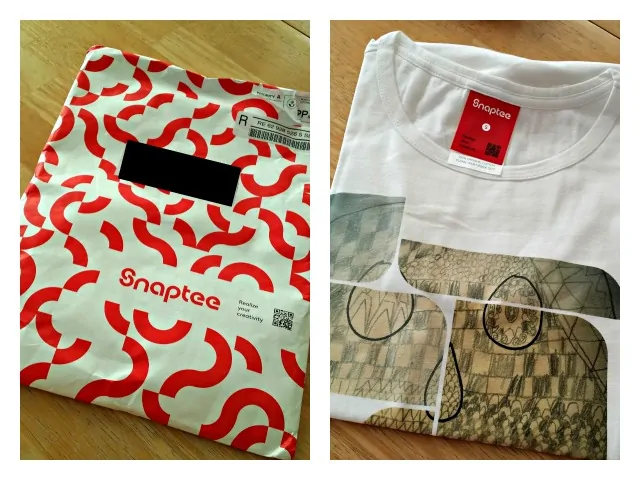 I liked the way my package arrived, with minimal waste and in an adorable envelope (that comes close to working as gift wrapping in my house!). The t-shirt is folded inside and ready to wear. I found the t-shirt to be incredibly soft, although somewhat thin. I would probably choose to wear a cami underneath it, though Little Miss is able to wear it either alone or over a long sleeve shirt for winter with no issues.
For $19.99 for the white crew neck shirts and $23.99 for the black shirts, this is such a fun option. Little Miss is so proud of the shirt I made and couldn't wait to show her teacher how we saved her artwork and made it even cooler. And her friends? Well, they're pretty jealous, too.
Enter to win
Enter to win Mommy & Me Snaptees (two free T-shirts. 100% organic cotton. We want to encourage moms to design for themselves and for/with their kids. It's easy and super fun and the potential for hilarious, adorable, touching Mommy & Me designs is huge.)