This post may contain affiliate links. Read my disclosure policy here.
My little Sophia and her big sister Julia both LOVE Sofia the First. They are so excited when each new episode is released and I can't even count how many times they've watched each show.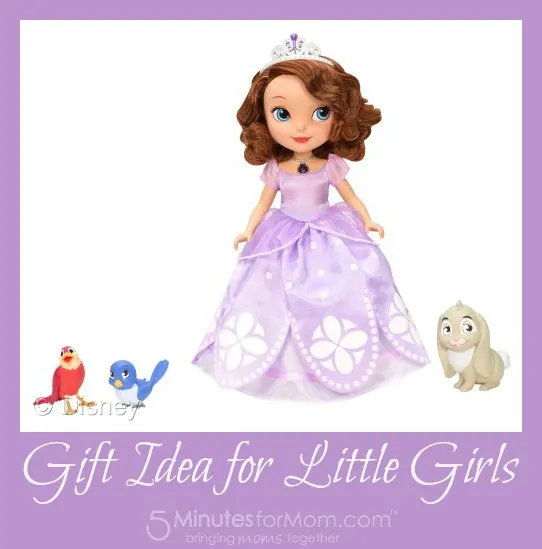 Even more than they love watching the show, Julia and Sophia love playing pretend with their Sofia the First toys. They'll spend hours making up stories and acting them out with the toys. I admit, I think we own almost every Sofia the First toy available.
I especially love the Sofia the First Disney story and set of characters because they present a new look at family life. Sofia becomes a princess through her mother's remarriage and gets a new father, sister and brother. I like that the story helps my girls see that families come in different shapes and sizes and that families can change and evolve over time.
While I may like the lessons shared, my girls just love the stories and fun characters.
The new Disney Sofia the First Talking Sofia and Animal Friends is a perfect gift idea for little girls ages 3 and up.
Disney Sofia the First Talking Sofia and Animal Friends
Wearing her very special amulet from the King, Sofia can understand and talk with animals—just like in the Disney Jr. series. Dressed in her signature princess gown, this Sofia 10″ doll can recognize and talk with three of her best animal friends: Clover the Rabbit, Robin the Robin and Mia the Bluebird. When girls bring each animal close to Sofia's amulet, it glows, and Sofia can recognize and talk to each beloved friend and get unique responses in return! With multiple character-specific phrases from Sofia and her animal friends, it's endless interactive friendship fun!

ARP: $39.99
Enter to win
Mattel is giving away one of the Sofia the First Talking Doll with Animal Friends to one of the 5 Minutes for Mom Readers. To get started and enter this giveaway, fill out the form below.
We were not paid to promote these toys. We just have a love for all things Disney. We received a complimentary doll in order to write our review, however all opinions remain our own.