This post may contain affiliate links. Read my disclosure policy here.
I received a box of Tiggly Shapes to review for this post. All opinions are my own. 
My son is four, and given his luck of being a child born in the age of technology, he is already quite familiar with computers, tablets, and apps. 
There are so many great interactive games designed for children, but as a former Kindergarten teacher I know that children need much more than screen time to truly learn.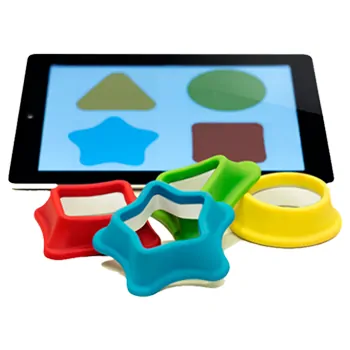 Tiggly Shapes has invented a wonderful toddler-friendly toy designed to interact with tablets and apps. Designed for children ages 18 months to 4 years old, Tiggly Shapes combines the fun of a tablet app with the tactile experience of feeling a shape. Not only is Tiggly Shapes a fun and interactive game for toddlers, it also encourages spacial thinking, language development, motor skills, and creativity. 
My son was so excited to receive a box of Tiggly Shapes of his very own. We easily downloaded the app and he had a great time matching the Tiggly Shapes to the animals on the tablet. He thought it was funny to see animals in the shapes of circles, stars, squares, and triangles, and enjoyed how the Tiggly Shapes allowed him to interact with the screen.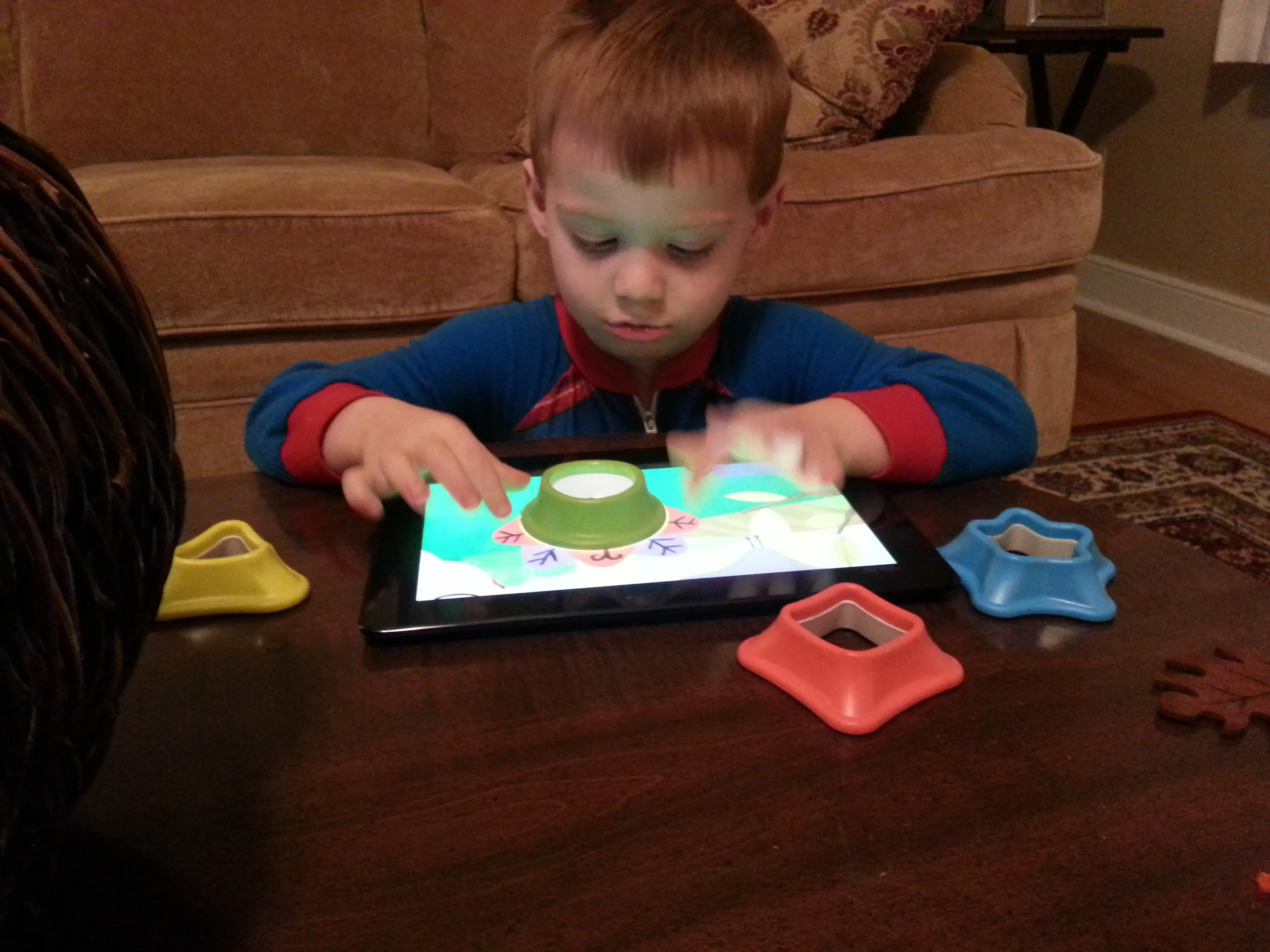 At four years old, my son has a basic concept of shapes, but this fun and interactive app is a wonderful reinforcement to his knowledge base and the tactile shapes really helped to secure his knowledge. 
With a soft plastic cover and silicon touch points, the four toys (circle, square, triangle, star) in this package are durable enough for toddler play and gentle enough for iPad screens. A convenient felt carrying pouch is also included, so this game is perfect for educational learning on the go or a fun game to keep your little one occupied in the car or at a restaurant. 
You can order Tiggly Shapes online, or find them at Nordstrom or Shopify. Tiggly Shapes have also recently become available at Apple retail stores.
Would you like to learn more about Tiggly Shapes? You can also connect with them on social media:
Enter to win
Convinced that Tiggly Shapes would be a great addition to your little one's learning? One lucky winner will receive a free box of Tiggly Shapes! Box includes four shapes (circle, square, triangle, star) and a carrying case.
Enter below to win! Good luck!
Julia is a full time mommy and part time writer who thrives on Starbucks, chocolate, and toddler kisses. When she is not chasing a toddler around, you can find her at her personal blog, http://www.elatedexhaustion.com, or playing on Twitter @juliahembree.