This post may contain affiliate links. Read my disclosure policy here.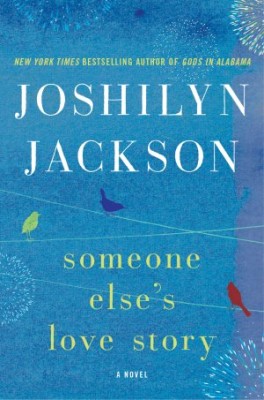 21-year-old Shandi Pierce is on her way to Atlanta with her 3 year old son, Natty, whose conception she believes was a miracle since she was a virgin until a full year after his birth, and her best friend Walcott who's helping her move to her father's condo, when she and Natty stop in a gas station for some drinks.  Shandi notices tall, blonde, handsome William Ashe staring at laundry detergent and immediately falls for him.  Her crush deepens when an armed robber enters the store and William puts himself between the gun and Natty.  What Shandi doesn't know is she's stepped into the middle of a love story, and it's not her own.
It's been 1 year since the tragic car accident that took William's wife and daughter, and with the help of his best friend Paula, he's returned to some sense of normalcy. Through several flashbacks we learn how William met Bridget, who planned to enter the convent, and courted her, to use an old fashioned but fitting term.  In the present, Shandi tries to gain William's attentions, while also dealing with her own past, including the real story of Natty's conception, her own parents' relationship, which ended when they couldn't work out their religious differences, and her friendship with Walcott, who acts distant ever since the robbery.  William's Asbergers and his unresolved feelings for his wife result in disappointment for Shandi, but he also agrees to help her track down Natty's father.
Someone Else's Love Story was a bit hard to get into at first, but once I got used to the writing style and the constant jumping around, and the story really picked up, I enjoyed it.  Shandi grows from pathetic to sympathetic as she faces reality and finally sees what was in front of her the whole time.  Jackson expertly weaves a story of love, devotion and friendship with a twist that I didn't see coming but explained some hints dropped earlier in the book.
Another of the reviewers at 5 Minutes for Books posted her review of Someone Else's Love Story over there today. If you're interested in this book, check out her perspective as well.
Win it!
Start off by entering your name and email address in the widget below, then follow the instructions to earn one or more entries.