This post may contain affiliate links. Read my disclosure policy here.
Susan shares an inside view into pageant life from an interview with Miss Universe® 1997, Brook Lee. Brook is a spokesperson for YesVideo and since Susan recently joined their ambassador program, she had the opportunity to participate in an interview call with her. Join us and get to know Brook and a little about life as Miss Universe®.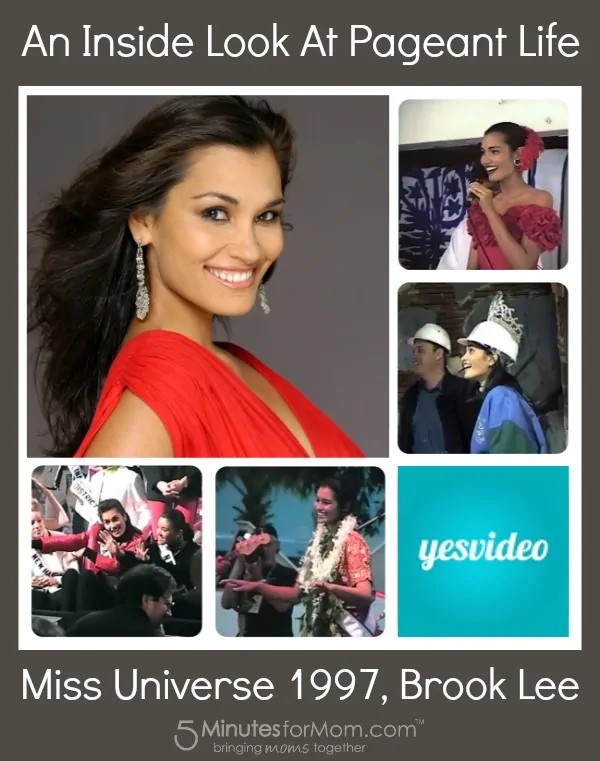 Will you be watching the Miss Universe® pageant being held today in Russia? Have you or your daughters ever been in a beauty pageant? Do you like or dislike pageants?
The topic of beauty pageants can be hot. With the rise of children's pageants and the reality TV shows surrounding them, many people have strong opinions one way or the other about the industry.
Personally, I sit in the middle with no strong opinions either way… maybe just a mild wish that I were as beautiful as the contestants. 🙂
But I do remember fondly watching Miss Universe® pageants on TV when I was younger. It was fun to see all the different countries represented.
And after an insightful interview yesterday with Brook Lee, former Miss Universe® 1997, I'll be watching this year's competition with even more interest and respect for the participants.
Brook Lee, Miss Universe® 1997
Brook Lee is a native Hawaiian from Pearl City, Hawaii who in 1997 won Miss Hawaii®, Miss USA® and Miss Universe®.
These days she's busy as a Tech Ambassador for the blog MommyLovesTech.com, an organizer at The Universe Society (community of former Miss Universes) and most importantly mother to 6-year old Fynn.
An Insiders View of Pageant Life
I was fascinated to hear Brook's story of failures and successes through her years in beauty pageants. You might expect that a winner of the ultimate beauty pageant, Miss Universe®, would have been consistently winning pageants her whole life.
But Brook lost pageant after pageant after pageant. Yet, she kept on going.
She says the reason she kept entering more pageants even when she didn't win is that she was having fun. She sincerely enjoyed meeting and spending time with the other girls.
Brook was first a model and she felt it refreshing as a pageant contestant to actually be asked for her opinions. As a model, nobody was interested in her thoughts, but in pageants she was asked challenging, thought provoking questions.
When you grow up with the good fortune of being pretty, people lower the bar and don't expect you to be smart. So it was nice to have people be interested in my opinion.

Brook Lee
A Pageant Path To Education
There are many roads to college and sometimes the inequality in those opportunities can seem unfair. But if a student is blessed with extraordinary intelligence, athletic gifts, artistic talents, or that coveted combination of beauty and brains, scholarships are in sight.
Brook participated in pageants to pay her way through college and earn a communications degree.
Favorite Memories
From her globe traveling days in her year as Miss Universe® to the years following raising her little boy, Brook's life is full of amazing memories.
She's using YesVideo to preserve and share her memories.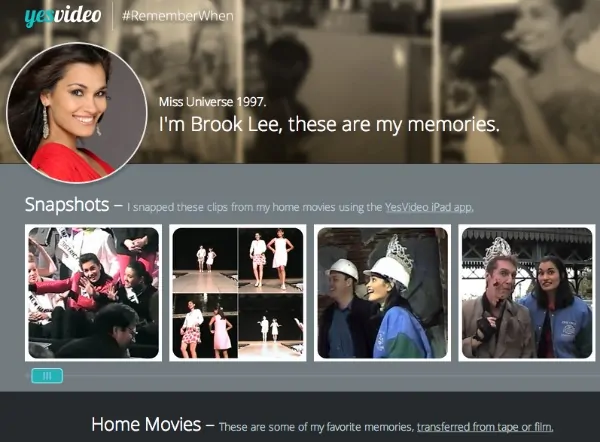 You can see inside Brook's life as Miss Universe® on her YesVideo page.
Miss Universe 1997, Brook Lee, Shares An Inside Look At Pageant Life http://t.co/PBW5xu3Yw8 #MissUniverse #RememberWhen

— 5minutesformom (@5minutesformom) November 9, 2013

Disclosure: I am part of a compensated ambassador program with YesVideo.
Written by Susan Carraretto, co-founder of 5 Minutes for Mom
Talk with me: @5minutesformom and Facebook.com/5minutesformom
Pin with me at http://pinterest.com/5minutesformom/