This post may contain affiliate links. Read my disclosure policy here.
Julia Hembree, 5m4m contributor is here to share with you about a high dollar coupon and our fabulous giveaway for a $100 Walgreens gift card. All opinions are 100% her own.
Believe it or not, Thanksgiving is only three weeks away. I know, I almost panicked, too. But there's no need to worry. Let Hellman's Mayo lend a hand this holiday season with a delicious and easy to prepare Leftover Turkey Casserole.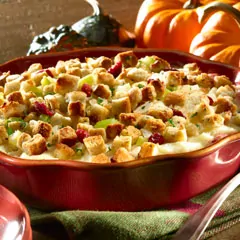 Now, this might not get you through the sometimes stressful turkey holiday, but it is definitely going to help you relax after.
To prepare this easy to make meal, you will need:
4 cups leftover prepared stuffing
4 cups coarsely chopped leftover cooked boneless, skinless turkey breast, (about 1 lb./500 g)
3/4 cup Hellmann's® 1/2 the Fat mayonnaise-type dressing, divided
1/4 cup whole berry cranberry sauce
2 cups leftover mashed potatoes
1 1/2 cups shredded low-fat mozzarella cheese
Sounds easy enough, right? Then simply preheat your oven to 375°F, combine ingredients, and bake for 40 minutes or until heated through. Garnish with dried cranberries to serve. 
After all of the stress and preparation of the day before, you are going to need an easy dinner break and Hellmann's has you in mind! 
Find the full recipe and nutrition information here. 
Enter to win
And just to put the icing on the cake (or the cranberries on your leftover turkey casserole) Hellmann's Mayonnaise is offering a $100 Walgreens gift card to one lucky winner! Walgreens is your one stop shop for everything you'll need to make the delicious recipe above. 
As as added bonus, you can get a $1.00 Hellmann's Mayonnaise coupon exclusively at Walgreens.  So, what you are waiting for? Enter to win and let Hellmann's and Walgreen make your post Thanksgiving a cinch. Good luck! 
For more delicious Hellmann's mayo recipes and ideas, follow them on Twitter or Like them on Facebook. 
Julia is a full time mommy and part time writer who thrives on Starbucks, chocolate, and toddler kisses. When she is not chasing a toddler around, you can find her at her personal blog, http://www.elatedexhaustion.com, or playing on Twitter @juliahembree.