This post may contain affiliate links. Read my disclosure policy here.
This is a sponsored post, but as always, our writer's opinions are her own.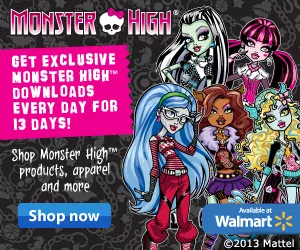 In honor of the release of the Monster High 13 Wishes DVD on October 8, you can unlock special games and prizes if you visit each day between now and October 8. There are fun games celebrating the ghouls favorite day of the year — Halloween!
Check out Locker 13, where you never know what freaky-fab finds you'll uncover! You must be 13 or older to play.
I'm not familiar with the Monster High brand, but I've heard that the sales on the line are through the roof. With dolls, books, and movies, there is so much to appeal to tween girls. My daughter is in high school now, but when she was a girl, I thought it was unfortunate that fashion dolls had somehow become toys for preschoolers. I love the inventive play that can happen with dolls and accessories, and from what I understand, Monster High has made doll play cool for tweens, and if they have to be ghouls and not girls, I guess I can still stand by that trend!
Remember, go each day to the Monster High site at Wal-Mart, where you and your daughter can enjoy the surprise games while you enter to win each day's prize.
What do you like about Monster High?