This post may contain affiliate links. Read my disclosure policy here.
5 Minutes for Books reviewer Dawn received a copy of this book to facilitate her review, but as always, her opinions are her own.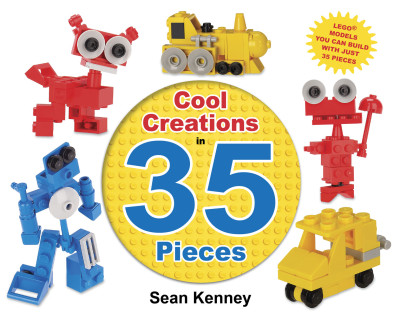 I live in a LEGO household. My thirteen year old son inherited the LEGO gene from his dad, and early on, our house was overrun with Duplo. But when he was around three years old, it was clear that he could start using some of the smaller sized LEGO pieces, and some basic supplies were purchased. That's how it began, and now the household collection of pieces must number in the tens of thousands. Seriously, there are tons and tons of pieces, and my son can make incredibly elaborate things with large numbers of pieces, but his younger siblings are still early on their LEGO building careers. Thanks to Sean Kenney, LEGO artist extraordinaire, kids in the 4 to 8 year old set have a new inspirational book in Cool Creations in 35 Pieces.
The concept of the book is exactly as the title indicates. If readers assemble the required 35 pieces, they can create a wide variety of miniature LEGO structures, including robots, buildings, farm animals, and "goofy faces" (my very favorite section!), and several more. High-quality photographs are provided of all the 35-piece creations, and several of the more complex ones have step-by-step picture instructions in the margins of the page, while others are easier to recreate by simply looking at the photos. Kenney invites readers to share their own unique creations with these 35 pieces to his website, as well, encouraging children to don their own creative hats, too!
In the opening pages of the book, photos of the 35 pieces are laid out, and while some are fairly common, others are more accurately described as specialty pieces. Kenney has pieces available for sale on his website, as well, if some are not already in your collection. Once kids have the 35 pieces laid out, the possibilities are endless, by creating Kenney's designs and coming up with their own.
Enter to Win
Do you have a child who would love Cool Creations in 35 Pieces? We have one copy to give away today, open to US and Canada residents. Start off by entering your email address in the widget below, and then leave a comment for one entry, and see how to earn additional entries.