This post may contain affiliate links. Read my disclosure policy here.
5 Minutes for Mom Contributor Geri Chase received a copy of this book to facilitate a review.  We were compensated to write the review, but all opinions about the book are her own.
While I am not someone who is infatuated with the Royal Family, I have enjoyed watching the William and Kate story unfold. At one point, as the world awaited the birth of Prince George, I wondered aloud how William has been able to overcome some pretty public and tragic childhood experiences to create the stable and happy life he leads now.
Just a week later I was offered the opportunity to review a new book which, as it happens, answers that question.  The book, Diana's Baby by Angela Levin, chronicles the details of events leading up to the baby's birth, as well as offers some speculation on how William and Kate may be helping repair what many perceive to be a broken royal family.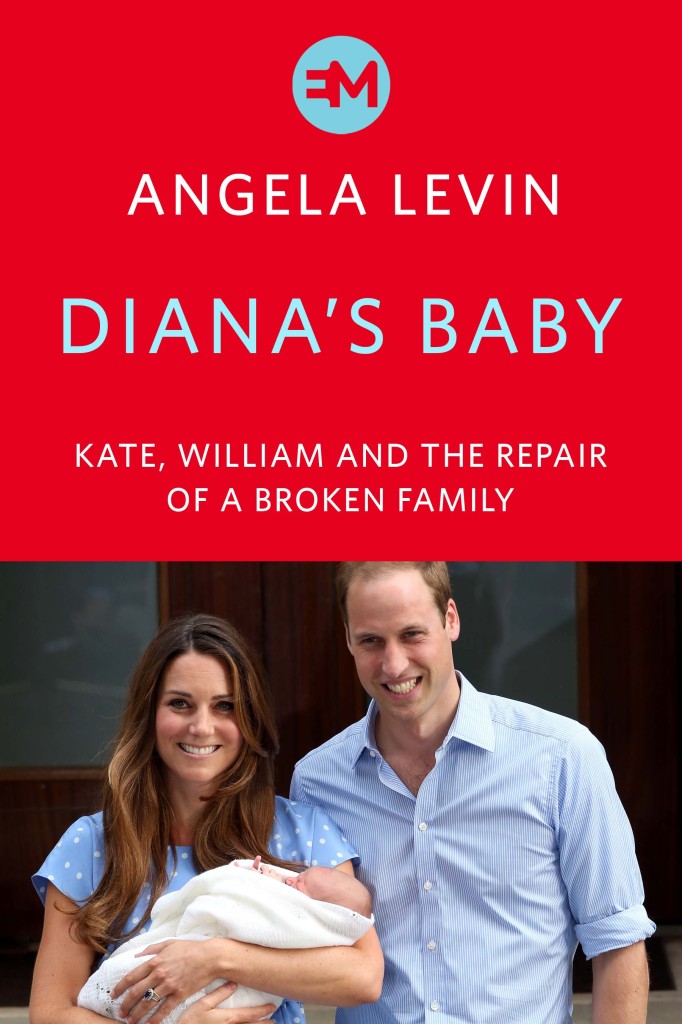 About the Book
Diana's Baby focuses mainly on Prince William's life and the way he navigated the dysfunctional family dynamic into which he was born, with occasional side trips that delve into the damaged personal lives of both of his parents, Charles and Diana, because of their own harsh and neglectful upbringings.  While some might argue that there are people whose childhoods were certainly more difficult than any in the royal family, the information presented in the book serves as a reminder that money and privilege do not necessarily negate the damaging effects that divorce, neglect or abuse have on a child.
Of course part of the narrative of William's life is the Middleton family.  The author shares details about Kate Middleton's family as well, including how her parents met and built a successful business that allowed their children to attend the best of private schools.  It was at school where Kate and William met and the story of their courtship, as well as the positive impacts Kate and her family have had on William are explored in as the author chronicles the couple's relationship and subsequent marriage.
Photo: EPA/DANIEL DEME
Diana's Baby is a short summer read that explores the impact that generational dysfunction has had on the royal family and seeks to point out the positive changes that all involved, including parents and grandparents, are trying to make to repair the damage as they welcome their newest member into the royal circle. The book gives readers a quick glimpse into the personalities and events that helped mold the Duke of Cambridge's character and turned him into the role model and leader he is today.
My Opinion
As someone who grew up in a similar kind of family dysfunction (without the money and royal heritage, of course!), I identify a little with William. Growing up with parents who don't love each other comes with its own set of issues. Then having lost my own father under very tragic circumstances just months before my first son was born, I have an inkling of what William may have felt as he held his newborn son and lamented that his own mother was not there to celebrate this wondrous occasion with him.
The book, while a little tedious and judgmental at times, was a poignant, personal reminder that no one is immune from the negative and sometimes tragic aspects of familial life.  But it also brought home the point that with we are not doomed to live an unhappy life because of how we were raised.  We have choices.  We can continue to behave in ways that perpetuate the dysfunction or we can choose to see life from a healthier perspective and walk a different path.
In choosing not to succumb to the hurt and pain he experienced growing up, William has established himself as a person of great strength and character. That doesn't mean he ignored those feelings.  It just means he found a way to deal with them that didn't damage who he is as a person, nor did he use his pain as an excuse to behave badly or inflict pain on others.
He chose to break the cycle.  And he seems to have chosen a wife who values those traits and who seeks to impart compassion and acceptance to all with whom she comes in contact.  Now, with the birth of Prince George, they have become a symbol of hope to the world that the seemingly shattered traditional family can be repaired.  To quote Melanie Phillips, who wrote the introduction to this book:
"It is the inspirational tale of an extraordinary prince who has sought salvation in the ordinary."
Geri Chase is mom to 2 hilarious boys and wife to an insanely funny husband, all of whom like to remind her that the fact that she is a girl does not give her immunity from their testosterone induced humor. While she pretends not to be amused, she secretly laughs herself silly over their antics and frequently blogs about life and family friendly products over at I Am Boymom.